Smartphone penetration in the U.S. is at an all time high. Between June and August, 15 percent of smartphone owners said that they acquired their handsets within the last three months, bringing smartphone penetration in the US up to 64% – an increase of 3% from last quarter's 61%. 80 percent of the recent owners chose smartphones as their mobile handset.
Is The Market Stagnant?
Highest penetration of smartphones (81%) was seen among young adults in the age bracket of 25-34, and teenagers aged 13-17 are catching up fast; nearly 70% of teens in the US now use smartphones. The lowest penetration of smartphones is seen among those above the age of 55. People in this category amounted to 50% of mobile subscribers who still use feature phones. While some analysts observed these stats and stated that the smartphone market in the US has matured, others believe that being able to penetrate into the 55+ age category will open up significant room for smartphone growth.
Battle For Market Share Continues Among Top OSs
As of May, 2013, Google Inc.'s (NASDAQ:GOOG) Android was seen to be the leading mobile operating system, with 52.4% smartphone OS market share.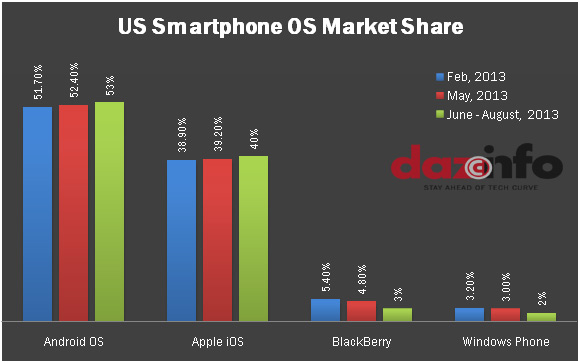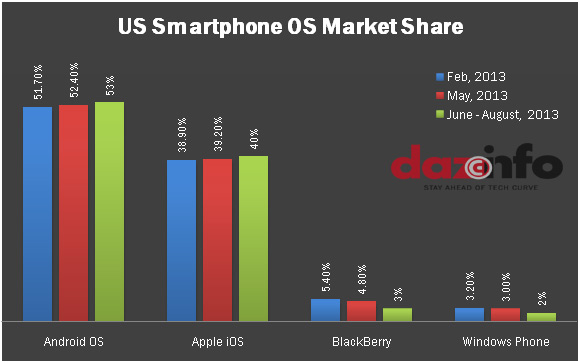 The above graph shows the changing trend in market share by mobile OS in the US. It can be seen that Android has been showing a steady increase: from 51.7% as of Feb, 2013 to 52.4% till May. In the period June to August, this figure has increased to 53%. Apple's iOS shows a similar trend, its market share rose by 0.3% from 38.9% in February to 39.2% as of June, 2013. Another 0.8% increase was seen in the period June to August. BlackBerry's declining market share shows no improvement: As of February, 2013, it held a market share of 5.40%, which fell to 4.8% by the end of June. During June to August, its market share further declined to a mere 3%. Microsoft's Windows Phone is suffering the same fate as BlackBerry – from 3.20% market share in Feb, 2013, it fell to 3% by the end of June. Currently it holds a 2% market share in the US.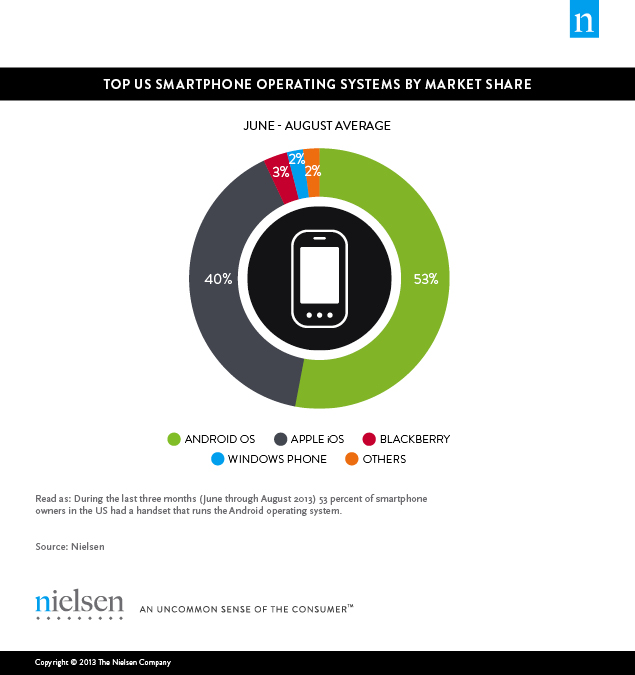 Android continues to lead this market with 53% of smartphone owners running Android handsets during June to August. Apple Inc. (NASDAQ:AAPL) on the other hand, remained the largest smartphone manufacturer with 40% smartphone owners. Among recent acquirers, more than 90% purchased either an Apple or Android device, with 61% of consumers going for Android and 34% picking iPhones.
SOURCE: Nielsen