There was a time when the word 'smartphones' triggered a spell check in computers, usage of the word is fairly common among people nowadays. It is a word that changed the way we used to look at our phones. Calling, messaging and listening to music are not the only things we do on our phones nowadays. The number of smartphone users is ever-increasing all over the globe. Many markets, especially the developed ones like US and UK, have already reached a point of saturation, where more than 50% of the population now owns a smartphone of some kind.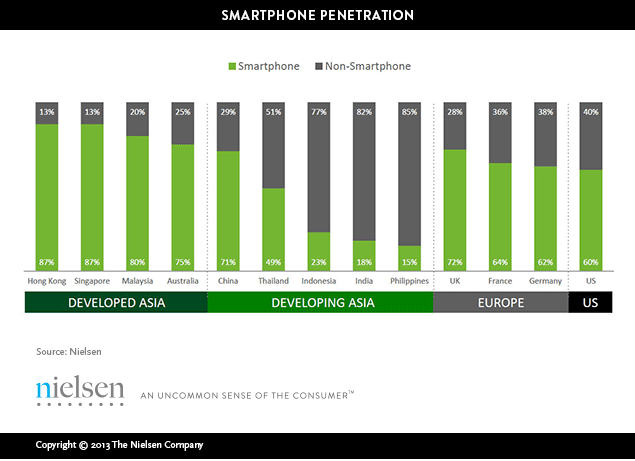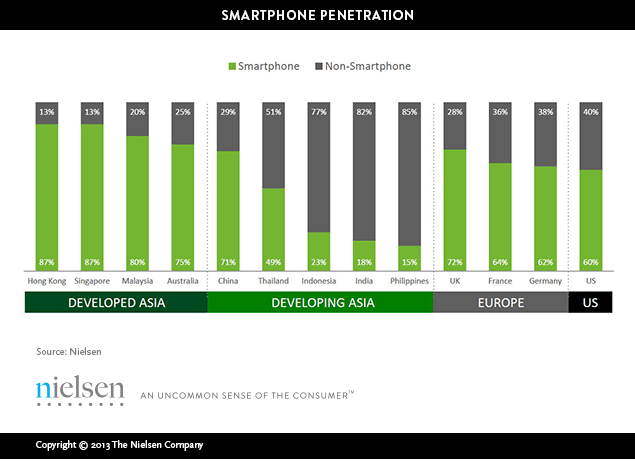 Smartphone penetration in developing markets of Asia-Pacific region is booming. And in a number of markets in the region are already reaching saturation points. The difference between these markets and the markets that have not yet been penetrated to such an extent is so stark that the whole region can be divided into two categories – Developed Asia and Developing Asia.
The Changing Behaviour Of Smartphone Users
Hong Kong, Singapore, Malaysia and Australia fall in the category of Developed Asia, while China, Thailand, Indonesia, India and Philippines can be categorized as Developing Asia. The growth in the ownership of connected devices in these markets are expected to level out in the near future, however, consumer use of these devices will continue to change, evolve and expand – presenting vast opportunities for organizations to engage with consumers. Developing sophisticated mobile strategies designed to leverage changing connected device behaviours and cultivating ongoing consumer engagement is therefore becoming very critical for companies than ever before.
A new research by Nielsen highlighted that in Southeast Asia alone, smartphone users spend an average of three hours per day on their smartphones (June 2013). Users were seen to be spending the most time using their smartphones for chatting, social networking and entertainment activities like games and multimedia, which has been a result of improvement in smartphone functionality, along with consumer awareness and knowledge of handset functionality.
Some other findings from the research were:
App Usage:
App usage is increasing, even though smartphone penetration hasn't reached 100%. In Asia-Pacific, apps for games, social networking and multimedia are among the most used. 86% of Chinese smartphone owners played games on their smartphones in the last 1 month.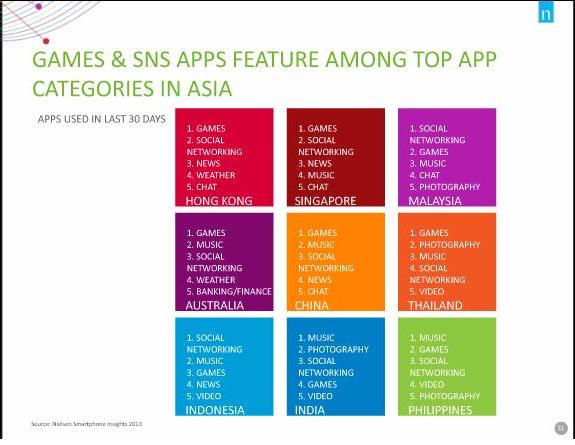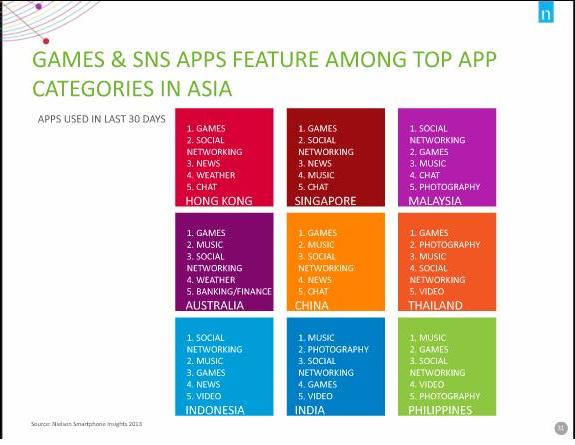 Mobile Video Viewing:
Viewing of videos via smartphones is gaining traction too, especially in more developed markets like Hong Kong and Singapore. Consumers who are watching mobile videos on their mobile handsets are doing so more than 10 times per week on average. 42% of Indian smartphone owners watch videos on mobile handsets.
This highlights exciting opportunities for marketers to build strong and lasting connection with users.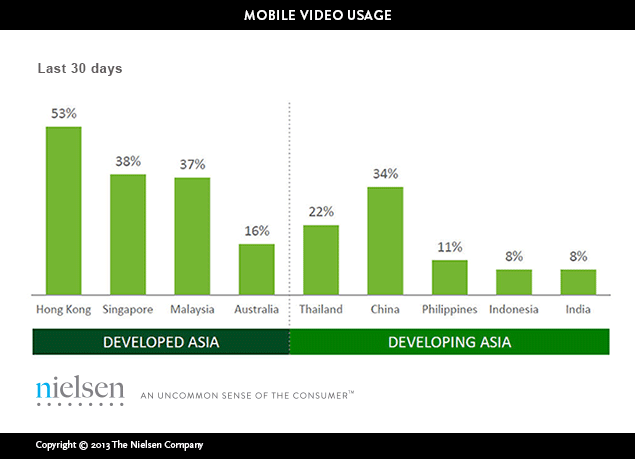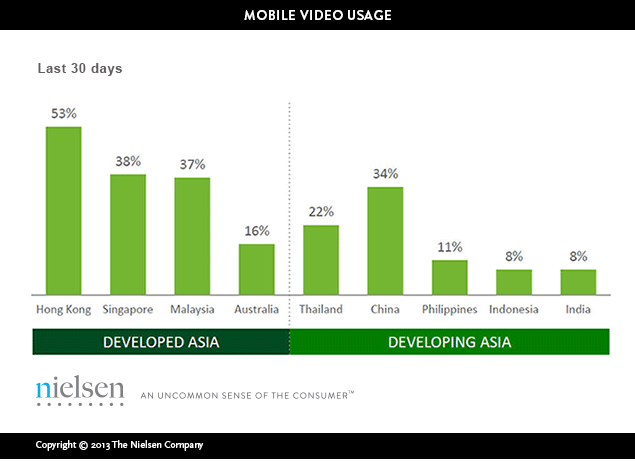 M-Commerce:
Consumers in the region, especially in markets like Korea and Japan are increasingly engaging in mobile commerce. About 89% Japanese consumers and about 67% of Korean consumers engaged in mobile commerce activities in June 2013.
Although mobile commerce is still largely untapped in most markets, but as this technology wave catches, markets like Hong Kong, Singapore, Malaysia and Australia may emerge as the next big mobile commerce markets, which will play critical role in shaping the future of retail in Asia.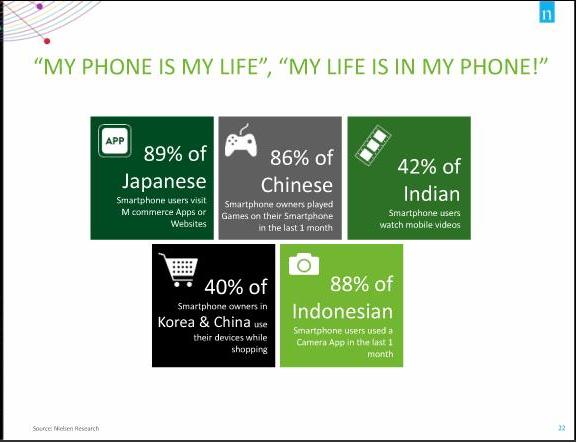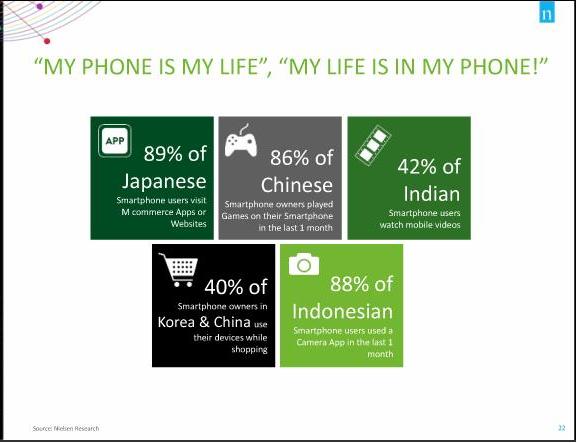 Mobile Advertising:
The increase in smartphone usage is also paving way for advertisers to connect with consumers. Although, mobile advertising is still in a nascent stage, especially in markets like India and Philippines, where smartphone penetration stands at 18% and 15% respectively, many companies are experimenting to see what works best and what doesn't. Receptiveness to mobile ads is growing in Asia-Pacific. Though it is an exciting opportunity for advertisers, they should focus on providing an engaging experience that doesn't interfere with users overall mobile experience.
Although the opportunities are numerous, it is very crucial for marketers to understand changing behavior of smartphone users. Success will largely depend on understanding the challenges and identifying the opportunities, as well as the drivers and motivators of mobile behavior.
SOURCE: Nielsen