The US Smartphone Industry is witnessing a slow but steady shift; be it preferred Smartphone maker or OS. According to the latest report from ComScore, tracking key trends of the US Smartphone market of 3 months, ended May 2013, Android is slowly picking up the pace and grew with almost double the speed than Apple iOS. In the last quarter, ended May 2013, while Apple Inc. (AAPL) improved its market share to 39.2% as a Smartphone platform – up 0.3% from 38.9% in February 2013 – Google Inc. (GOOG) Android recorded 0.7% appreciation during the same quarter, resulting in 52.4% market share. Interestingly, the growth of both the platforms came at the cost of all other platforms Symbian, BlackBerry and Microsoft, recorded negative growth during the same three months.
Overall, Smartphone industry in the US added 141 new users during the three months ending in May 2013, up 6% from February this year. Nearly 73 million Smartphones were powered by Android, while 55 million Smartphones were running on Apple iOS.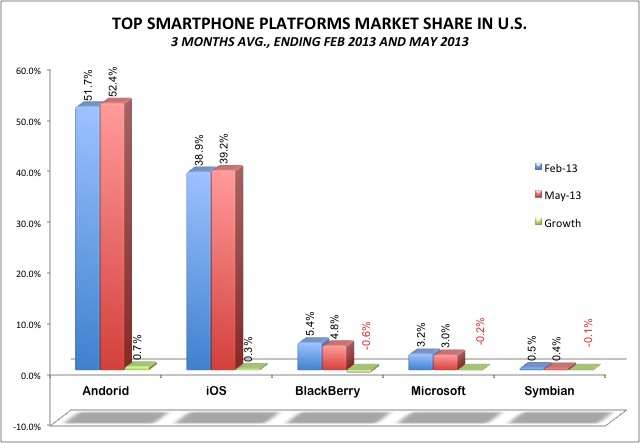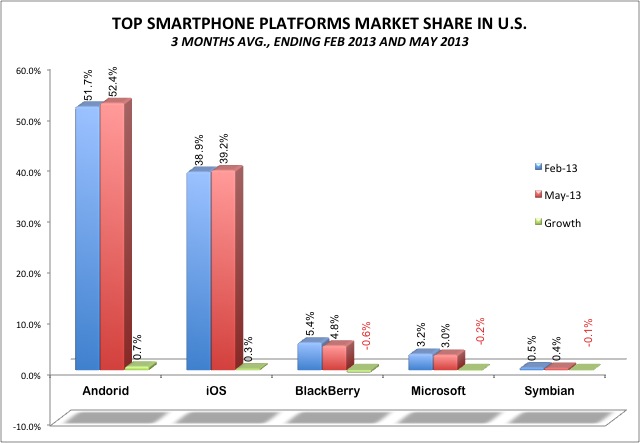 While Android domination is the result of combined sales from multiple Smartphone manufacturers (OEMs), Apple emerged as the top Smartphone manufacturer beating its archrival Samsung with a sizable margin. As an OEM, Apple sold more than 55 million Smartphones during the three months, ending in May 2013. While, Samsung – controlling nearly 50% of the global Android market – managed to grab nearly 32 million users – nearly 2 million more users in the three months period compared to February 2013.
Though Apple topped the list by selling the maximum number of iPhones, it marginally improved the number of iPhone sales in the US during three months.
Apple vs Samsung: Global Scenario
Apple iOS and Google Android combined unanimously ruled over Global market share by capturing 92.3% market in Q1 2013. Samsung played a vital role in Android growth and success as 50% of Google's mobile OS is activated on Samsung manufactured Smartphones. In Q1 2013 while Samsung registered a 3.9% growth, Apple presented a disappointing picture with a negative growth of 5.7%. Many Analysts try to console the unfavourable growth of Apple by pointing out 'No-Release' of any new iPhone model during the whole quarter. However, there are many that blame Tim Cook's poor strategy that forced Apple to witness such destructive performance.
Apple has been dominating the US Smartphone market since Steve Job's era; Unchallenged and unparalleled, Apple proved to be a tough nut to crack for Google that was struggling to mark Android's presence in world's biggest Smartphone market. The scenario is changing post Steve job and Apple is apparently losing its grip over the homegrown market. However, Q3 could turn the table again in favour of Apple when the company is reportedly lining up a series of variants of iPhone and iPad – catering to every segment of mobile device users.