Google Inc (NASDAQ:GOOG) has maintained its unparalleled lead in the US online search market. In August, out of 19.1 billion explicit search queries, Google Sites ranked first with 12.7 billion, according to ComScore August report. Microsoft Sites maintained the second position with 3.4 billion, that's just 30% of all Google Sites. This clearly depicts how Google Sites are dominating the US search market in absence of any immediate competition.
The glossy picture, however, also portrays the gloomy side of Google Sites. With almost no improvement in its market share, Google Sites are apparently losing the US search market. Google Sites' market share dived down to 66.9% in August 2013, with a negligible loss of 0.1%, from 67% in previous month. On the other hand, competitors Yahoo! Sites and AOL, Inc. showed a marginal sign of improvement in their market share by scaling up to 11.4% and 1.3% respectively. These changes don't show a sizable number of search queries though, Google failed to show much of improvements in numbers too.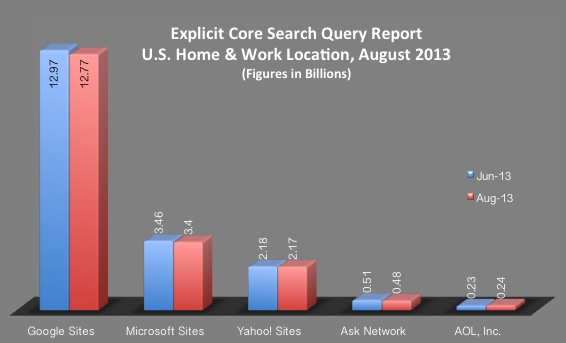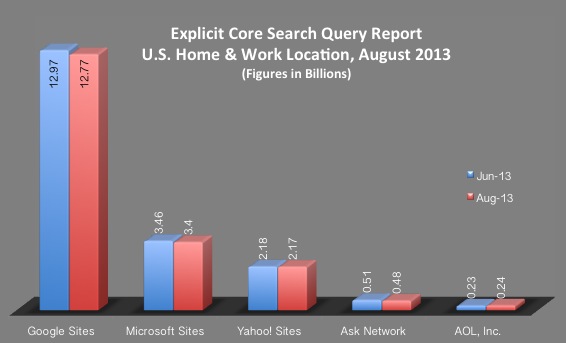 Google's domination over online search market is due to the extensive reach of its next-generation content type properties likes of YouTube. In June this year, Google reportedly served 12.8 billion search queries, while YouTube – Google acquired for $1.65 billion in 2006 – emerged as the second largest search engine on the planet. By processing more than 3 billion queries monthly.
Various third-party tools also prefer to power their search feature by Google. According to ComScore, Google-powered 68.4% third party searches queries in August, while Microsoft's Bing powered 27.3% of searches.
Report: ComScore