UHNW – Ultra High Net Wealth means possession of wealth by individuals more than $10 million in excess according to Wikipedia. This is important because the density of the wealth generated in the world is concentrated around these individuals. According to the report by Wealth-X there are 199,235 such people who control most of the business in the world. And the UNHW population reached all time high this year with a total combined wealth of US$27.8 trillion .Going further 2,170 billionaires globally have been identified by the report who account to 23% of the UHNW wealth which equals to US$6.5 trillion. Surprisingly, this elite billionaire club only accounts to only 1% of the UHNW population.
Some interesting facts before analyzing the UNHW population geographically.
The total wealth of UHNW population is equivalent to 40% of the world GDP and they constitute only 0.002% of the world population.
The wealth of UNHW is greater than the GDP of India.
The average wealth of UHNW individual is US$ 139.4million and has risen by US$1.8 million from last year.
Out of these people 88% are men with 87% of the wealth with an average age of 58. Interestingly, 70% out of these men are self-made and 14% have inherited wealth and rest being a combination of both. Banking and Investment is the most significant industry with 20% of the men population share belonging to the above industry . Among all, 95% are married and 87%  at least have a bachelor's degree.
The average age of women in UHNW population is 54 with 53% having inherited wealth and 33% independent self-made women.89% are married and 82% have a degree in bachelors. They tend to give costlier gifts than men with an average value being  US$ 24.7 million.And the most significant industry being Non-Profits and social organizations.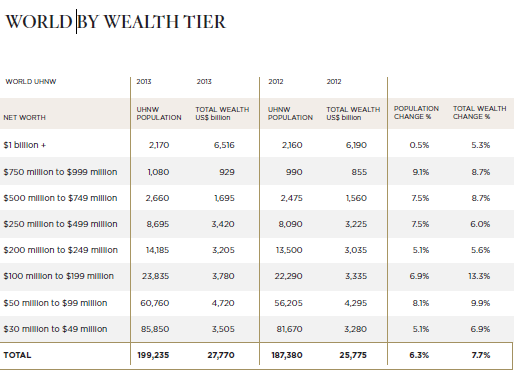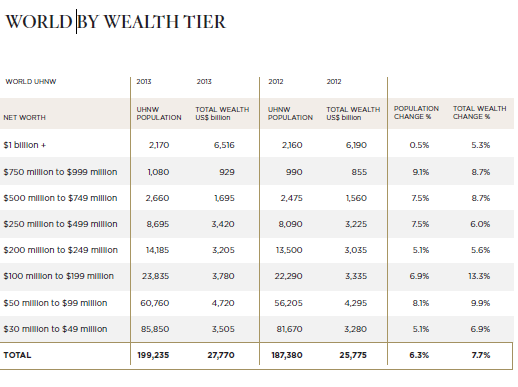 We can see the wealth distribution in the graph, Billionaires have the slowest growth and % change in wealth because logically new entrants are microscopically low and huge wealth accumulation takes time. UHNW population in the $100-199 million category have the fastest growth and have become wealthier comparatively.
Now looking at the geographical distribution of UHNW population and wealth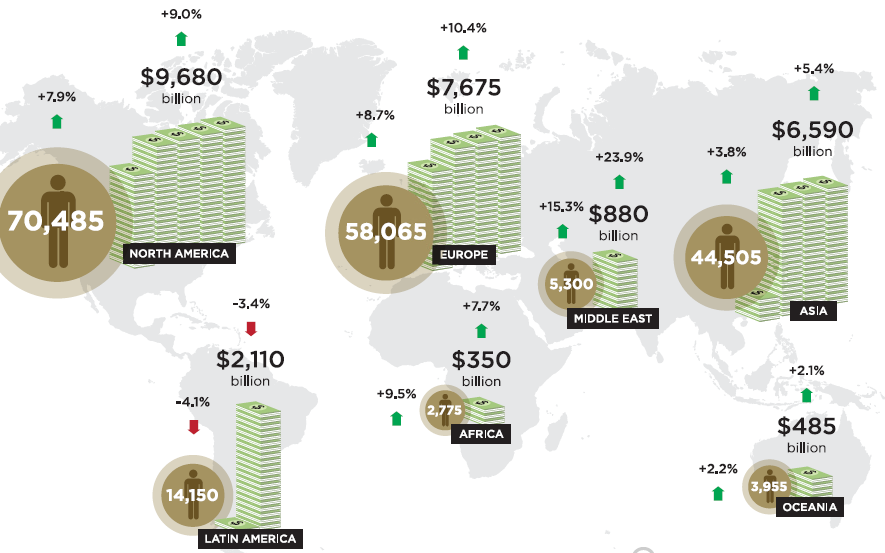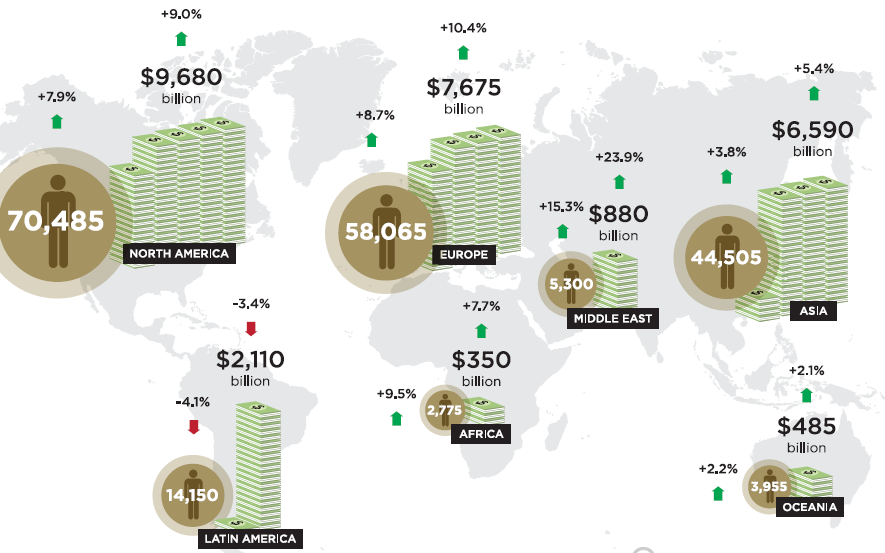 North American Capitalists collectively have the majority share and USA is spear heading  this continent .32% of US  UHNW individuals hold most of their wealth in liquid assets and the strong recovery of the American market is pulling back the economic wind towards its shores. The other important focus country Canada total UHNW wealth is only US$ 595 billion and is in a weaker position.
The European crisis affected its growth to remain still but a positive growth is expected due to strong performance by German and Swiss economies and recovery phase of Greece and other struggling nations.
Asian economies have remained modest this year to due slowdown in china and India. But according to the report Asian wealth is expected to overtake Europe and US by 2017 and 2024 respectively and UHNW population by 2021 and 2032.
African economy is reported to growing faster than any other continent with Nigeria and South Africa becoming to be the Focus countries.
Report: World Ultra Wealth Report 2013