The 'micro' social networking site Twitter has recent launched a mobile music application 'twitter #music' that will let users to listen and share songs from various sources including Apple Inc. (AAPL) iTunes.
Twitter #music app is now available on iOS but assured soon it will be available for Google Android users too. However, Twitter is not hosting the tracks you will be listening. The company has collaborated with iTunes, Rdio Inc. and Spotify Ltd to stream the music for its app users. iTunes handles all the song previews and if you're a subscriber to either Rdio Inc or Spotify Ltd you can start streaming the song within the app.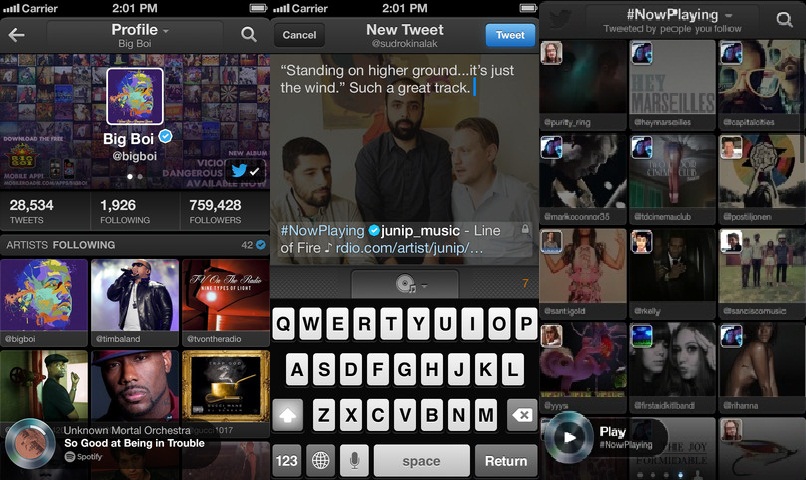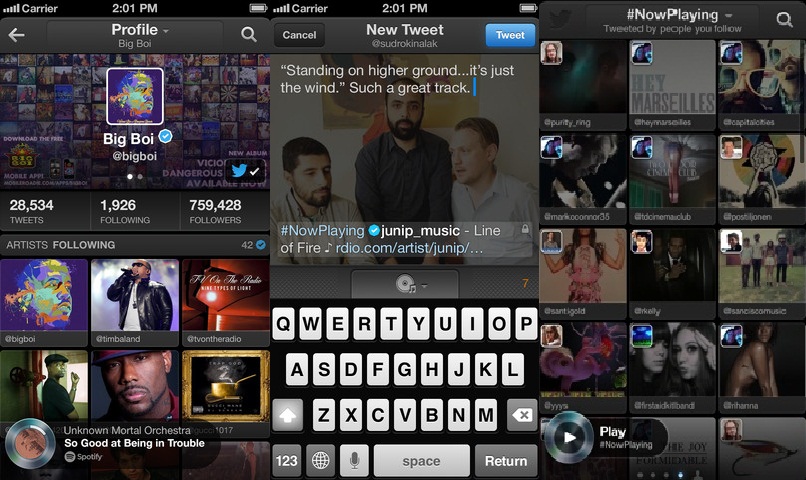 The beauty of the service lies in the inherited intelligence that makes Twitter #music different than other streaming apps. The app syncs all the tracks, being listen by the people you follow, by going through their tweets and shows what other people are listening. This application holds a separate profile pages of each of your favorite artists – just like on twitter – and you can choose them to follow and listen to their music and find out what they are twitting. Twitter #music app also allows users to tweet the listening song.
Venturing into mobile entertainment space is defiantly a smart move by Twitter. Between December 2011 to December 2012, Entertainment category was the second most popular in terms of mobile app sessions with 268% Y-O-Y growth. In fact another report claims that Entertainment was the second most popular category in terms of mobile app downloads and mobile app revenue. over Apple App Store and Google Play both.
Twitter vs. Facebook
Social network giants are competing aggressively to grab advertising dollars from the media industry. Facebook has out paced twitter by grabbing 21% of mobile display advertisement revenue in 2012 while twitter had to settle down with only 7.30%. Interestingly, Facebook is projected to continue its domination as forecast says Social Networking titan will enjoy 28% of media advertisement revenue against 8% by twitter in 2013.
According to Bloomberg report Twitter would cross $1 Billion dollar as revenue by 2014. Though Twitter's growth has been exponential and has grown beyond marketers' expectations, still it lags behind in terms of revenue as well as number of users.  
TBG reported on its Global Social Media Survey that there is a major increase in CTR (Click Through Rates) globally because users are quite engaged with ads on Mobile rather than Desktop. In U.S. alone Mobile Advertising market is projected to be worth $7.3 Billion this year and Facebook will be the Kingpin. The social networking titan have adopted mobile-first approached and, consequently, multiple updates and new roll-outs are periodically being witnessed. The biggest roll-out in the form of "Facebook Home" took place early this month and rumors are claiming that after Android, iOS is being targeted as the second home for "Facebook Home".
However, Twitter has got an upper hand in mobile segment as nearly 60% of Twitter users are on mobile compare to 50% of Facebook. The growth rate of twitter mobile users is also higher than Facebook. While Smartphone is also breaking 'screen-size' boundaries with each passing months, rumors are claiming Twitter is also planing to go beyond 140 character limit to lure social users are finding twitter unimpressive under such character limits.