The adoption and consumption of OTT content in India has been on a consistent rise, fueled by increasing internet penetration and a growing appetite for diverse digital content. The latest Ormax OTT Audience Report: 2023 reveals that the number of India's OTT audience has reached a new high of 481.1 million (48.11 crore), with an impressive 13.5% YoY growth. However, this growth rate has slowed down compared to the previous year's 20% YoY growth in the OTT audience.
With an OTT penetration rate of 34%, India's digital content consumption is far from reaching saturation, but it may be entering a more mature phase.
Ormax Media conducted an extensive survey, gathering insights from 12,000 respondents all over India during the period from July to September 2023 to compile this report. According to the findings, India's OTT audience is defined as individuals who have watched digital video content at least once in the past month.
Let's crunch the numbers and discover how many Indians are diving into the world of online video content by subscribing to paid streaming platforms like Netflix, Amazon Prime Video, Disney+ Hotstar, Zee5, and others. Additionally, let's explore how many Indians are opting for the budget-friendly option of enjoying free online videos on platforms such as JioCinema, YouTube, and even social media platforms in the year 2023. This data will provide us with a comprehensive understanding of India's diverse online video consumption habits.
Paying for Premium Content
Among the 481.1 million-strong OTT audience in India, the report categorizes viewers into five distinct segments based on their consumption of free and paid video content:
SVOD (B2C): This segment comprises 36.4 million Indians who have directly paid for at least one OTT subscription, not through telecom bundles.
SVOD (B2B): The segment comprises 39.5 million Indians who have opted for at least one OTT subscription, but only via telecom bundles, not through direct payment to OTT platforms.
SVOD (Indirect): An astonishing 77.2 million Indians fall into this category, watching content on SVOD platforms without paying for subscriptions themselves. Instead, they access content through subscriptions taken by family members or friends, either B2C or B2B.
AVOD+: A significant 198.1 million people in India watch videos exclusively on free streaming platforms, including at least one platform besides YouTube.
YouTube + Social only: 129.9 million Indians are currently watching videos only on YouTube and/or social media platforms.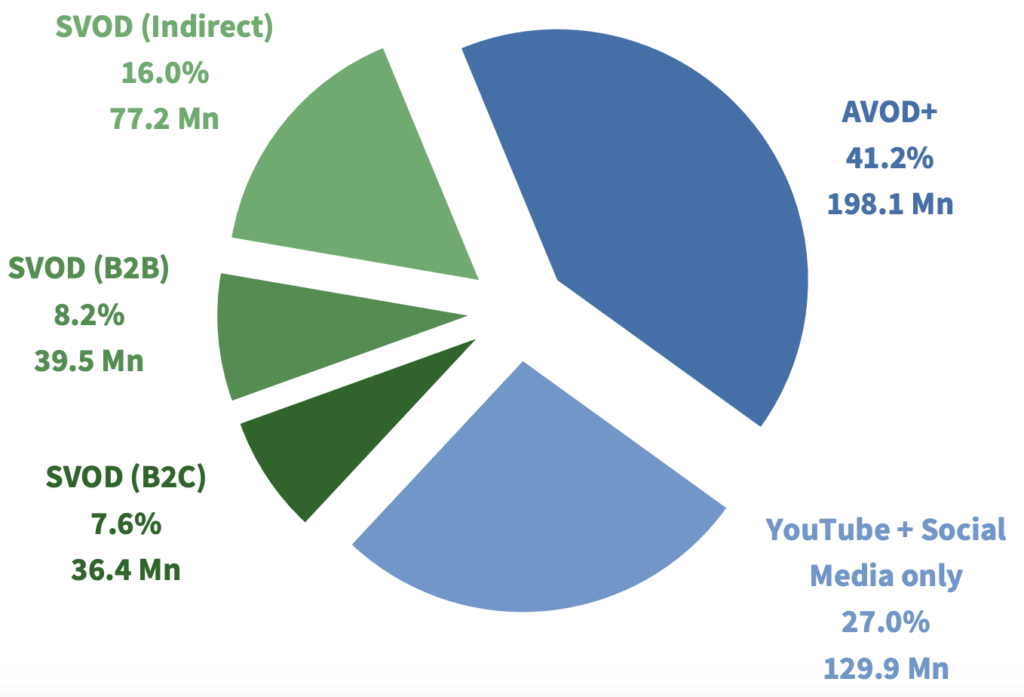 Despite double-digit growth in the number of Indians watching OTT content in 2023, only one in three people within India's extensive OTT audience of 481 million is watching paid streaming content. To be more precise, approximately 31.8% or 153.1 million Indians are exclusively devoted to paid Subscription Video-on-demand (SVOD) content.
What's even more eye-opening is that only 23.8% or 36.4 million of the total SVOD subscribers are direct subscribers of streaming platforms, bypassing telecom providers. This effectively translates to only 7.6% of India's extensive OTT audience directly paying for their content. It's a testament to the enduring appeal of free content options, even in the midst of the booming OTT landscape.
The report further highlights that SVOD B2C subscribers, totalling 36.4 million, have subscribed to an average of 2.8 paid platforms per user in 2023, resulting in a substantial total of 101.8 million active paid subscriptions in India.
The rest of the audience (SVOD B2B and SOVOD Indirect), totalling 116.7 million, enjoys access to premium OTT content through telecom providers or via shared subscriptions with family and friends.
On the flip side, the majority, which makes up a significant 68.2% (328 million) of India's OTT content viewers, exclusively engage with free content. Among them, 39.6% have a strong preference for watching videos exclusively on platforms like YouTube and social media apps. This highlights the prevalent choice for no-cost content options among a substantial portion of Indian viewers.
The Indian OTT market is indeed undergoing a dynamic transformation, driven by a growing consumer base, expanding internet penetration, and evolving content preferences. While the market holds immense promise for investors and entrepreneurs, it's crucial to acknowledge the challenges that lie ahead.
Converting free content consumers into paid subscribers will require a strategic approach that addresses India's price-sensitive nature. OTT platforms will need to carefully balance their content offerings, pricing strategies, and marketing campaigns to capture a larger share of this burgeoning market.