Twitter is an excellent micro-blogging site; with its unique 140 characters of speech it has marked a authorized space among many other social media networks. It creates the best opportunity for brands and provides good opportunities for conversations with users but  the biggest problem what brands on Twitter face is the same thing itself. These tweets draws great attention and puts marketers in a pressure to respond quickly to customer queries/complaints.
A couple of weeks back we had highlighted a study which said there are were only 90% of the brands which are active on Twitter out of 50 main retail brands. In those, 73% of customer tweets are ignored by brands. Is this a proof for  brands under pressure?
A fresh research from Simply Measured says that 99% of the brands on Twitter are having active account in this micro-blogging site. And out of 100  top brands on this site, only 30% are currently operating a dedicated customer service, a number that has increased from 23% from December 2012. This indicates that brands greatly embrace the value of Twitter marketing and customer service could help them greatly in acquiring more customers.
The increase includes tweets to all followers as well as responses to customer tweets, which indicates that these brands are continuing to invest more resources in social marketing.
Each of the top 10 brands by mentions averaged the response time less than 24 hours. Microsoft, American Express and UPS were fastest brands to respond to customers, replying to mentions in under two hours.
The top 10 dedicated handles account for a massive 59% of total customer mentions, and demand has actually increased by 20% since December 1. These accounts responded by increasing the number of tweets they sent by 39%.  Brands are devoting huge resources to satisfy consumers, the number of tweets sent not only includes response to consumers but also to all the followers.
As the level of engagement on Twitter is increasing, brands have also taken serious steps in making their conversations with consumers better and hence protect their social presence.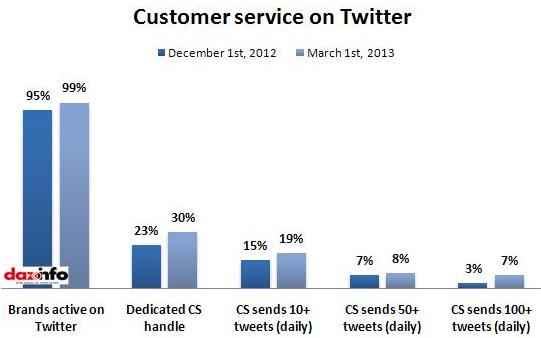 The average response rate to all customer service mentions was 42%, while the best response rate was 75%. Only five of the dedicated support accounts maintained response rates greater than 60%.
Customers have higher expectations on customer service teams on Twitter, 42% of the users expect a reply from customer service to respond within an hour of their query. But unfortunately only 10% of the dedicated customer support team respond to consumers within an hour and not even one maintains a response time within 30 minutes.
The study also finds out the answer for this mishap, it says the torrent of the user tweets fall in the cracks especially when they are received when the customer service resources are thin or completely absent. While astoundingly, 61% of the user tweets are responded within an hour if they have fallen under the eye of CS (customer service).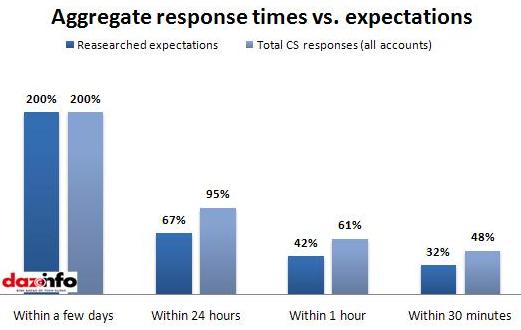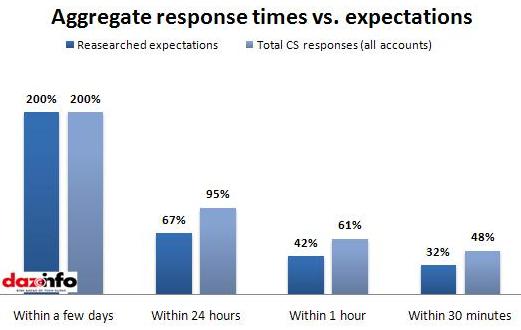 Brands have truly realized their mistake of un-responded tweets. An added presence of customer service handle  response allows the increase in elasticity in addressing complaints, questions and issues without compromising their brand value.
Several brands have enriched their interactions with the customers, brands like Microsoft, AMEX, UPS and Nokia have started tweeting more than 100 times a day. This suggests that these brands have assigned a dedicated team to protect their social presence and resolve consumer issues.
The average response rate for all customer service mentions was 42% while, only 5 of dedicated customer service team ensured having more than 60% response rate. The best response rate for an account was 75%.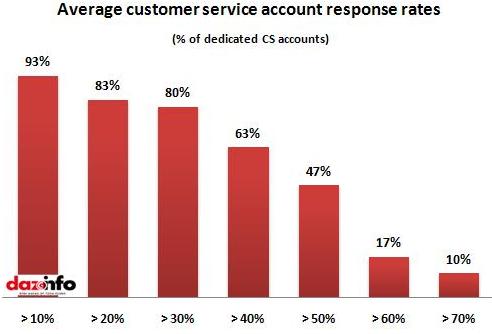 It is also noted that the average response time for a customer support mentions over the period of study was 5.1 hours. However, 5.1 hour looks quite long, the fastest average response time of 42 minutes is highly commendable. In addition, best average response rate was 75%.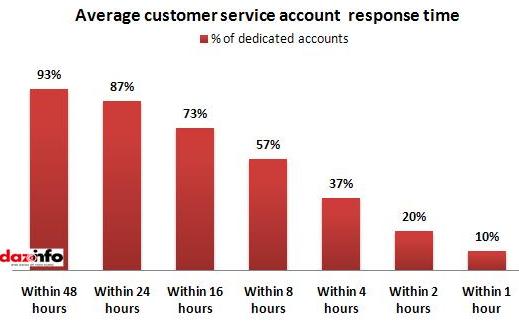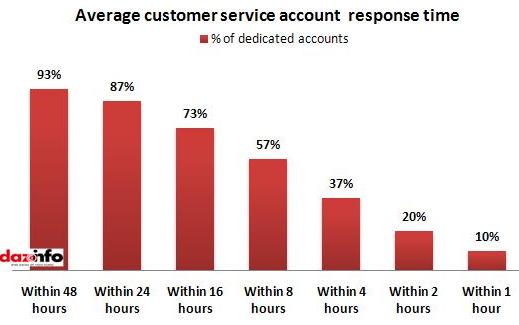 Brands are striving to increase their rate at which they respond to customers and increase the overall customer satisfaction on Twitter. In this process brands have to be dynamic and allocate required resources to exceed the customer expectations.