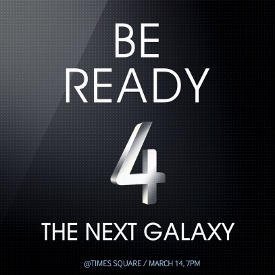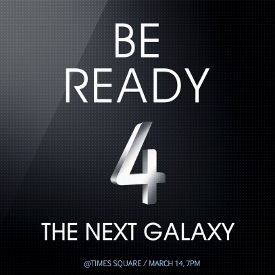 Finally, Samsung has officially confirmed the dates of big bang launch for Samsung Galaxy S IV. On March 14, 2013, Korean electronics giant will unveil the successor of its Galaxy S III smartphone – the best-selling Galaxy handset ever.  We saw this coming last year and also justified the need of Galaxy S4, Samsung is feeling now.
Today, Samsung has released first ever teaser video of Galaxy S IV that also contains the date of the much-awaited launch. This time Samsung has planned the best and the biggest ever launch of its Smartphone model, probably due to intense increasing competition from Apple's iPhone. But, Apple iPhone is not the only challenge for Samsung Galaxy S IV this time; Competitors like HTC and Nokia are also strengthening their presence by their own style. The latest launch of HTC One is already being considered as the toughest contender to win over; Nokia is also reportedly working on strong successor of Lumia 920.
It's also being speculated that Samsung Galaxy S IV would easily hit 100 million sales milestones by shipping 10 million handsets each month. Though, Samsung Galaxy S IV may not have complete new makeover, but the launch itself is enough for Apple to disappoint as the iPhone maker has no new innovative product lined-up in this class to challenge Galaxy S IV.
Though, Apple is gearing up for iPhone Mini instead, Samsung is also reportedly working on down-sized model of Galaxy S IV. And, quite possible that Korean giant could offer Galaxy S IV Mini for nearly $280 against $330 for Apple iPhone Mini
Having said all above, Samsung Galaxy S IV could also disappoint many as the company is reportedly ditching Super AMOLED screen and most-awaited power-packed processing performer EXYNOS processor.
Whatever it may; one thing is quite clear, this year Samsung has not new contenders, like Huawei, and models to dismantle. Anyways, the teaser video of Samsung Galaxy S IV after this break;
http://www.youtube.com/watch?v=dIEfNaNCkKM