As of the end of December last year, market was flourished with low-priced Android Tablets. A slew of Android-powered Tablets were available for users in holiday season of 2012. Yesterday, head of Samsung PC and Tablet business– Mike Abary–told that the U.S. will not be getting Samsung's Windows RT Tablet. The company has decided not to launch the device because its retail partners do not see enough demand in the country. Of course, the decision has been taken on the ground of increasing threat from Android Tablets.
Growth of Android Tablets During Nov-Dec 2012
According to a recent report Localytics, an enterprise app analytic and marketing company, Amazon Kindle Fire and Samsung's Tablets had seen incredible growth from November to December, 2012. The number of Amazon's Kindle Fire HD 7″ grew 322% during this period (November-December), followed by Samsung Galaxy Note II and Galaxy Tab 2 10.1" with 80% and 78% growth respectively. However, Samsung's smaller version Galaxy Tab 2 7" showed off 72% growth in number, while Nook Tablet had seen 62% growth during this period. On the other side, the fourth generation of iPad is now accounting for 8% of the overall iPad market, while iPad Mini picking up 6%.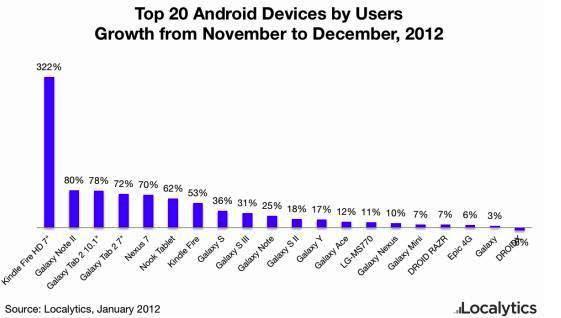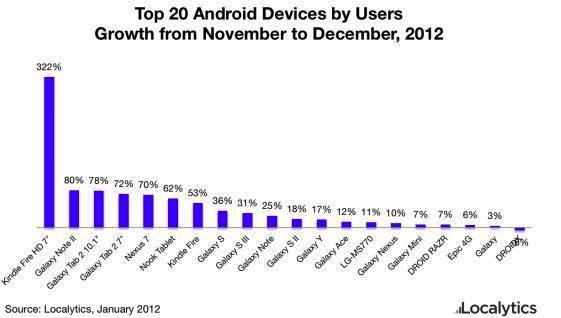 Growth Of iPhone 5's Market Share
Undoubtedly, iPhone 5 is now the world's fast selling Smartphone. Besides, Apple is expected to ship 50 million iPhone in the last quarter. As of December end, iPhone 5 accounted for 18% of overall iPhone market share. Interestingly, with 40% market share, iPhone 4S is still retaining its position as the most popular iPhone.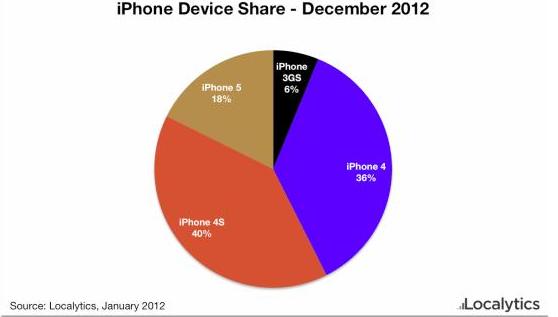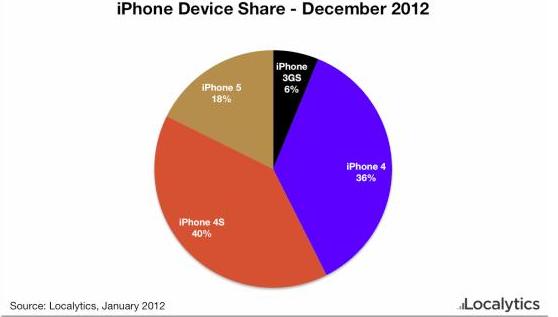 Apple's biggest rival in Smartphone segment—Samsung– sometimes works in mysterious way. It has recently released a Smartphone slogan "designed for human". It's pretty much clear that the company is working on Galaxy SIV Smartphone. Besides, it's also working on Galaxy SII plus—trying to leverage on Galaxy SII's popularity. The device would have a flavor of Android's out of box Jelly Bean version. In addition, it features NFC, dual core 1.2 GHz processor, 4.3 inch super AMOLED plus display and number of software updates such as Popup Video, S Bean, S Voice Unlock, Smart Stay, Direct Call, Smart Alert and AllShare Play.
However, Samsung has confirmed that the device will not be launched in the U.K. market, but it will be launched in Germany, prior to the launch in other countries.