Internet subscriber base in India is ramping up day-over-day. Despite, internet penetration in the country is still pathetic. According to a recent report from IAMAI, the number of computer literates in the country has surged to around 224 million, whereas number of internet users reached 150 million as of December 2012. Till the end of last year, internet penetration in the country was about 12%.
The report has revealed that language is one of the major barriers for internet penetration in the country. At present, English is primarily used as internet language. But in the country, majority of people are non-English speakers. This is the reason why non-English population remains untouched with the world of internet.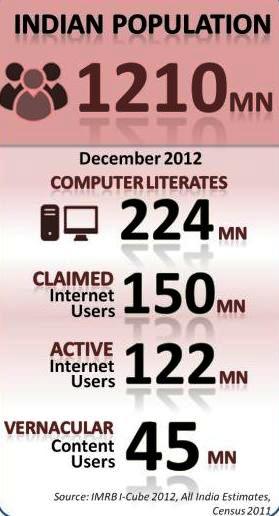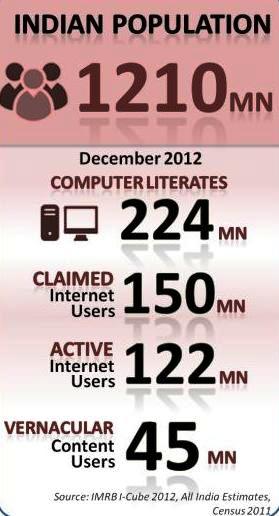 Non-Internet users have complaint a lot about the lack of contents in the local languages. More importantly, around a quarter of non-internet users are likely to use internet in local language in next one year. In India, 45 million people access internet in local languages. Around 64% of the rural internet users (24.3 million active users) have accessed internet in local languages, compare to only 25% of urban internet users (20.9 million active internet users) . Interestingly, availability of various internet services in local languages is one of the primary reasons why more number of people access internet today.


Scope For Enterprises To Create Websites In Local Languages
There's still a huge scope for marketers to develop contents such as News, matrimonial services and online banking in local languages. The report has also revealed that the respondents in 35 cities of the country are likely to increase their consumption on internet if services (like news and more) are provided in their local languages. Out of 122 languages, Hindi is widely spoken language in the country, followed by Bangla and Telugu. The penetration of English speaking people in the country is quite low.
Internet Usages in India
As of December 2012, there were 105 million internet users in urban area, followed by 45 million rural subscriber base. The growth of internet subscriber base in  rural India is quite high (31%), compare to 7% in urban areas. Despite of increasing internet usages, the penetration still remains quite low.
Factors responsible for Poor Internet penetration
Some factors, such as lack of infrastructure (expensive internet connections and computing devices), and lack of technical awareness and lack of contents in local languages, are responsible for poor internet penetration. The proportion of non-English speaking people (without the written or spoken) is extremely high. These people are not willing to access internet for their purposes.
Internet Services usage in Local Languages
However, number of websites offering contents in local languages in India is growing up day-over-day. People are looking out for internet to access number of activities such as email, search engine, news and more.


Among the many internet services, offering vernacular contents – email is most used application. However, news, matrimonial services and online Banking are being offered more in local languages, rather than English. The trend is somehow similar with 'Search Engine', Text chat and other online services. Besides, many websites have already started offering translation and transliteration services in order to attract more number of users, those are willing to read contents in their local languages.