It's always funny to see fanboys from both worlds – iOS and Android – going to war in the comment sections of tech-media articles. The thrashings, the swearing and the use of sarcasms often make these comments more interesting than the articles. I prefer to be a bystander and listen to their claims and accusations while trying to differentiate the truth from ignorance. I've seen many claiming that their iPhone is faster than "any" smartphone ever made, others claim that their Samsung S-(whatever) is so fast that it'll leave iPhone eating dust. Some say iPhone's screen is "puny", defenders say they sometimes mistook a giant screen smartphone for a tray – and so it continues! Everything from build quality to screen size to battery backup become weapons in these wars.
Agawi decided to find out if touchscreens of iPhone from Apple (NASDAQ:AAPL) were really more responsive than Android smartphones, as so many Apple lovers claim? To be able to measure accurately the App Response Time (ART) i.e. latency from the time the user feels that they have touched the device to the time the user sees a response on the screen, a combination of high-frame capturing at 240fs and custom hardware was used. The team built simple, optimized apps to flash the full screen white as quickly as possible in response to a touch, the apps contained minimal logic and used OpenGL/DirectX rendering to ensure the response was as quick as possible.
To make the comparison fair, six top smartphones were taken – iOS based iPhone 5 and the iPhone 4S, Android based Galaxy S4, HTC One and the Moto X and the WP8 based Lumia 928.
Here are their findings:
The iPhone 5 recorded the fastest response time of 55ms! That's not all, it was followed by the iPhone 4S with an MART (Minimum App Response Time) of 85ms. All the Android devices' MART fell in the 110-120ms range. The Lumia 928 WP8 based smartphone showed better response time (117ms) than HTC One's 121ms and Moto X's 123ms.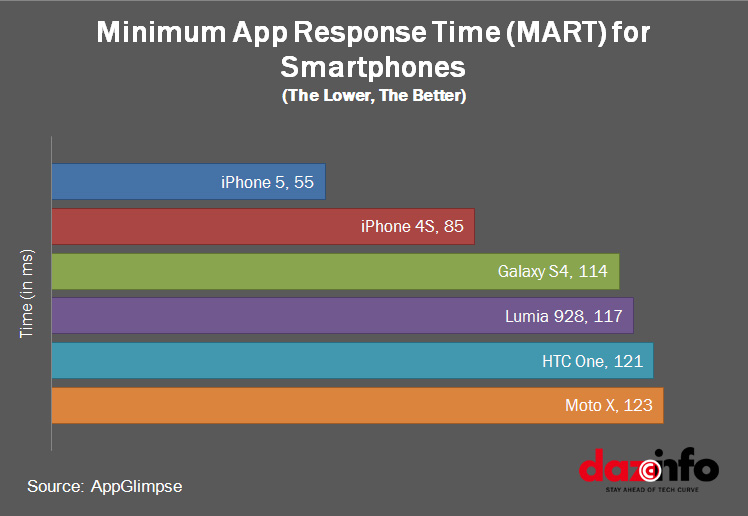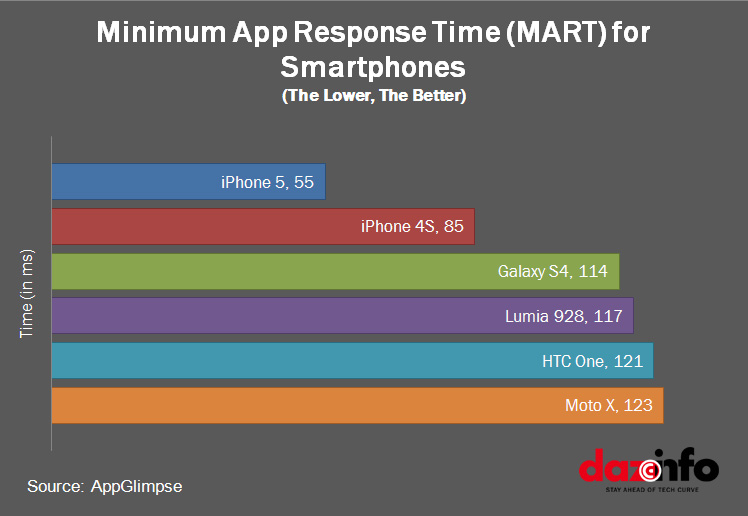 The iPhone's code which is written in Objective-C as opposed to Android and WP8 code that ran on runtimes (Dalvik and CLR respectively), may have reduced some latency in addition to better optimization and/or more sensitively calibration of hardware for capturing and processing touch.
The conclusion was loud and clear – the best written apps on iPhones will simply feel more responsive than similar apps on the current generation of Android devices.
Apple lovers just got something to brag about!
Source: AppGlimpse