Millions of people use social media channels on the daily basis. Major World leaders, athletes, brands, celebrities etc are among the millions of active social media users, so this platforms gathers overall news of anyone and anything around the planet.  According to a survey, including 2,714 total respondents from government agencies, non-profits and corporations which includes 50,000 employees – few interesting facts about which, why and how are organizations using social media have been noted.
Astoundingly, 91% of them chose Facebook as their channel of interest to showcase their brand or company, followed by Twitter, YouTube and LinkedIn with (88%), (73%) and (69%) respectively. 10% of the respondents chose other social media sites which weren't on the list compare to Tumblr with 9%. Few of them even grumbled that their companies fix themselves to top 4 social networking sites and restricts to use other networks than them.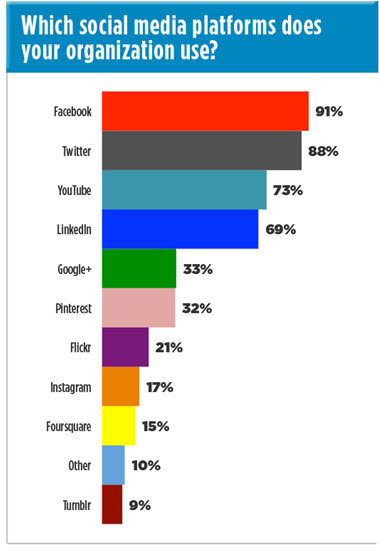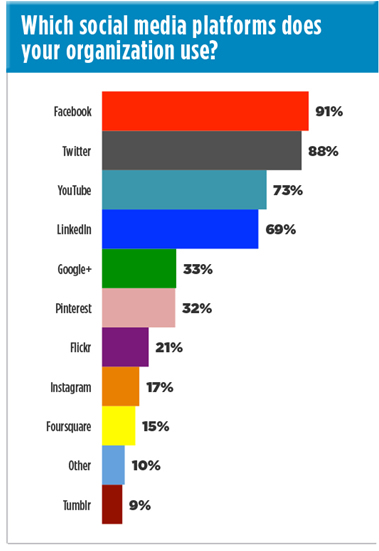 87% of the respondents choose to increase their brand awareness among the users when asked about their goals in social media. While, 62% respondents wanted to increase their web traffic followed by 61% who opted to improve the reputation of their brand on the social media platforms. Pretty annoyingly, 5% of them were "not sure" what they wanted to achieve.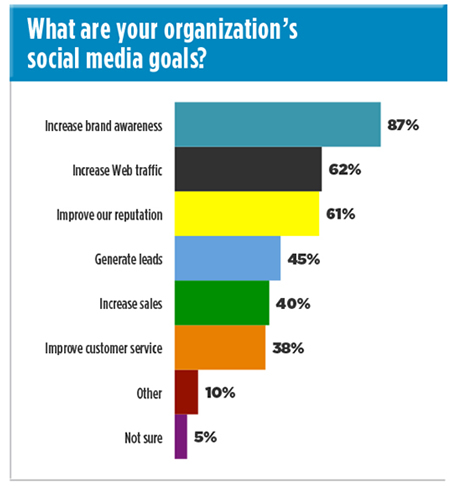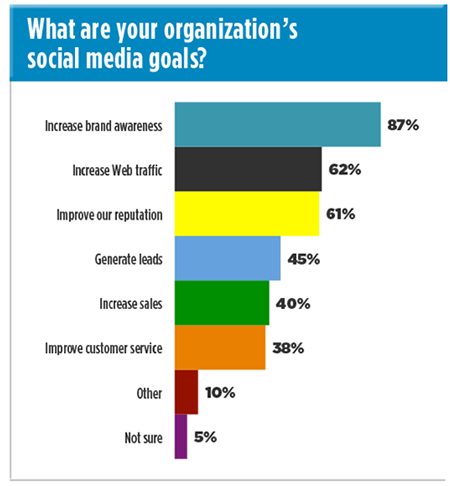 certainly, Over two-thirds (64%) of respondents said that they have more to learn and accomplish but they use social platform on a regular basis. On the contrary, 13% of the respondents said their organizations are in advanced state of using social media platforms and 23% of them were new to social media that is they are in the toddler stage of learning it.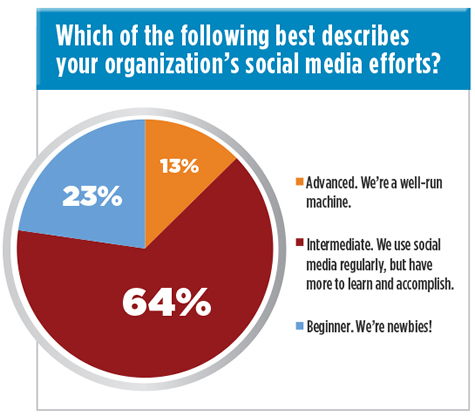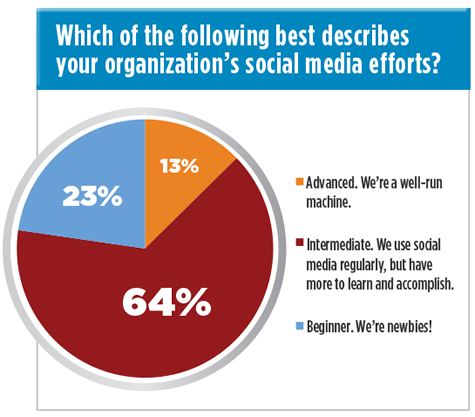 Interestingly, 58% of respondents post something daily, though few (29%) like to take off on weekend. While 22% of them posted 2-3 times a week. Also the survey found that, 86% of respondents chose to post on Facebook while, 64% of them created videos on YouTube but tweets were lagging behind with negligible number of percentage. 61% of respondents wrote blogs and 51% of them drafted online articles while on the other side 3% of them don't usually create any content at all. On the contrary, others produce videos which includes comics, cartoons, guidebooks and etc.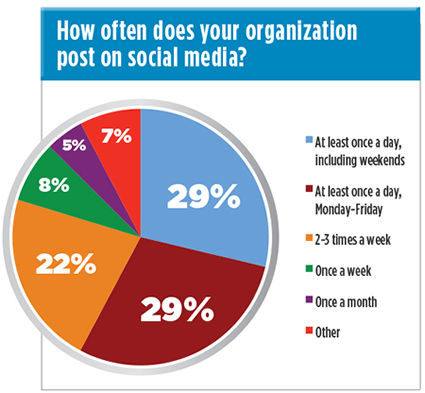 Social media presence is quite important especially in the emerging new companies, this gives an idea about the brand to the customer and one can build its reputation. But there are drawbacks using social platforms, few like:
Social media marketing often holds number of followers than the quality of followers ( people who can really buy your stuffs). Also, Likes, share, retweets, comments, etc are given more importance in this system.
Internet entities just come and disappear; one cannot rely on social media for a longer time or life time.
Social media can prove useless to B2B companies, as no high-level business executive can rely on what they see on social networking sites.
Social networking sites like Twitter has only restricted number of (140 characters) words, by which the complete message to convey has to be tossed on its quality. That is a proper or a powerful communication has to be compromised. Rather one could invest time in their own company website doing quality content.
It becomes inevitable to ignore customer questions without answering; as there are no solutions for few problems or it may cost you double the amount to sometime replace the product.
But despite all these we still get to see many success stories one which like; a shipping company which earned 650,000 Facebook fans in a year with only one social media manager, without any gimmicks or cheap tricks.