There's no need to explain that Smartphones and Tablets are determining the world's trend. It seems that consumers are moving away from using "single-use" devices, and they are more likely to opt those devices which could perform multiple tasks at a time. According to a recent survey report from Accenture, covering 11,000 consumers worldwide, the global trend is currently being influenced by Smartphones and Tablets. The firm has reported that Smartphones, PCs, HDTVs and Tablets are among the top gadgets that users are likely to buy in 2013. 41% of respondents are likely to buy Smartphone this year, followed by 36%, 33% and 23% consumers those are planning to buy PCs, HDTVs and Tablets respectively.
However, the survey was conducted on 16 different types of consumer electronics categories including Smartphone, Tablet, basic TVs and e-readers. Over the past four years, it has been noticed that consumers are increasingly being attracted towards those devices that let users to send/receive emails, watch TV shows and share images on social networking sites.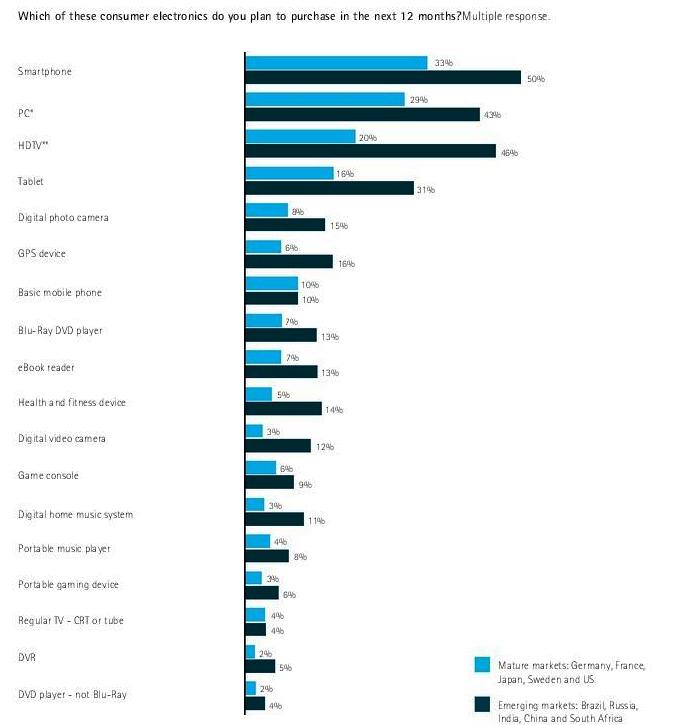 At present, majority of respondents (50%) in emerging countries are more likely to own Smartphone in 2013. However, just 33% of respondents in the matured markets are willing to purchase Smartphone in the next 12 months. At the time, consumers want to make distance from 'single- use' devices such as Gaming console, portable music players and more, and this is the main reason why just 6% and 9% of consumers in the matured and emerging markets plan to buy gaming console in next 12 months period.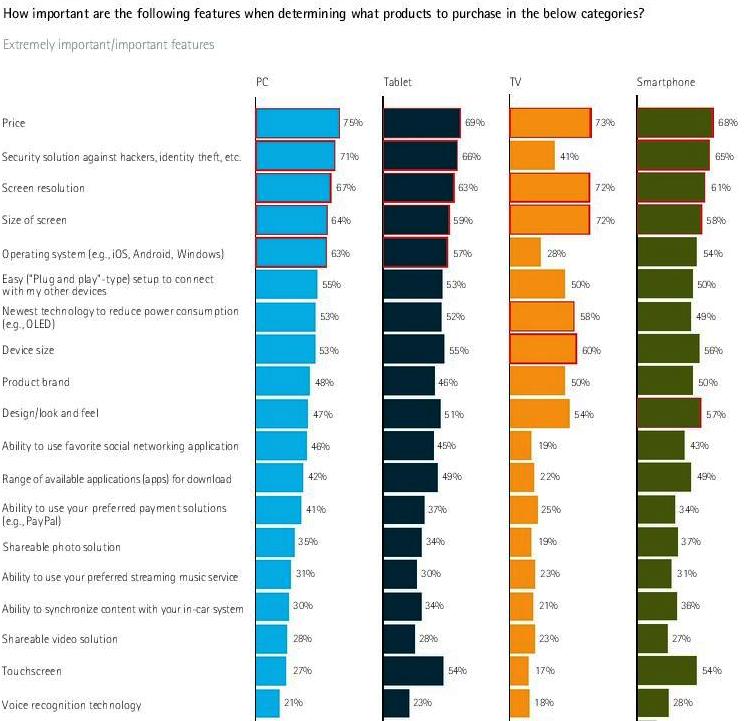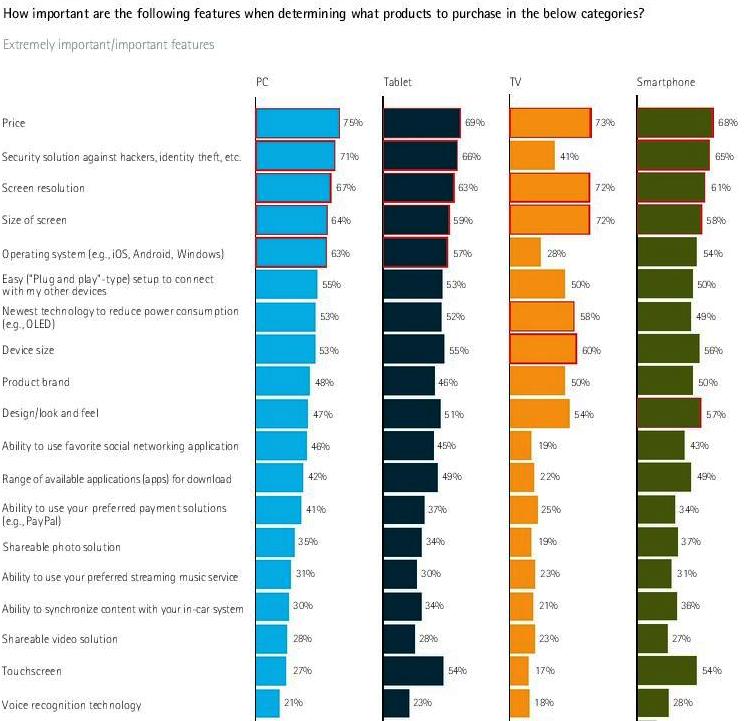 It's pretty much clear from the report that some factors like price, security solution against hackers, screen resolution, device size and more are responsible for the purchase of electronic gadgets such as Smartphone, Tablets and PCs. However, majority of consumers (75%) purchase Smartphone on the basis of price, followed by 71% and 67% consumers purchase these devices after considering security and screen resolution features respectively.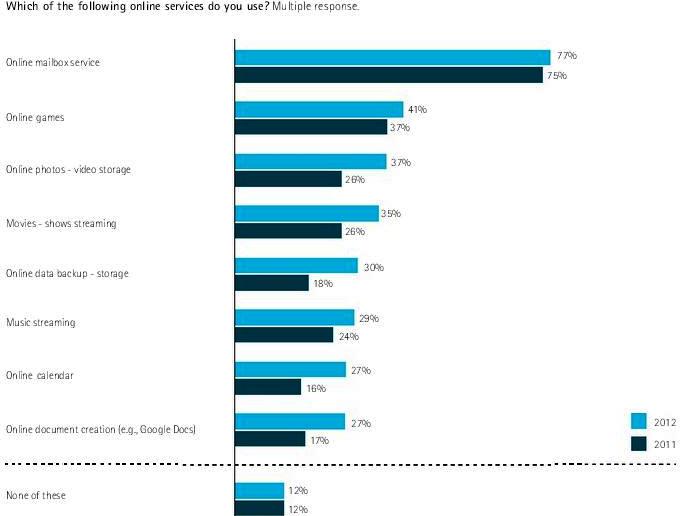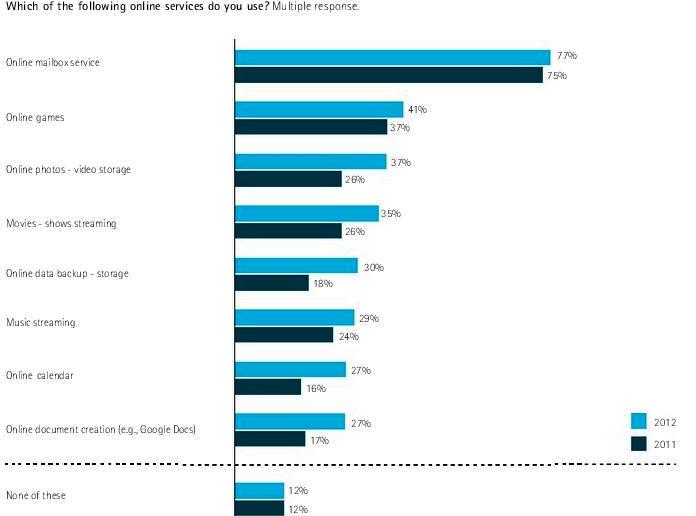 Furthermore, the online activities on Smartphone, Tablets and PCs have tremendously been mounting up. In 2012, 77% of consumers (respondents) accessed online mailbox service on their internet connected devices, followed by online gaming (41%), online photos-video storage (37%) and music streaming (29%).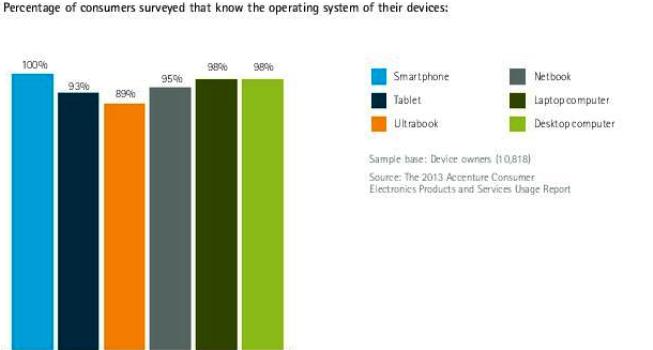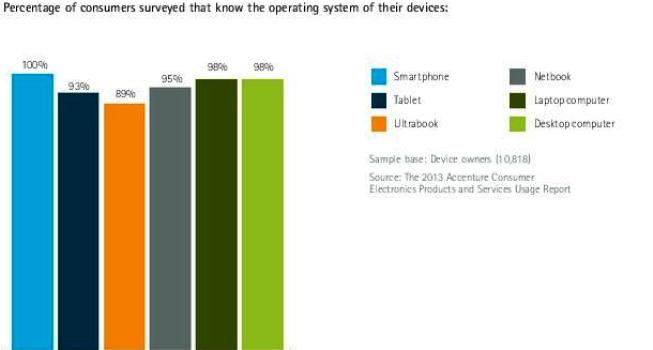 Interestingly, each and every Smartphone users know the name of mobile operating system installed in their device. However, the awareness towards OS is little-bit lower among Tablet and Ultrabook users compare to Smartphone users.