Google introduced Nexus 7 in June this year, considered as one of the hottest Tablets today. The Tablet, features quad-core processor and Android Jelly Bean, has succeeded to grab the attention of tech geeks and mainstream users due to its incredible specification and affordable price tag.
Just a while back, Asus reported that it was selling out nearly 1 million units of Nexus 7 tablet every month. With the recent launch of Nexus 7 3G (alongside the new 32 GB variant), we could see a strong demand for Google's Tablet in this holiday season. The new twist in Tablet market came when DigiTimes (citing to supply chain maker) predicted that the global sales of Nexus Tablet will surpass 1 million barrier in December this year.
In November, global sales of the Nexus 7 rose to 800,000-900,000 units from 500,000-600,000 units in the previous month. The shipments of Amazon Kindle Fire and Nexus 7 Tablet are expected to reach 3-4 million and 2-3 million units respectively in Q4 2012.
Currently, Nexus 10 is being manufactured by Samsung, while Asus makes Nexus 7. However, Nexus Tablet is currently accounting for less than 1% of web traffic (generated from Tablets). According to a recent report, the web traffic, generated by Nexus family (Nexus 7 and Nexus 10), stood to 0.91% in November. In comparison, Surface accounted for just 0.13% of overall traffic. In other words, presence of Nexus Tablet and Surface Tablet is still negligible compare to iPad.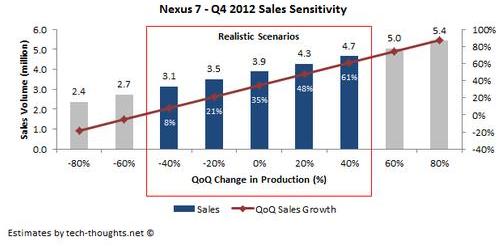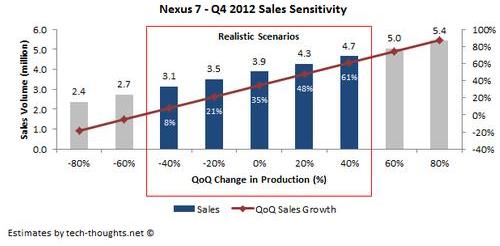 However, users' engagement on the Android Tablet is quite low compare to the iOS platform. Android users are not as much active as iOS, especially in terms of web browsing.
According to Tech-Thought, Google Nexus 7 is expected to ship 6-8 million Tablet by the end of this year. Suppose, we consider an average of 6 million and 8 million, then total shipments of the device should be 7 million units by the end of this year. More importantly, shipments of Nexus 7 Tablet were between 800, 000 and 900, 000 units (say 850,000 units) in November this year and 500,000-600,000 units (say 550,000 units) in the previous month. As per supply chain, Google Nexus Tablet will surpass 1 million Tablet shipments in December this year. In other words, 2.4 million units (550,000+850,000+ 1,000,000) will be shipped in Q4 2012, which is almost same what DigiTimes has mentioned.
If 2.4 million units of Nexus Tablets are shipped in Q4 2012, then 5.6 million units of the Tablets (according to Tech-Thought) should have been sold by the end of Q3 2012. Of course, which is not true. In simple words, Google Nexus Tablet would not achieve 6-8 million figure shipments by the end of this year. As per above calculation, we could only expect 4.5-5 million units by the end of this year.