Microsoft launched its Surface Tablet (RT) on October 26 this year, followed by the launch of Windows Phone 8 in the same month. As scenarios reveal, it seems that the demand of Surface Tablet and Windows Phone 8 Smartphones is expected to surge in this quarter. Yesterday, Microsoft announced that Surface Tablet will be available at additional retail stores as soon as mid-December this year. Besides, the company also announced to extend its holiday stores, which will include transition of several stores into permanent Microsoft retail outlets, for better consumer purchasing experience.
Also, the company claims that Surface Tablet (RT) has seen exciting responses from users till date, and this time, it's committed to increase production of the device in order to fulfill the consumers' demand. In addition to this, consumers (in the U.S. and Australia) could purchase Surface with Windows RT through Microsoft's retail store as early as mid-December. However, the device will be available in more number of countries in the coming months.
Surface with Windows RT, which combines the functionality of laptop with the Tablet portability, is available in the market with starting price of US$499. The tablet features Windows apps (developed for RT Tablet), SkyDrive cloud connectivity, HD videos, a full-size USB port, a microSD card slot, Xbox Music, games and the productivity of Office Home & Student 2013 RT.
It has been more than one month since the launch of Surface RT in the market. Interestingly, a mobile advertising network—Chitika— has reported that Surface has not got an impressive start like Google Nexus 7 Tablet. The firm has investigated overall web traffic (generated by Surface RT and Nexus family Tablets) between November 12-18 and found that the Surface RT had just 0.13% of overall web traffic share. It's pretty much clear from the graph (below), Google Nexus Slates outperformed Surface RT during November 12-18 this year—Nexus slates are currently generating over 7 times the traffic of Microsoft Surface RT. Here, the main intention of the report is to educate that, the presence of Surface Tablet in market (compare to Google Nexus or iPad) is still negligible. But the overall web traffic generated by Surface RT (just in a month) is really impressive.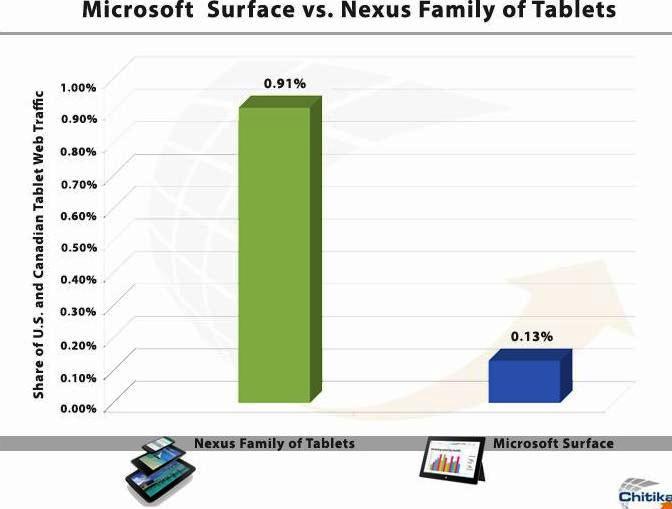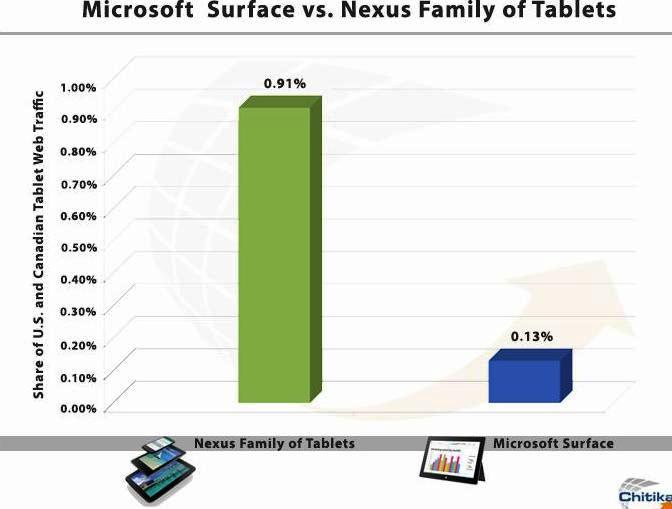 Google's Nexus slate (Nexus 7) has been in the market over past seven months and Nexus 10 has recently been launched, while Microsoft Tablet has just completed its one month tenure. However, Surface Tablet has seen more additional traction during investigation period (for web traffic). Sales of Surface RT are expected to be ranging from 500,000 to 1 million in Q4 2012–it's not bad for any nascent Tablet.
On the other side, Windows Phone powered Smartphones' shipments are expected to hit 4.2 million figure during this quarter. And this is the reason why the company has so much of confidence with Windows Phone 8 that it could be third potent mobile platform after Android and iOS. As Windows Phone 8 Smartphones were launched in early November, sales of the devices have quadrupled compared to the same period of the prior year. It could be a great hearsay for Microsoft and its Windows Phone 8 partners.
However, the figure (4.2 million) represents a small fraction of the total number of Smartphones expected to be sold in this quarter. Moreover, Microsoft has somehow succeeded to create a strong mobile ecosystem around. An increasing demand of Nokia Lumia 920 is one of the biggest factors for the strong shipments of Windows Phone 8 devices in Q4 2012.
At the time, RIM is also working hard to make BlackBerry the third biggest platform, but the company is little late in the race. Its next generation device (BlackBerry 10) that will be launched in next month (on January 30), that's too late. Microsoft could leverage on the delay of BB10.