Indiscriminately, Apple is the world's most valuable company, and also it's the world's second best brand after "Coca-Cola". The market capitalization of the company is now $542.59 billion with stock price of $576.80 per share. Despite, Apple paid an income tax of only 1.9% on its earning that it generated outside the U.S. in the fiscal 2012. Interestingly, the world's most valuable company in terms of capitalization paid just $713 million in tax on its total foreign earnings of $36.8 billion in the fiscal 2012.
In Q3 2011, Apple reported an earnings of $24 billion and paid an income tax of 2.5% on its earning. In other words, the company showed off 53% Y/Y growth in earnings outside the U.S. in Q3 2012 . In Q3 2012, the company reported net income of $41.7 billion (or $44.15 per share) in fiscal 2012, up 61% from $25.9 billion (or $27.68 per share) in fiscal 2011.
It's pretty clear that Apple is currently sitting on hoard of cash despite of lackluster performance in Q3 2012. According to a recent report from IDC, 27.8 million Tablets were shipped in Q3 2012, demonstrating 49.5% Y/Y. However, total Tablet shipments in Q3 2012 increased by just 6.7% compared to previous quarter. Thanks to augmenting shipments of Android Tablets around the world that boosted overall shipments of tablets for the quarter.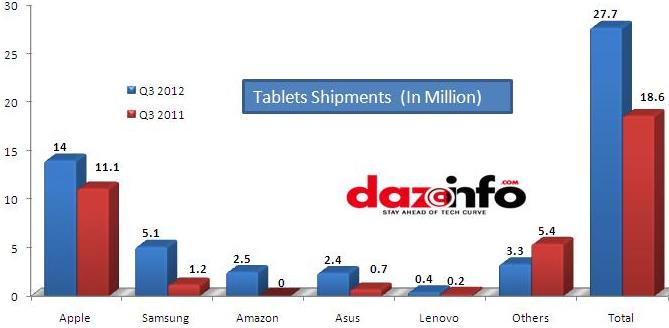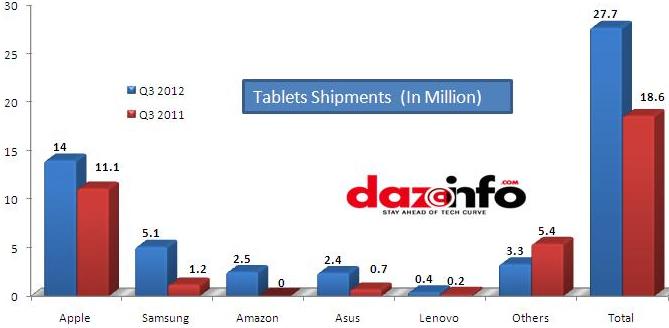 More importantly, Apple's Tablet market share dropped from 65.5% in Q2 2012 to 50.4% in Q3 2012. On the other side, remaining top five vendors (in the list ) succeeded to gain up the market share in Q3 2012. Undoubtedly, Q3 2012 was impressively turned out by Android partners such as Samsung, Amazon, Asus and others. Samsung shipped 5.1 million Tablets worldwide in Q3 2012, up 115% compare to the previous quarter. Shipments of Samsung's Tablets in Q3 2012 were mainly driven by Galaxy Tab and Note 10.1 Tablet. The south Korean giant recorded 325% Y/Y growth in Q3 2012. Furthermore, ASUS and Lenovo also succeeded to gain up Tablet market share globally in Q3 2012.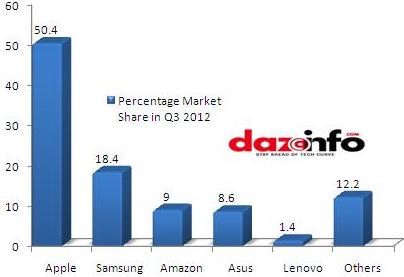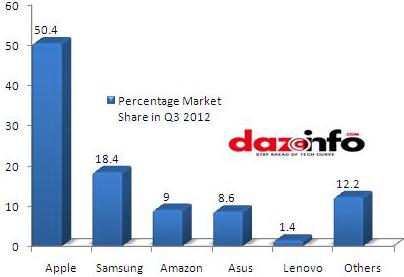 However, Apple was at the top in terms of Tablets market share, but it would not be an easy task for the company to sustain its Tablet market share in forthcoming quarters. However, introduction of Windows 8 and Windows RT Tablets is currently speculated to be a threat for Apple's iPad.
Microsoft has also targeted to business professionals like Apple. It's also true that Microsoft has endeavored to create a third viable Tablet platform for consumers. But in this context, we could not rely upon Microsoft the reason is pretty clear that Windows platform has yet to prove itself in the market. It's nascent and it's really tough for Microsoft and its partner to entice consumers with starting price of $500.


It was also speculated that Apple's Tablet shipments dropped in Q3 2012 due to rumors of the "iPad Mini". It's true that consumers waited until the launch of iPad Mini because they believed that the price of Tablet could be $249. But when the product is finally available in the market at the starting price of $329, this time, consumers are reluctant to buy the product. Of course, the price of Tablet is quite higher than what they expected. At present, a slew of high-end Tablets are available in market at very affordable price tags. However, Apple has also launched refurbished new iPad and iPad 2 along with iPad Mini, but significant number of users are unwilling to buy due to high-price tags.
This holiday season, users will have sequence of Android Tablets to opt including Kindle Fire HD, Nook HD+, Google Nexus 7, Nexus 10 and more at very affordable price. Moreover, these Tablets are no way vulnerable than Apple's iPad in any aspect and really, it's tough for iPad Mini to entice Android fanatics.