Knowledge has no boundaries but humans (rather call 'learners') do have; And, probably, that's something which kept Geetansh Bamania afloat after dumping their five figure salary only to launch Click2Skill – just launched online marketplace for knowledge and skill exchange. In other words, Click2skill is a platform where 'need' meets 'demand' but in a most sophisticated and comprehensive manner.
"Learners" and "Experts" are the two major coordinates of the whole business model Click2Skill bridges online. People can visit to either request for classes they want to learn or offer their services to farther ones using Click2Skill with a sense-of-ease.
Geetansh Bamania – Co Founder and C.E.O. of Click2Skill – says "A strong built-up is only possible if foundation is deep rooted. To understand the whole ecosystem and challenges of a Startup, I was needed to be 'in-it-to-win-it' and that took me to India's one of the most acclaimed online Startup where I spent almost 5 months. Though, the explosive growth of Startup ecosystem in India made me to come out of an employee-skin much before than expected but that short-duration powered me enough to jump into Entrepreneurship bandwagon, resulted today in the shape of Click2Skill."
Indeed, it's a very niche area Click2Skill is trying to tap in India by betting big over revolutionized penetration of Internet and education system. However, by providing all supportive ecosystems to 'learn' or to 'teach', this new Startup entrant could easily become one of the most preferred destination who are ready to grasp or release new skills but don't want to run pillar to post to satisfy other inevitable aspects like Venue, numbers, registrations etc.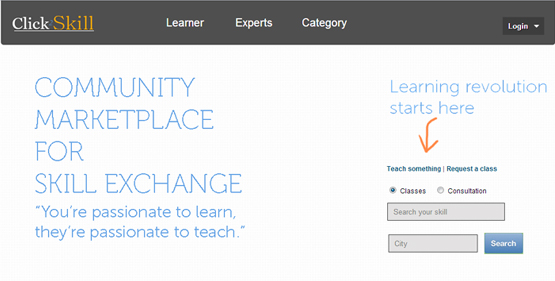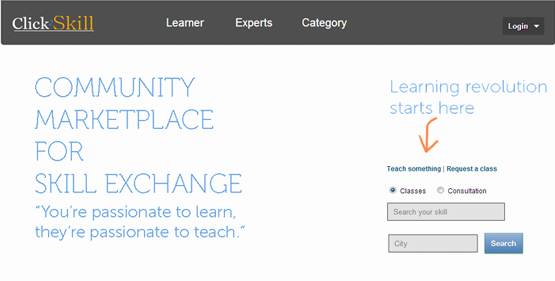 We have made it pretty simple; people could visit and act either like "Expert" who has skills to surrender only to people available in scores, or like "Learner" who is in hunt for a trainer of desired skill. Let them focus on their prime objective and we will take rest all the pains required to satisfy their needs. No wonder what is the geo-location of the two, Click2Skill is equipped enough to connect both in the most unified fashion, said Geetansh.
Undoubtedly, another one of the most promising Indian Startups that could turn out as a cash-cow for investors but one need to hold his horses – atleast for some time – to witness market reaction.
We got a chance to invite and meet Geetansh Bamania at our office to talk about all his incubation experiences, challenges and post-launch scenario, market response and to answer "Why he decided to ditch the most-adopted  'freemium' model." The video interview after this break;