People belonging to Asia-Pacific region (India, China, Japan, Indonesia etc) prefer spending more time in social networking websites compare to any other genre of websites. With the exponential rate of subscriptions, Asian users are helping Social networking site to accelerate the growth. Being the  neighboring countries, India and China are leading the list with highest number of  active users.
As per the latest study from 'eMarketers', the users of Social networks are going to touch the 616 million mark at the end of 2012 and 853.7 million users in 2014. China will cross 300 million users to take the lead by producing most number of Social networking users in 2012.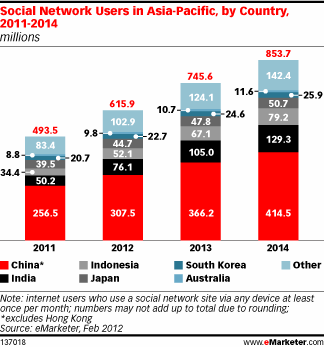 Bachelors  aged from 21 to 39 in India, China, Indonesia, Australia, Singapore and Taiwan are marked as the "highly engaged users" on Social networking sites. It has been found that half of the internet users all over the Asia-Pacific region are visiting social media sites regularly. The average number of visitors are belonging to 35 year age and are increasing by equivalent contribution by women. The survey highlights that 81% social networking users regularly use gaming applications in social media while 57% of them are accessing games at least once in a week. 75% of users are using their own PC for log in and 25% are remaining attached with their mobile phones.
Except China all the other countries are using the globally prevalent social networking sites (Facebook, Twitter, Google +). The ratio is increasing in the global social networking platform.
According to a another study by MEC GlObal and Microsoft – named "Pre-Family Man Study", conducted  on Nov 2011 – total 29% of internet users respond over the social networking websites daily. Taiwan is having the most number of daily users up to 40%, while 9% of users were being in touch 4-6 days in a week. However, 19% people had refused to chit-chat over social media. The rate was even higher in Singapore, Taiwan, Indonesia and China. Social media are going to generate 4.1 billion revenue at the end of year 2012 from Asia-Pacific countries, which is 53% of total revenue conducted by Social media sites in global platform, as "eMarketer" expects. Except US, Social networking sites are much popular in Asia-Pacific. Hence it would not be wrong if we tell that Asia-Pacific users are more active on Social networking sites.