In last couple of years growth of microblogging site Twitter and Professional networking site LinkedIn has been exponential. Their revenue as well as user base has been continuously increasing with constant pace. Taking the view of the growth of both sites a study was conducted which enlightens that their ad revenue will touch the milestone of $540 million and $ 405.6 million respectively by 2014.
Undoubtedly the forecast figures do hold much base as the earlier prediction by eMarketer about Twitter 2011 ($139.5 million) ad revenue had proved precise.
Though the year-on-year growth rate of Twitter and LinkedIn ad revenue will fall in terms of percentage, but overall revenue will increase by 2014. It's been predicted that Twitter revenue percentage growth will decline constantly year-on-year from 233 percent in 2011 to 36 percent in 2014. Comparatively LinkedIn percentage growth may also be declined from 95 percent in 2011 to 30.5 percent in 2014. Taking close look at both companies revenue one can directly say that their ad revenue growth in terms of percentage is shrinking humorously .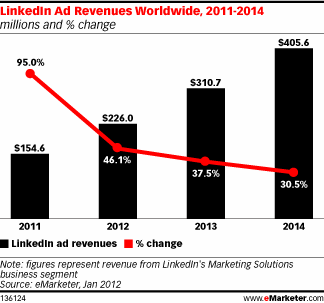 Eventually, – in terms of money – Twitter's predicted revenue will reach $540 million by 2014 up by $400.5 million compare to 2011 revenue. Meanwhile LinkedIn revenue will also settle close to $405.6 million – three fold revenue growth compare to $154.6 million in 2011.
Currently, 90 percent of the Twitter revenue comes from US compared to mere 10 percent from non-US countries. It's been predicted that by 2014 Twitter's revenue from US will reduce to 83 percent, while for non-US countries it will surge up to 17 percent.
However, LinkedIn doesn't seem to be much dependent on a single basket of revenue source. At present LinkedIn is generating 68% of its revenue from US compare to 32 percent from rest of the world. In fact to make it more balanced LinkedIn US revenue contribution is expected to shrink to 60 percent by 2014.
I feel that ad revenue of these two companies will definitely surpass the prediction as both are aggressively launching new updates and features that are constant being appreciated by users. Also, upcoming U.S presidential election will boost the Twitter traffic that will, in turn, result in more revenue. On the other front, LinkedIn is being bullish over its Job section to generate more revenue from it.