It's 'raining dollars' for social media giants from all sides. In late July Twitter was backed by Yuri Milner and Russia's DST with a direct investment of $400 million and later on September 8th, it secured $400 million via fund-raising round. A study suggests that Twitter's revenue will touch $400 million by 2013. At present it is expected that company revenue will plumb from $45 million earlier year to $139.5 million this year, a hilarious jump of 210%, according to eMarketer.
"Since their debut in April 2010, Twitter's Promoted Products have proven successful in theU.S.," Williamson said in a statement from eMarketer. "Marketers have shown solid engagement rates with Twitter advertising — in some cases better than those on Facebook — despite Twitter's relatively smaller audience."
When compared with Facebook, Twitter is like a born child. At present the total numbers of active users associated with micro-blogging site is 100 million compare to Facebook's  800 million active users.
Below graph provides a clear view of Twitter's Revenue: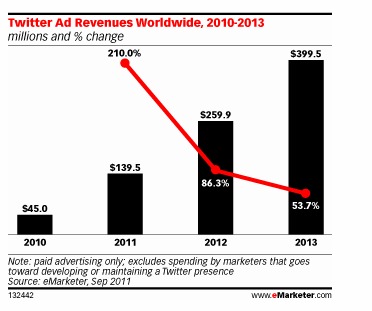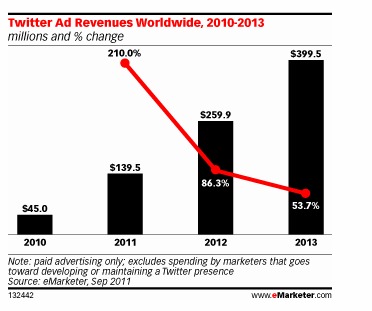 However, earlier prediction by eMarketers suggested that Twitter will achieve $150 million as revenue by January 2012, but it is downgraded to $139.5 million. This slow-down is due to slower-than-expected rollout of various ad initiatives, and it also concludes self serve ad platform and ad sales offices abroad. It's been noticed that Micro-Blogging site has just opened a sales staff in theUK– its first foreign office – this month. eMarketers predicts that 96 percent of ad revenues for company come fromU.S.this year where as non-U.S. market contributes only 4 percent. In 2013 it was expected that 88 percent of ad revenue will come fromU.S.market and 12 percent will come from non-us market.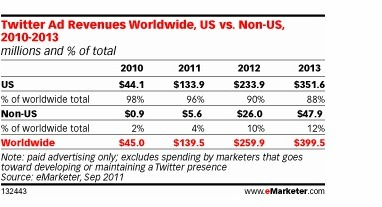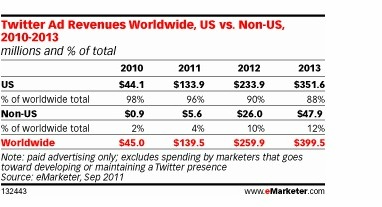 Hope Twitter will touch the revenue of $400 million by 2013. Reader what your views, When Micro-Blogging site will touch $400 million revenue?