In present scenario, it appears that the smartphone Tsunami has prevailed astoundingly everywhere in US. The Tsunami has affected to all agers; they are steeped into captivity profoundly.  The mobile data consumption has mounted up to three times compare to last year and teens have continuously maintaining its stronghold's dignity.
Recently, Nielsen has gathered the data from more than 65,000 US-based subscribers—volunteers participated in the research. The firm has tried to identify the inclination of teens about data consumption on the basis of gender.
According to study, in Q3 the data consumption among teens age 13-17 had increased to 256% compare to last year to reached to average 320 MB of data per month on their phones. Here, male teens dominated and they used to use 382 MB per month while females teens could use only 266 MB. It's astounding that the teens had stroked seven messages in every waking hour.  In this era, the female teens were dominating and exchanged 3,952 messages per month versus male those made 2,815.However, the statistic declines when matter comes with mobile calls because teens have lack of concern with voice calls. Teens prefer to exchange their information via messaging rather than voice call.
The survey reveals the demographic disparity of smartphone on the basis of Age, interest in game, internet utilize, apps download, and text messaging. In addition to these, the report also explains about US mobile videos viewers' variation in different quarters. The data has gathered from the thousand of volunteer consumers who were the part of research panel and were using iOS and Android smartphones.
The majority of users owing the smartphone is in between 25-34 years age group with participation of 64%, whereas, the age group in between 18-24 years, contributes 53% of participation.
The report also reveal that the 'Game downloads' is at the top among all apps download in 30 days and 87% of apps were downloaded by deal-of-the-day website like Groupon or Living Social. The number of internet users has been tremendously increasing since 2010 and it has grown to 45% in this year.
Above the chart divulge that the mobile video viewer's penetration is simultaneously increasing in every quarter by 1%. Also, the viewers of video on smartphone are at the top and it's growing rapidly.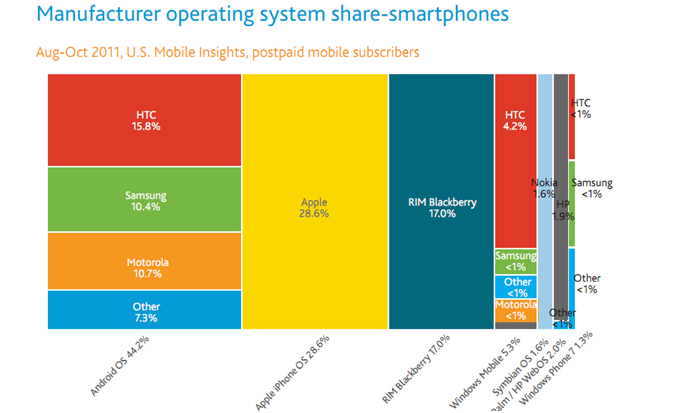 Android OS and Apple's iOS dominating in the mobile OS industry of US market while in Smartphone manufacturer segment Apple is the leader. Android has the largest share of smartphone market (44.2%) from OS prospective while Apple leads the way in Smartphone manufacturers list with 28.6% smartphone market share. Other leading smartphone manufacturers are HTC, Samsung and Motorola having the market share of 15.8%, 10.4% and 10.7% respectively.
It seems that Android OS and Apple iOS smartphones operating systems are most popular among all age group but it is slight higher among 18-24 and 25-34. The study has also stated that the Google and Facebook lead among all mobile activity in both Android and iOS contribute 92% as well as 86% respectively.
Previously, in 2009, only 18% smartphone owners were in U.S. which has been doubled (44%) with female owners' contribution of 51% over 49% of male.  Also, Facebook has emerged as the most popular social apps among all age group, while the game app—Angry Bird—is most popular game among 35-44 age group.
Overall, it's come into the sight, the upcoming market of smartphone seems sturdy and also it would be mounted up in aspect of number of consumer and revenue. The popularity of iOS and Android OS revolutionized the smartphone, while social media apps like Facebook and Google search engine has attracted to all age group.