In the era of mobile and internet, brands are always ready to go to any extent in a bid to acquire customers. While every brand employs different strategies, the one that is the most common and probably the most lucrative is Price. The more attractive your pricing, the more number of customers may be shopping at your store – something that brands believe firmly. Interestingly, customers don't see it in the same way, reveals the latest study by Nielsen.
According to the study, with the advent of the internet and mobile consumers have evolved, they prefer to see an overall value of a product besides price. However, both value and price depend on various attributes, and that's where many other attributes defeat Price.
When it comes to the selection of a store to shop, 57% of consumers who participated in the study said that high-quality fresh produce was the most influential attribute, followed by convenient location (56%) and product availability (54%). On the other hand, only 52% participant found good value for money was highly influential in selecting where to shop.
The lowest price, sales promotions and weekly discount coupons failed to lure customers as much as convenient. 48% of participants said that most moderate price influence them to shop at a particular store, while only 47% found great sales or promotions as one of the most influential attributes in deciding the store. Surprisingly, only 37% participants found weekly discount coupons as the deciding factor in the shop selection.
In spite of all such learning, Price remains the strong motivator, as thrilling as well. 59% of participants said that they found it exciting to bargain as it is a fun chasing activity.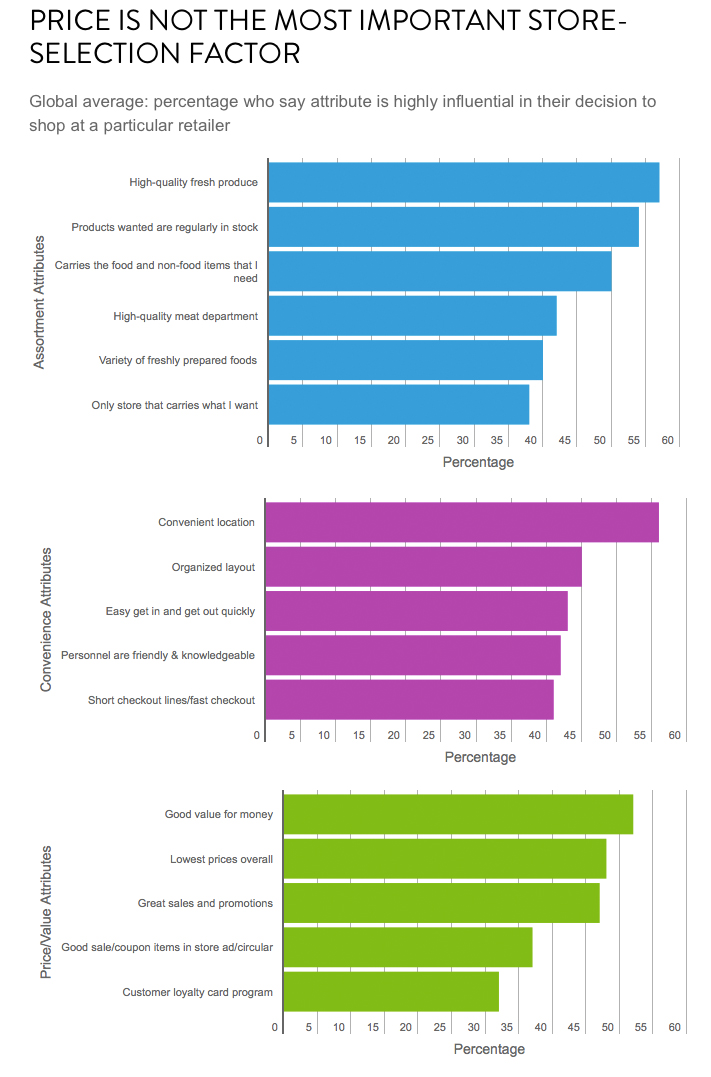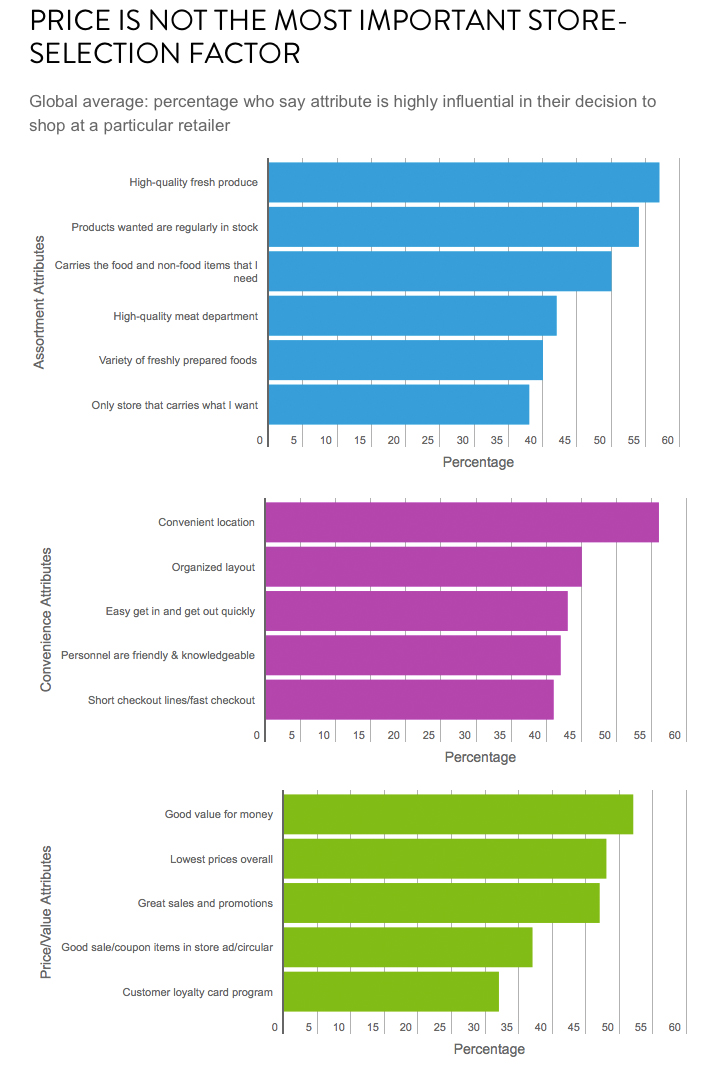 There is no doubt that intense competition has made retailers and manufacturers to flood the market with various discount coupons and price offerings. And, this has also set a kind of expectations among shoppers that low pricing should be the first element to fall for. However, some consumers find that it's all about value for money and not the price.
The findings also illustrate the fact that generally consumer doesn't shy away from paying more if the benefits justify the price. This is an invaluable discovery for brands to look at as this will take the competition above than price war.
"One of the most effective ways retailers can avoid pricing wars and unsustainable promotion strategies is to increase the perceived benefits they provide. To keep shoppers coming back, however, brands must exceed shoppers' expectations and convincingly demonstrate that the higher price is truly justified," says Matthesen.
The study also highlights many other valuable findings, that could give wings to thoughts of aspiring entrepreneurs in the retail space. Grocery shopping has emerged as the most hated activity among the participants. Nearly half of participants (46%) said that they tried to spend the minimum required time in grocery shopping. No wonder, such findings give wings to startups founders who are betting big on their online grocery delivery startup.
If not general grocery, then what could be the most exciting product that pulls customers to store? It's Health and Wellness! 67% of participants always hunt for the products with healthful ingredients.
The above findings clearly answer that why do stores, online and offline both, must focus on selling products that offer great value for money rather than high discounts. By offering a variety of products, availability of food and non-food items in the same store are some of the other influencing attributes that contribute to sales growth. In a bid to chase 'Winner takes all' thought process, retail brands are indulging in a rate race, which is hurting their account book every quarter. They are apparently failing to understand that a repeat business from a customer can only be recorded if only a great value for money was delivered to him during his first visit to a store.
The study was conducted among 30,000 respondents from 61 countries.