The exploded adoption of mobile internet has helped the social media platforms to evolve to a whole new level. As internet users are fascinated with their online social media presence, brands are leaving no stone unturned to make the most of such obsession. Every year, brands are spending hundreds of thousands of dollars to rope in prospective customers and improve their customer satisfaction score by engaging existing customers. However, the efforts and investment are apparently bearing minimal returns as only 1 in 4 internet users follow brands they intend to make a purchase from, reveals the latest study.
According to the recent flagship study by GlobalWebIndex, the affinity towards a brand is the most crucial aspect of building a social media fan base. Little over one-third of the respondents who participated in the study said that on social media they follow brands they like personally. Actor, Musicians and bands are the other top social media accounts types internet users follow the most.
However, when the above results are segmented based on the age group, the brand likeness lags behind Actors, Musicians, Singers and Bands among the internet users aged between 16 and 24 years.
What's even more surprising is that only 29% of internet users follow brands pages of news/media organisations despite the fact that brands are more active on social media than traditional methods of communication nowadays.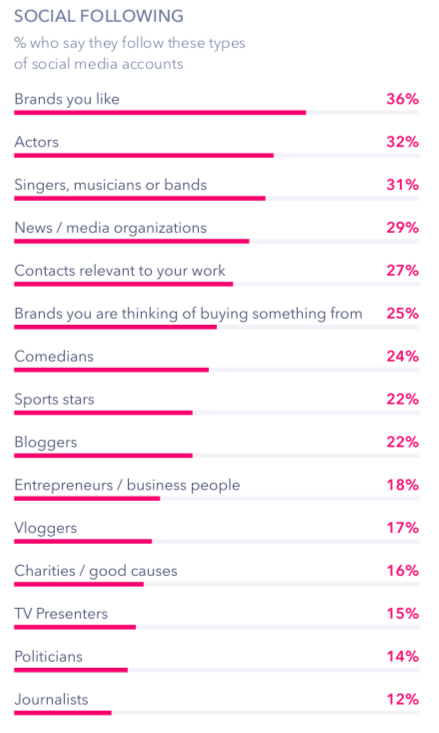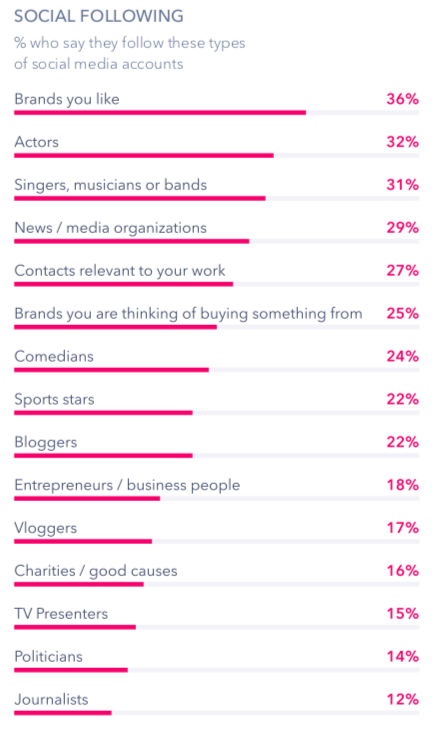 Do Influencer Marketing Strategies Pay Off
The findings of the report lead us to an interesting question – is influencer marketing tactics generating compelling ROI for brands?
The 16-24s age group emerges as the most active one as the internet users belong to the age group spend significant time on social media channels daily. Interestingly, the type of accounts these users follow indicates the importance of employing influencer marketing strategies by brands. Nearly 46% of social media users aged between 16 and 24 years follow actors, more than the brand accounts they follow on social media. In the era of banner advertising and ad blocking, marketers are always exploring innovative ways to promote their clients in a more organic basis. Roping in influencers who can shout out about the brands and making it reach to a wider audience is becoming more popular social marketing tactics among brands.
At the first look, the strategy looks quite effective; it not only connects brands with people in an organic way but it's more cost-effective than celebrity endorsement strategies as well. But a deeper view portrays a completely different picture all together marketers put across to brands.
Only 19% of respondents, belonging to the age group of 16-24 years, said they follow or engage with new brands on social channels via influencers marketing or celebrity endorsement. The figure puts a big question mark on the effectiveness and the ROI marketers claim to generate through such marketing tactics.
Brand Affinity is Losing Its Charm
The effectiveness of Influencer marketing is not the only aspect the report highlights though; Putting the following pattern of brand pages together in the last five years also depicts that creating a sizable fanbase or engaging fans is going to a challenging task for brands in the months to come.
Since 2013 the percentage of internet users who follow a brand they like has been declining. From 50% in Q2 2013 to 36% in Q3 2018, the brand affinity among the internet users has faded away. Quite a similar trend is noticed in the percentage of internet users who follow a brand they are thinking of buying something.
Final Words
In a nutshell, all the above findings are indicating the changing landscape of social media in 2019. Internet users are becoming less fascinated by brands on social media channels, influencers marketing as a tool is becoming less effective for brands and creating social media fans base is going to be more challenging for brands in the months to come.
It's time when brands need to think out-of-the-box once again to acquire internet users through social channels.