Everyone goes through stressful days at work. But for some employees, it's not just about the hashtag of #MondayBlues! In fact, stress becomes the regular visitor and their reality. This can also be dubbed metaphorically as a disease of the modern day Work Culture – Employee Burnout!
But the question is, how common is Burnout among tech workers and what exactly bolsters this?
This is no longer a fish story since a recent survey has validated this problem among tech workers. This survey conducted by Team Blind, required tech workers from several companies to disclose about their main source of burnout. Turns out, about 22.9% of the respondents claimed that the main reason for employee burnout is poor leadership and unclear direction. This reason tops the list that has another set of options to choose from, namely, overwork, toxic culture, and insufficient reward benefits.
Again, it may come as a surprise that work-overload, although a major factor of burnout, still wasn't the number one factor. Toxic work culture was spelt out to be a major cause, followed by a lack of control, career growth prospects and other bells and whistles.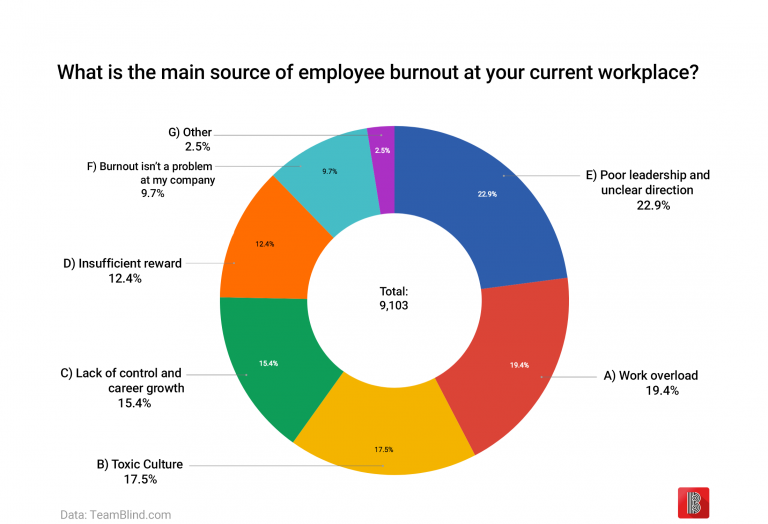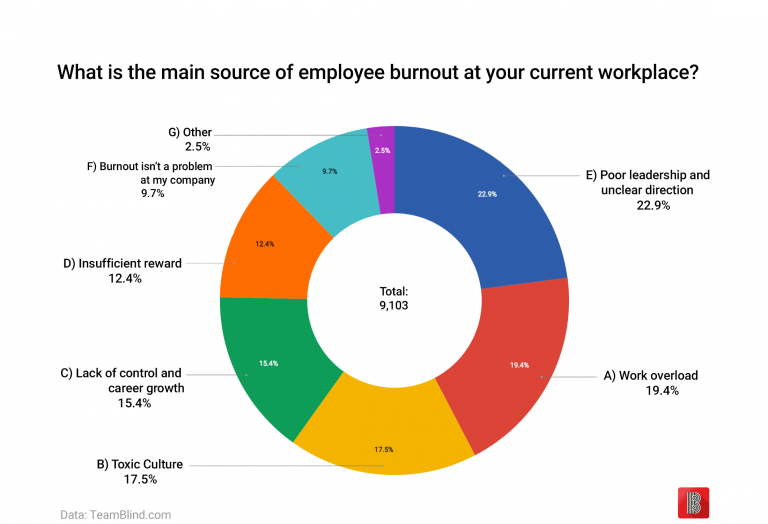 The Employee Burnout Fiasco
Blind, an anonymous review service, surveyed almost 10,000 workers seeking the main reason for employee burnout in their company.
This survey was done through an intelligent course of action. A new user is required to sign up to the Blind via work id. After entering their workplace and proving the credibility of their employment, they answer the posed query. Blind compiles a list that shows which company have reported "poor leadership" or "toxic work culture" and subsumes it.
Additionally, this survey revealed that work overload, a major factor for employee stress, lagged only a short sweep behind for employees, especially at Amazon. Microsoft employees had the same fix. However, for about 17 percent of Microsoft's employees, the lack of control and career growth was a burnout factor.
Reportedly, respondents turned up against companies due to poor leadership and unclear direction. More than one-third of the eBay employees experienced burnout due to the poor leadership and unclear direction. This is followed by over one-fourth of both Salesforce and Intel employees.
However, the response from Facebook and Uber Employees have been quite contradictory to the other companies. About only 15 percent of employees from the above-mentioned companies seem to agree that poor leadership and lack of direction leads to employee burnout.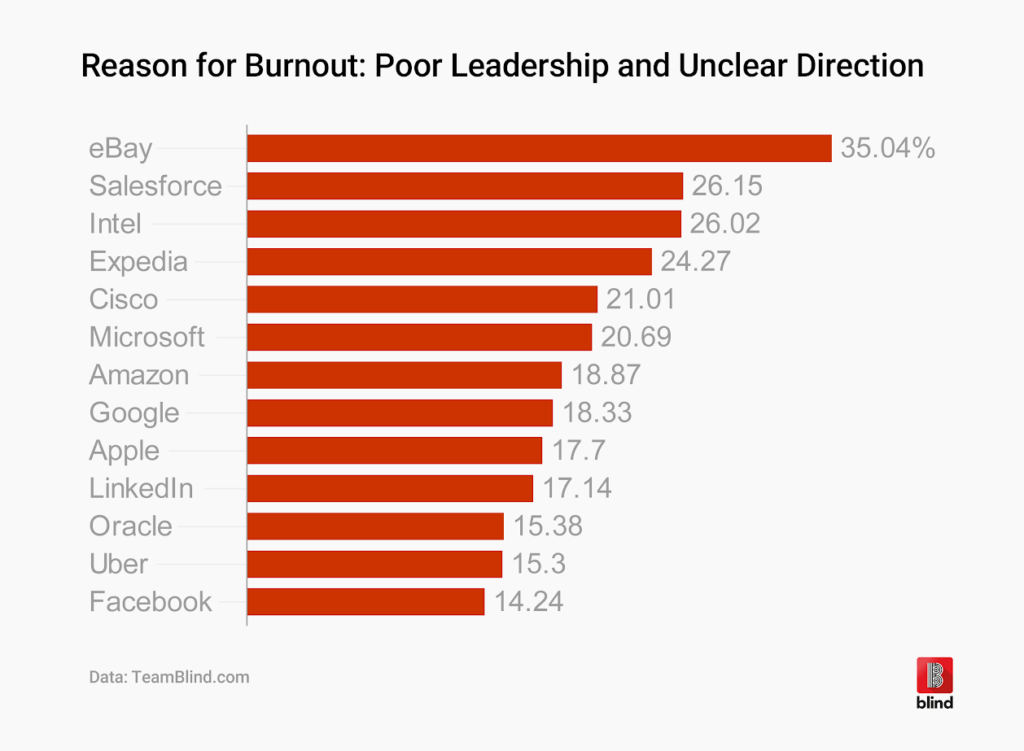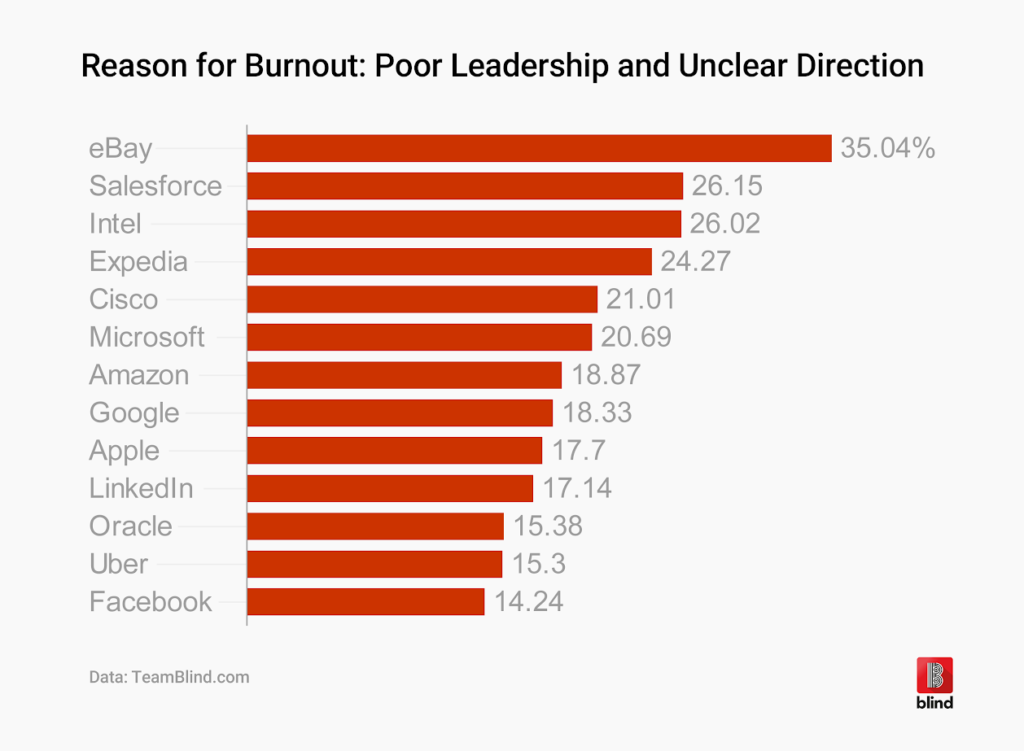 Employee Burn-out; The "Fry Risk"
An earlier survey, conducted by Blind, took the response from about 11,500 developers. This study revealed how common employee burnout is. It is close to a staggering 60 percent.
Credit Karma spearheaded the flock of employees affected by the burnout. They were closely trailed by Twitch and Nvidia.
Another revelation that showcases the impact of such burnout was conducted by Kronos Incorporated and Future Workplace. This particular poll revealed that 46 percent of HR leaders believe that about more than half of the annual workforce turnover can be blamed to the employee burnout.
Burnout is common in the fast-paced environment of today's industry. Workaholic people, in this highly competitive world bustle up with lots of stress. But how common is it? Most importantly, why should we care?
"Are you currently suffering from job burnout?" The survey was a one-question poll with a two-pronged answer, Yes/ No! Surprisingly, more than half of the participants took one upon and answered yes.
So we know, exactly how common employee burnout is! The "fry risk" is apparent but so are "breaks, vacations, and sabbaticals"!