"Email is not going to disappear. Possibly ever. Until the robots kill us all." – Paul Buchheit, creator and lead developer of Gmail.
Email marketing is the most powerful way to connect with people. A report by Radicati Group shows that the world sends 196.3 billion emails every day, out of which 109 billion are counted as business email. Social media has posed a threat to email with its growing popularity, but it's evident from the facts that email is here to stay. I have known people who don't have social media accounts but rarely ever come across someone without an email account. These days, you hardly go through a day without sending or receiving an email. But how many of those are useful or relevant to you?
80% of my inbox is spam. And when I say spam, I mean emails that were not requested (unsolicited), are part of a mass mailing (assumption based on the email content), from an unknown sender, or emails that do not offer a way to opt out of the mailing list. I turned to research by Convince & Convert, LLC to check on the spamming issue, and I was not surprised at what I found:
80% of social network members have received unsolicited email or invites

21% of email recipients report email as spam, even if they know it isn't

43% of email recipients click the spam button based on the email "from" name or email address

69% of email recipients report email as spam based solely on the subject line

50% of participants stated that they have felt cheated, tricked or deceived into opening a promotional email by that email's subject line (from Litmus)
Webmail providers consider email open rates when tracking down spam. The top webmail providers have indicated they look at how many emails are opened, and how many are deleted without being opened, as factors in their spam filtering decisions.
Since I am a marketer, I need to find a way to get through webmail providers and make my emails more meaningful to the customers. One best way is to personalize my conversations with dynamic content. According to Econsultancy, 76% of marketers believe that all email messages will be completely personalized in the next 5 years.
HubSpot sheds light on the importance of message relevance in customers' desire to receive emails. 38% of respondents specifically referenced the word "relevance," and one response indicated that content should be "particularly and specifically" relevant to them.
Below are few ways to personalize your email campaigns with dynamic content:
Email List Segmentation
A common sales issue for companies is to understand the specific needs of their customers. Differentiating the specific segments of your customer base that generate the most revenue is crucial to focusing your sales efforts and time on the right prospects. Your goal is to draw insight from these segmented groups and develop a strategy to communicate. The following statistics validate the importance of segmentation:
Segmented and targeted emails generate 58% of all revenue. – DMA

Marketers have noted a 760% increase in revenue from segmented campaigns. – Campaign Monitor

32% of marketers say segmenting their email database is one of their organization's top objectives in the next 12 months. – MarketingSherpa

HubSpot analyzed over 100K emails sent from their customer base, and they discovered that those with only one list had a lower average click-through rate (7.3%) than those that segmented their overall email database into 2 to 6 lists (8.3%)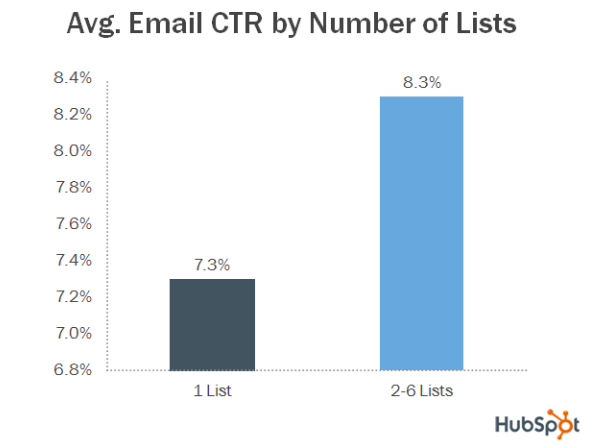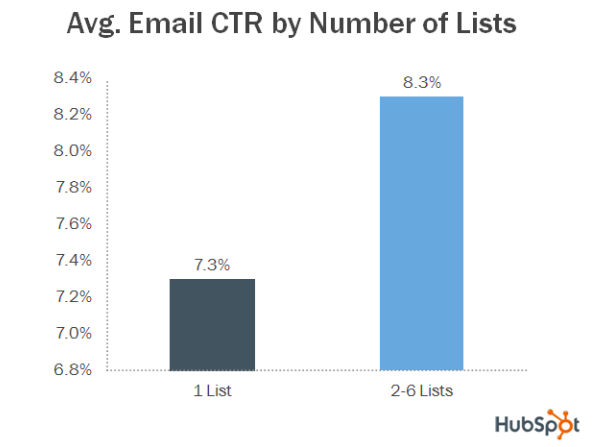 Marketers need to do a thorough analysis to properly segment customers. Understand your business primarily and then segment the targeted customer group based on company size, persona, customers' search and engagement patterns, campaign responses, social reviews, lifestyle, product usage, product delivery model, and/or other needs.
The business cases below illustrate the impact of segmentation on business, at a practical level:
Rapidinnovation: A hardware and software company introduced a family of mini-supercomputers to be used by scientists and engineers. Revenues were not ramping up as fast as desired, and sales costs were high. So, they divided the scientific and engineering computing market into segments based on the responses to their ads, brochures and presentations–specifically for computational chemists and attendees of a computational chemistry conference. They experienced revenue growth due to the high relevancy of the messaging and the solutions based on this segmentation.
Hireology: Adam Robinson, Hireology Founder and CEO, has developed an effective segmentation strategy. "The talent acquisition software market is $19B, but it's really 19 segments of that market, each of which is $1B," notes Robinson. "We've targeted two of those segments and that is working well for us, and for our customers." The strategy does seem to be working. Hireology's app is used by almost 2,500 companies, processing 30,000 applications weekly. At any one time, there are around 8,000 open positions in the user base.
Purchase History
Purchase history certainly reflects the interests of consumers. You can send promotional emails based on the products in each customer's purchase history. 44% of email recipients made at least one purchase per year based on promotional emails from purchase history.
Purchase history data also gives you an opportunity to upsell and cross-sell to customers. But you need to retrieve the right conclusions from the data. For instance, let's say that a customer's purchase history shows 50% of products from female apparel, 30% from baby products and 10% from mobile accessories and 10% on miscellaneous. It is evident from the data that the account holder is a female, who can be predicted to be a mother, and the mobile accessories can be bought for others. Based on this analysis, you can choose to send promotional emails for female apparel or baby products but not mobile accessories, since she might not be interested.
You can also increase shopping cart size and time on the site by showcasing upselling or cross-selling products as shoppers browse your online store. Use their purchase history along with data on what items other shoppers bought to serve up the most relevant recommendations.
Amazon is one of the eCommerce giants to successfully use this strategy in their business model. It looks at consumers' purchase histories and suggests products that they may like. In fact, Forbes reports that Amazon attributes up to 35% of its revenue to cross-selling.
Countdown Timers
Countdown timers trigger actions from consumers by hitting an emotional chord. The countdown timers can be for holiday shipping deadlines, post-sale offers, abandoned shopping cart offers, or even a welcome email discount.
I recently experienced a countdown timer effecting my purchase decision. The moment I saw that I had only five hours left to take advantage of the discount, I promptly attended my shopping cart and made the purchase.
A small gesture like including an emoji or two in your subject line or countdown timer can affect the sale. A recent split-test from Behave.org showed how an email with clock emojis in the subject line got a:
3% increase in the unique open rate

15% increase in the unique click rate

8% increase in unique the click-to-open rate
Shopping Cart Abandonment
According to Baymard Institute, on an average 69% of consumers abandon their shopping cart without making a purchase. All you can do is send retargeting emails to these consumers and not forget to match them with the most products from their purchase history. Personalization of cart abandonment emails makes things easier. Generally, when a subscriber receives relevant suggestions, they are more likely to take the desired action. And the further along in the ordering process a customer is, the sooner you should send an abandoned cart email.
54% of shoppers will purchase products left in shopping carts if those products are offered at a lower price.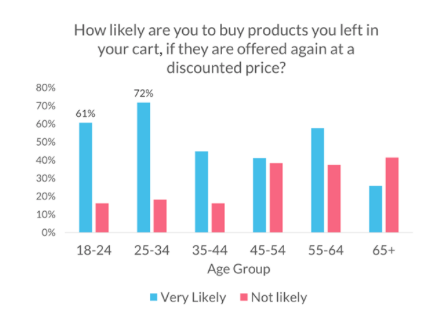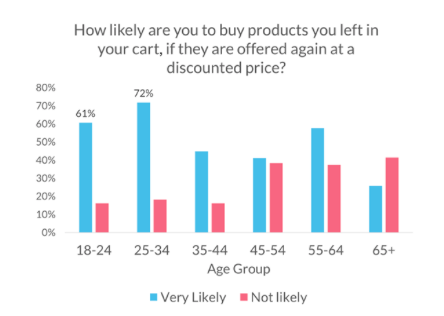 Lux-Fix.com, a fashion retail brand, implemented an email personalization program that proposed an 85% rise in email conversion rates and a 136% rise in recovered sales from cart abandonment emails.
By personalizing the email with products the prospective customer was looking for, you can create context and remind them about their interaction with your brand. Also, you need to make sure that when they click on a product image or description you send in your email, you take them to the exact product page on your website. For the first-time visitor, a product discount works well. If someone cannot purchase a product in their cart because of stock unavailability, you can email them as soon as it becomes available.
Videos
As they say, a picture is worth a thousand words. Video engages your audience better than text since viewing a video requires less effort than reading and comprehending. According to Animoto, four times as many customers would rather watch a video about a product than reading about it.
It's also interesting to see how videos impact email open rates. According to Syndacast, using the word "video" in an email subject line boosts open rates by 19%. Videos add the entertainment factor to email content, which is an easy way to connect to your subscribers. And with the "autoplay" option, you can increase the rate of viewing even more. The drawback to this system is that most email service providers, like Gmail or Outlook, don't support the technical requirements needed to play a video automatically in the email. In such cases, you can use static images with the play button linked to your video content. You can also use GIFs (Graphics Interchange Formats), which can be used for small animations or low-resolution video clips.  Though GIFs don't support audio, they play on a loop, without any option for play or pause, so they may be a better option than videos in some scenarios.
Depending on your goals, you can leverage various methods to personalize your content for customers. Let us know what type of personalization works best for you in the comments below.