We live in an era of technology defined by convenience, accessibility, and perhaps most of all – mobility. Traditional digital platforms are rapidly being outmoded by more mobile solutions in more portable packages. With the increased proliferation of modern cellular technologies and the smartphone revolution well and truly under way, we see an unprecedented shift towards mobile to satisfy our computing needs. Significant attention is showered on the consumer hardware and software powering these new experiences. However, just as important is the network infrastructure and communication technologies which are enabling this fundamental transition in the first place.
Ericsson's Mobility Report for June 2017 shifts focus on the state of the telecom and communications industry, and the new technologies are pioneering its future. Let us have a closer look and identify important trends.
APAC Ushering The World Into The Age Of VoLTE
VoLTE, or voice over LTE is a communications technology that allows voice calling over 4G networks instead of traditional 3G or 2G networks. Needless to say, the benefits of this technology are numerous. Due to the much faster bandwidth of 4G networks, VoLTE allows for superior call quality, battery life and enables newer modes of communication like video calling. We are now seeing a significant uptick in VoLTE adoption all over the world. There are now over 100 VoLTE supported networks in 55 countries globally. Estimates suggest that the total number of VoLTE subscriptions would exceed 540 million by the end of this year. And this is only the beginning, with projections claiming nearly 4.6 billion subscriptions by 2022! This would represent more than 90% of global LTE subscriptions by that time.
While the increasing popularity of VoLTE is hardly unexpected, what is surprising is the curiously varied adoption levels across different regions. APAC leads in terms of total VoLTE subscriptions by a fair margin, while North America follows in second. Countries with strong network infrastructures like South Korea and Japan lead APAC with high adoption rates. Meanwhile, US and Canada lead North America. Adoption in Europe remains relatively poor.
The gap widens to alarming levels if we look at the projected numbers for 2022. APAC is expected to consolidate their dominance with an overwhelming majority of subscribers share. In comparison, North America is expected to remain relatively stagnant. Also, while adoption rates in Europe are expected to increase significantly, they will still pale in comparison to APAC. In a curious role reversal, we find that APAC is a pioneering adoption of this new technology standard. There are a lot of factors behind this, the biggest of which is recent launches of VoLTE networks in China and India. As the two of the biggest smartphone markets on the planet, the potential for growth is tremendous. This is amply evidenced by the launch of Reliance Jio VoLTE network in India just under a year ago, which managed to gain 100 million subscribers in record time due to a combination of superior technology and aggressive pricing. 
Regardless, expanding reach and popularity of VoLTE is a foregone conclusion. VoLTE is expected to form the foundation for many current and new communication services in future 5G networks.
Data Usage On Mobile Is At An All Time High
Of course, with the increased popularity of 4G networks and smartphones, data consumption on mobile keeps growing at stratospheric rates. In fact, Android mobile OS recently overtook Microsoft Windows as the market leader in terms of internet usage. While voice traffic has remained relatively stagnant since 2012, data traffic has grown by leaps and bounds. Global mobile data consumption is now approaching 10 exabytes per month as of Q1 2017. This represents 70% YoY growth over Q1 2016, and a 12% QoQ growth. This is nearly a tenfold increase from Q1 2012. The worldwide mobile data traffic is expected to grow from 8.8 exabytes in 2016 to 71 exabytes in 2022, at a CAGR of 42%.
However, the spread between various regions is not uniform. We see a return of expected trends, as North America reclaims its dominant position here with 6.9 GB monthly usage per active smartphone by the end of 2017. This is followed by Western Europe, who is quite a bit behind at 3.9 GB monthly usage per active smartphone. APAC performs quite poorly in this regard, only edging the Middle East and Africa.
Nevertheless, all regions are expected to show tremendous growth, with North America reaching 26 GB monthly usage per active smartphone by 2022.
Despite APAC faring poorly in per smartphone user data consumption, it continues to lead in overall mobile data consumption with 30 exabytes of usage per month by 2022. This is primarily due to the sheer volume of smartphone users in these regions.
Video Is Still The Primary Driver Of Mobile Data Consumption
Just like we reported last year, video continues to drive higher data consumption across the world. The video is now predicted to grow by 50% YoY to account for almost 75% of mobile data traffic by 2022. This would mean an increase from 8.8 exabytes to 71 exabytes of monthly usage. A major reason behind this expedited growth is embedded videos on social media, which itself is expected to growth by 38% YoY till 2022. Other factors contributing to the popularity of mobile video are newer smartphones with larger screens/higher resolutions, faster networks, larger data caps, and increasing smartphone penetration.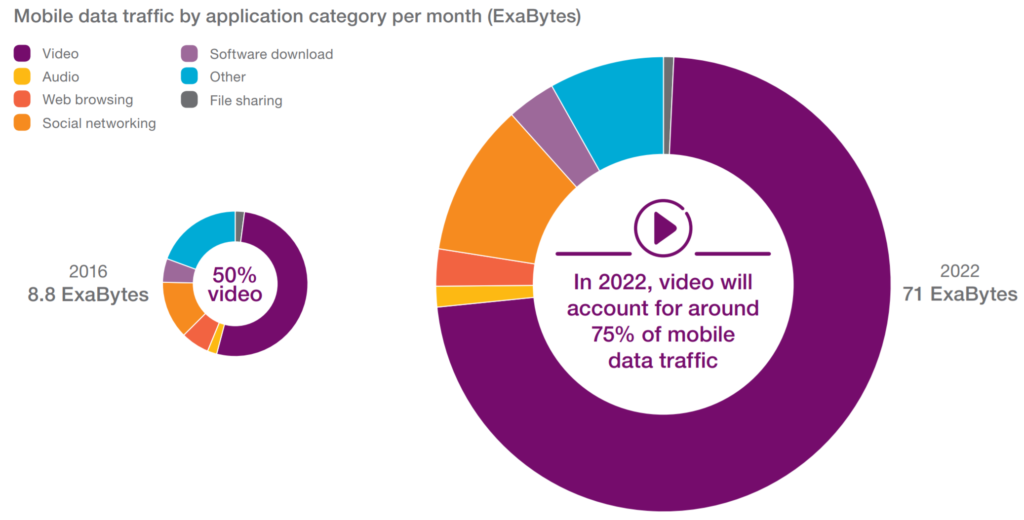 In fact, video was found to retain its dominance across the whole spectrum of mobile devices. Video accounted for the majority of data traffic in Mobile PCs (42%), Tablets (58%) and Smartphones (42%). The biggest player in this space is Youtube, which is the most used on demand video service globally. It accounted for as much as 40%-70% of video traffic across all networks, irrespective of device type. Another popular provider was Netflix, which managed 10%-20% of the total video traffic in certain markets.