The year 2016 was largely about video ads. Video ads not only set new trends over the year, but they also paved the way for more innovative advertising products and strategies across various digital platforms. In this regard, Twitter Inc. (NYSE:TWTR) was able to effectively reduce costs across several metrics and improve Direct Response products by switching to a different video strategy – One with a new conversion objective for effective campaign spending.
Twitter's video ads performance has been well summarised in Kinetic Social's Social Trends Report for the fourth quarter of 2016. Video ad length is something that had been addressed several times over the year in 2016. It's been identified as a key metric to ensure the success of any video ad, be it engagement, brand recall or lead generation.
With both Facebook and Twitter actively seeking to engage its audiences more with videos of shorter duration, video ads have also been critically scrutinised for length. This is clearly reflecting from the Kinetic's video view completion data as well.
The Performance of Twitter Video Ads
The increased campaign spending by Twitter on its Video View objective among Kinetic clients has boosted overall engagement considerably. The trend clearly highlights that videos between 31- 60 seconds in length are the most effective. However, when it comes to measuring most popular videos based on completion rate, 60 seconds of the video ads the more likely to be viewed by users in full.
There is an evident push across all platforms, towards video content, with Twitter's video initiatives showing the most performance improvements and higher engagement results.
Twitter's video initiatives also show the capacity for videos to generate more efficient ad spending.
But the other side of the coin illustrates a different scenario altogether when it comes to evaluating the success of video ads based on completion rate. Another study, conducted by Twitter recently, indicated that the shorter video ads of 15 seconds or less on Twitter are indeed more memorable than longer video ads. However, the findings of the study also emphasised on the same fact that brand videos performed much better over Twitter than over other platforms.
Twitter Advertising: Brands Must Rejoice
Twitter witnessed considerable improvements, with the overall ad costs dropping significantly in the last one year.
A comparison made within the four quarters for 2016 for Video View campaigns shows that the eCPV (Effective Cost Per View) dropped to $0.04 in Q4, from close to $0.07 in Q3. The eCPV is effectively down by 60% if we compare it with the fourth quarter of 2015, which was at $0.11.
The eCPE (Effective Cost Per Engagement) also declined significantly year-over-year as well as quarter-over-quarter. While the eCPE for Twitter's Engagement campaigns was as high as $0.27 during the fourth quarter of 2015, it dropped to $0.09 in the fourth quarter of 2016 – 66% drop within just 12 months.
With regard to Twitter's website click campaigns, the eCPC (effective Cost per Click) also saw a huge drop from $2.54 in Q4 2015 to $.60 in Q4 2016.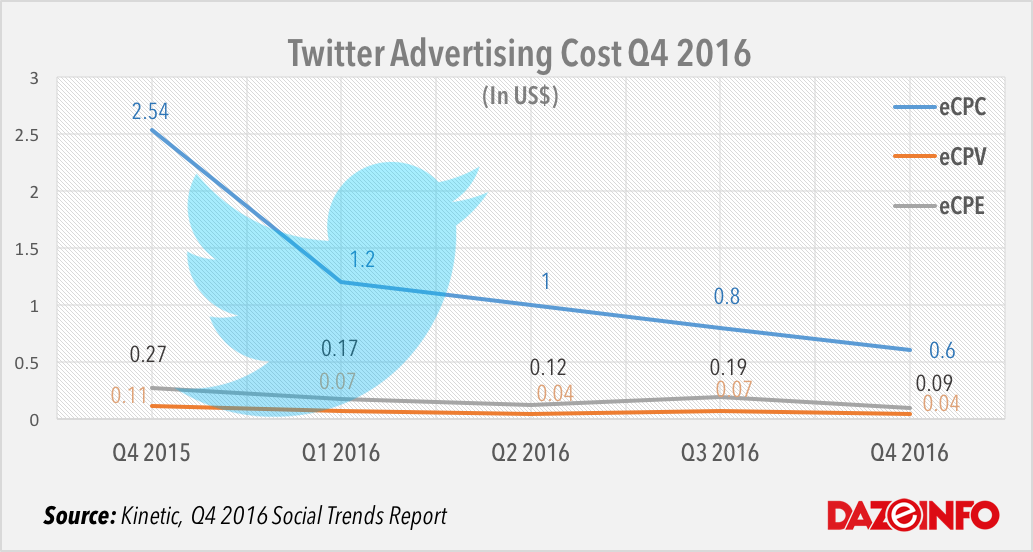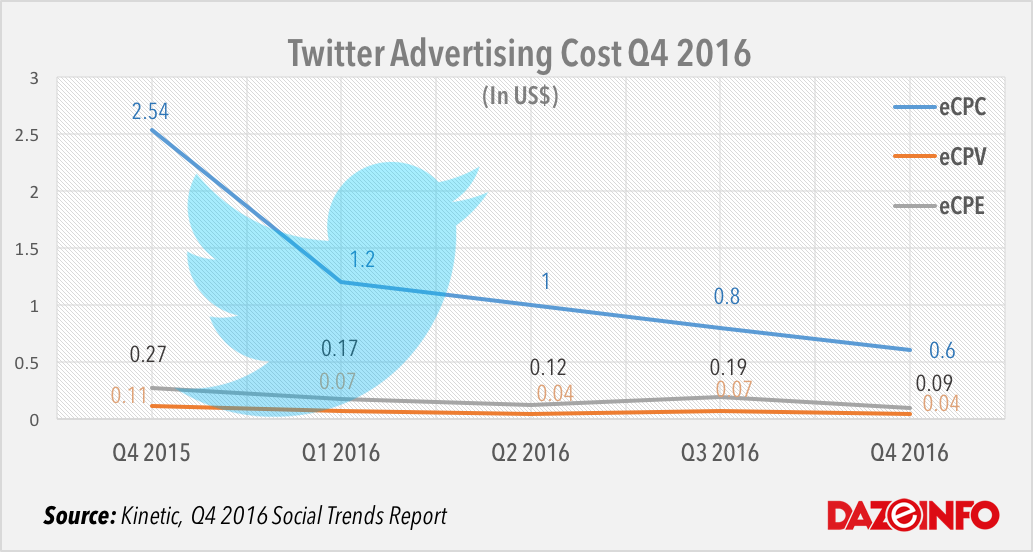 This consistent decline in eCPE, eCPV, and eCPC is of benefit to Twitter as well as advertisers on Twitter's platform. As the advertising cost on the platform is reducing, more and advertisers and brands will apparently start budgeting Twitter for their upcoming campaigns. While Twitter already has an edge in terms of users demographic and behaviour over its peers, lowering advertising cost will help Twitter to provide a greater ROI to brands and advertisers. Just to put things in perspective, the average eCPC on Facebook is $0.56 in Q4 2016.
Twitter for Business
The online news and social networking service has been assisting brands in generating more revenues for a while now. The importance it places on customer service experience has made it a preference. Customers prefer Twitter because they would like quicker solutions to their problems. The fast response aspect has been a source of larger revenues for Twitter. Additionally, Twitter also launched three customer service tools that it rolled out to companies during the second half of 2016. This feature included additional support, a bigger Direct Message button, and assistance provided for companies to become more responsive to their customers.
A case in point could be how Twitter was able to tailor its audiences and their interests, and with the help of keyword targeting, was able to connect a video game company with its gaming and soccer fans. This campaign spanned across 24 countries and was active for about six months. The primary objective of the entire campaign for the video game company was to use video content to increase brand awareness, while also increasing sales. The campaign was able to not only meet its Video View Rate goals but was able to remain below the CPV target (Cost per View).
Takeaways for Brands and Advertisers
By combining all the major findings of various reports on Twitter video ads, there are few key takeaways for every brand advertisers:
Video ads created for Twitter by brands must be 31 – 60 seconds in length to ensure the overall success of the campaign.
For different objectives the length of video ads must differ; for a brand/product recall campaigns, video ads must not be longer than 15 seconds. However, video campaigns, designed for generating leads or sales, perform best if ads are between 31 – 60 seconds in length.
As the average eCPC on Twitter has been declining and has reached to the level of Facebook, for B2B campaigns brands must spend their advertising dollars more on Twitter.