There's no doubt about it- Video content is on a growth trajectory, and it's exactly what a large number of online audiences are looking for. Considering the growing scale at which video content is being created and shared over online platforms, Twitter Inc. (NYSE:TWTR) conducted a study which looked into several key elements that made their video content more effective. As part of its study, Twitter tested 17 of its brands over seven verticals, in collaboration with the Omnicom Media Group (OMG), and the findings suggest that Twitter video outperformed the online video norms itself.
Twitter and OMG employed a neuroscience technique in the study to measure the brain activity of Twitter users while they browsed their timelines. The process generated several metrics such as memory encoding, purchase intent and personal relevance, which were correlated with the memory encoding.
The findings of this study were quite interesting and highlighted the broad scope of video content, especially over Twitter. In fact, in a related research published by Twitter, in September 2016, as part of its annual Online Video Playbook, findings showed that video ads on Twitter feeds were twice as memorable than when found over any other platform.
Brand Videos Perform Better Over Twitter
The study found that Twitter video was able to generate a much higher response rate in terms of memory encoding, personal relevance, and emotional intensity factors. Further, Twitter videos were found to outperform in comparison to the online video norms.
Another interesting find was that users did not differentiate between promotional video content and the other Twitter content that they saw on their feed.
The above findings clearly indicate that videos indeed do well over Twitter and that Twitter users are keenly receptive to it.
Short Videos, And A Sound-Off Strategy
The study found that videos of duration 15 seconds or less are more likely to drive memory encoding than videos that were 30 seconds or longer. This pattern is, however, specific to Twitter, since shorter video messages are most effective over tweets.
A rather interesting attribute that favours shorter video content is what is known as "scrolling behaviour": The lesser time needed to capture attention, the more impact it makes.
Talking about the sound-off factor, the study found that personal relevance and memory encoding were both at the same level irrespective of whether the sound on the video content was on or off. This behaviour is more noticeable over the first three seconds of a video.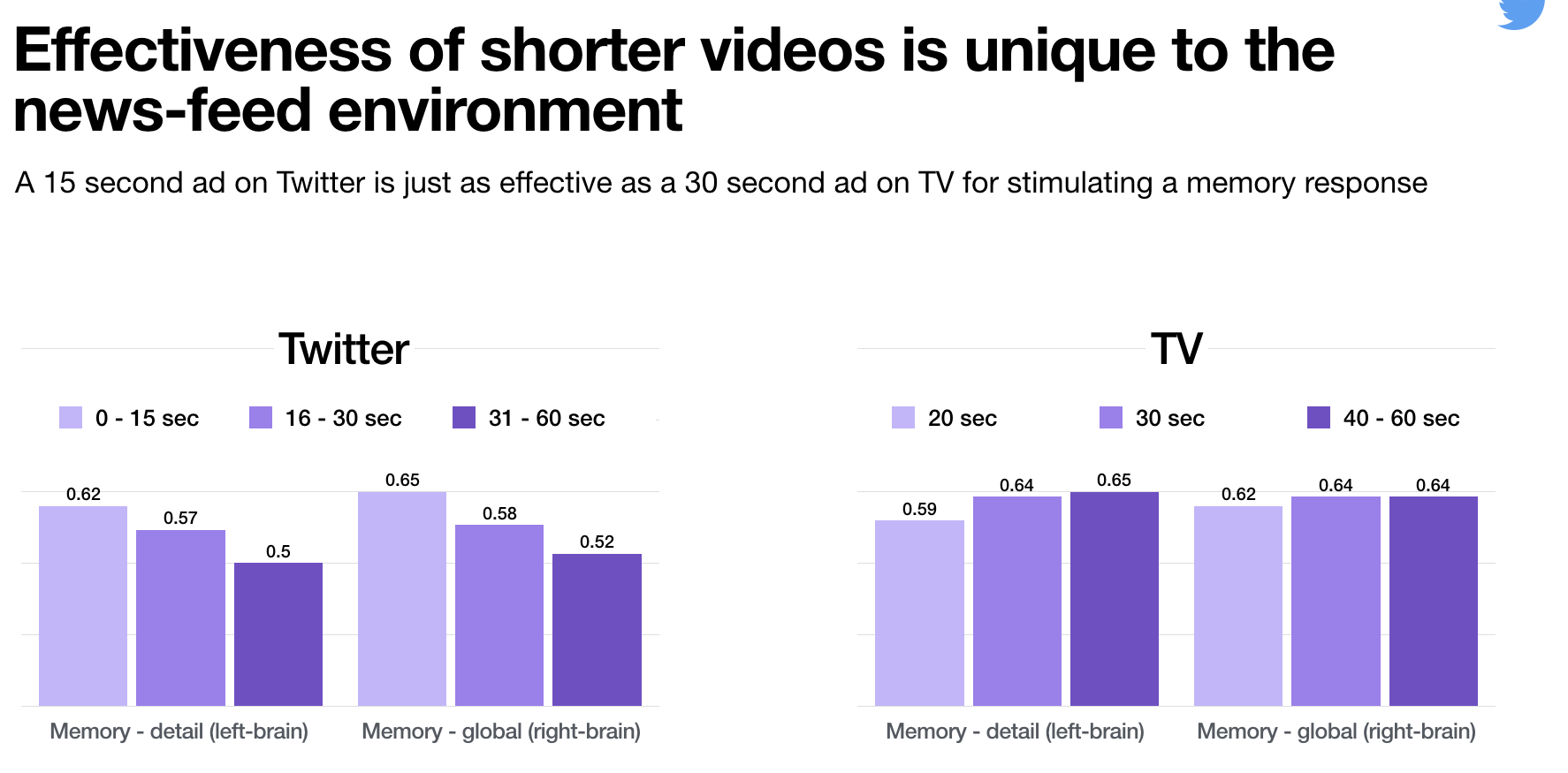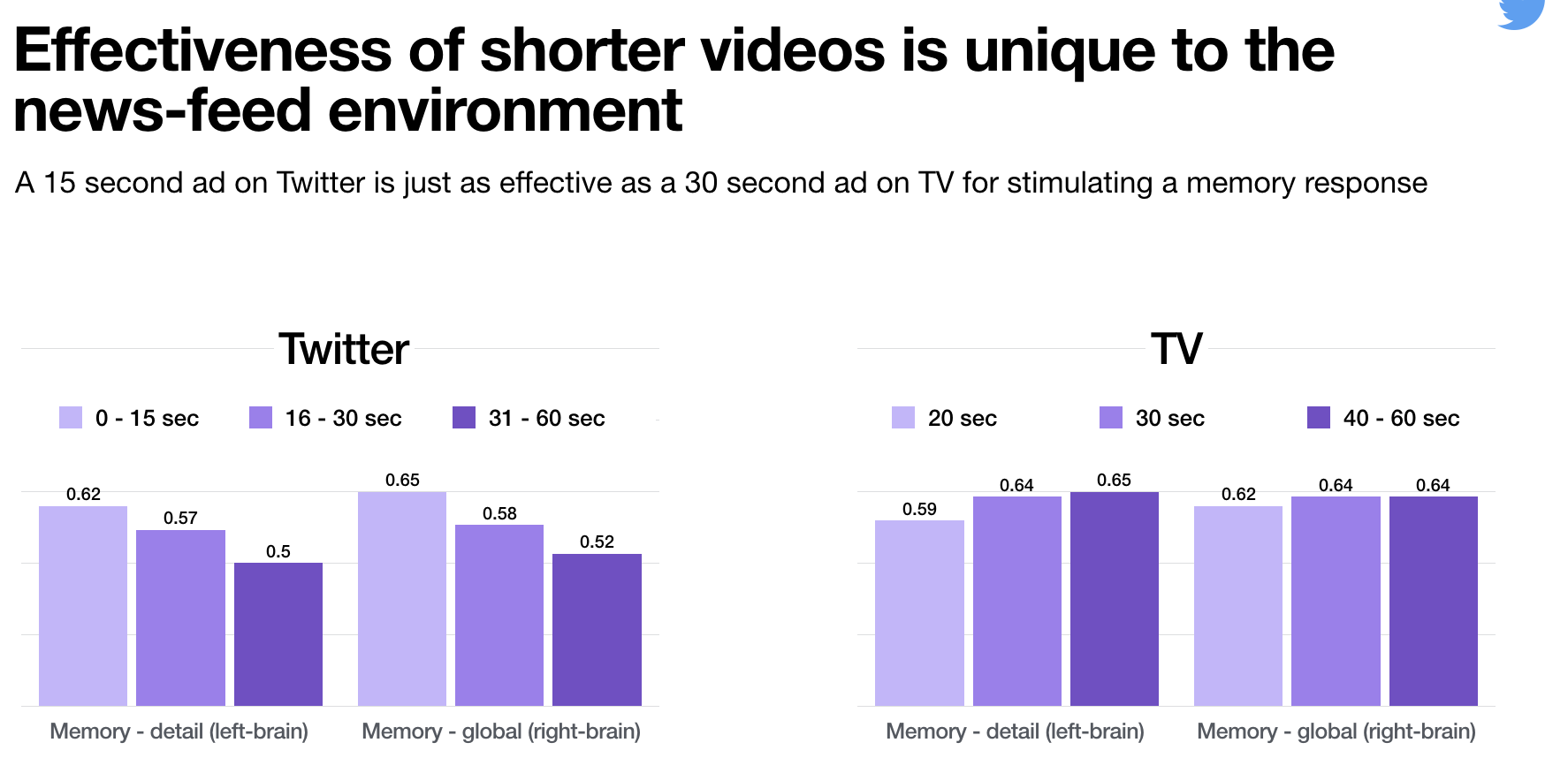 Sessions And Time Affect Receptiveness Greatly
Quite simply – Twitter users were most receptive to a video on their feeds at the beginning of their scrolling session. The implications of this behaviour are of great advantage to advertisers or marketers. Further, this finding supports Twitter's First View option.
The time of day also played a key role in the receptiveness of video content. Ideally, mornings were when a Twitter video was most effective in generating personal relevance and memory encoding. During the day, however, there was a more emotionally driven memory response identified in the subjects who were studied.
The Drivers of Memorable Video Content


This final segment of Twitter's study looked into the various elements in the video that contributed to mental response and retention.
Early story arcs surprisingly boosted video viewing beyond just the first three seconds by about 58%. This finding is of huge relevance to marketers who want to draw in more audiences by their content alone. It also means that marketers will have to focus on story as much as the product they are pitching.
The presence of people, with a 133% chance of increasing emotional response, indicates that Twitter's audiences are more emotionally drawn into your videos if you have people in them. This was more effective if videos showed people within the first three seconds of the video.
Topical themed videos were 32% more likely to be viewed completely or beyond the first few seconds.
Text in videos, or subtitles, also drew in more audiences, and also had a higher completion rate of 28%. This holds good for video content over other platforms as well.
Implications of the Study
Twitter's study has huge implications for brands and marketers, especially those eagerly looking to capitalise on the video consumption trend that has taken over online platforms. There's no doubt that online audiences are more and more receptive to the smaller details that make up engaging content, such as Topical content or Subtitles, as pointed out by the study. They're not just looking for entertainment any longer, but are looking for a great emotionally engaging story, information, and to still be entertained. Studies such as this one by Twitter and OMG help redefine audience perceptions and expectations with the rapidly changing digital environment. Brands and marketers who can stay ahead and pick up on these cues should be able to hold on to their audiences while also drawing in newer, more curious audiences.
About the Study
The survey that was conducted by Twitter and OMG involved 127 individuals of the ages between 18 and 49. They were all shown 17 videos from OMG brands, and three videos from outside of OMG brands. Across seven verticals, a total of 130 hours of Twitter usage and about 2 billion data points comprised the entire study.