In an online business, customer service experience plays a pivotal role. It shapes the future relationship between the customers and the brand. A better service leads to higher rate of customer retention and also adds new customers to the business. Twitter Inc. (NYSE: TWTR) recently conducted a research study in the U.S. to figure out the potential revenue benefit to the company that helps their customers via Twitter.
But before we proceed, let's understand the current scenario of business and customer service.
Consumers are increasingly buying products online. This, in turn, leverages the chances of buyer's error and remorse. Thus, it is important to provide such customers with positive customer service experiences.
In U.S., 52% of the internet users have stopped doing business with a general retail company due to poor customer service experience. Out of these, 54% were millennial, 50% were Gen Xers, and 52% were baby boomers. Also, it takes 12 positive customer experiences to cover the poor impression created from one unresolved, bad experience. Undoubtedly, rebranding is hard than branding!
The study examined three industries – Airlines, Quick-service Restaurants (QSR), and Telecoms. Tweets have become a mainstream method for reaching out to businesses. Millions of people interact with businesses publicly each month over Twitter. As per the findings of the study designed by Twitter, customers are willing to spend 3-20% more on an average priced item from a business that acknowledges customer service-related Tweets from the consumers. The highest increase in revenue potential per transaction (20%) is for the national pizza delivery brands due to most daily operations. However, the amount per transaction is lowest for the same at $2.84 compared to $8.98 for airlines. It is mainly due to higher per unit cost.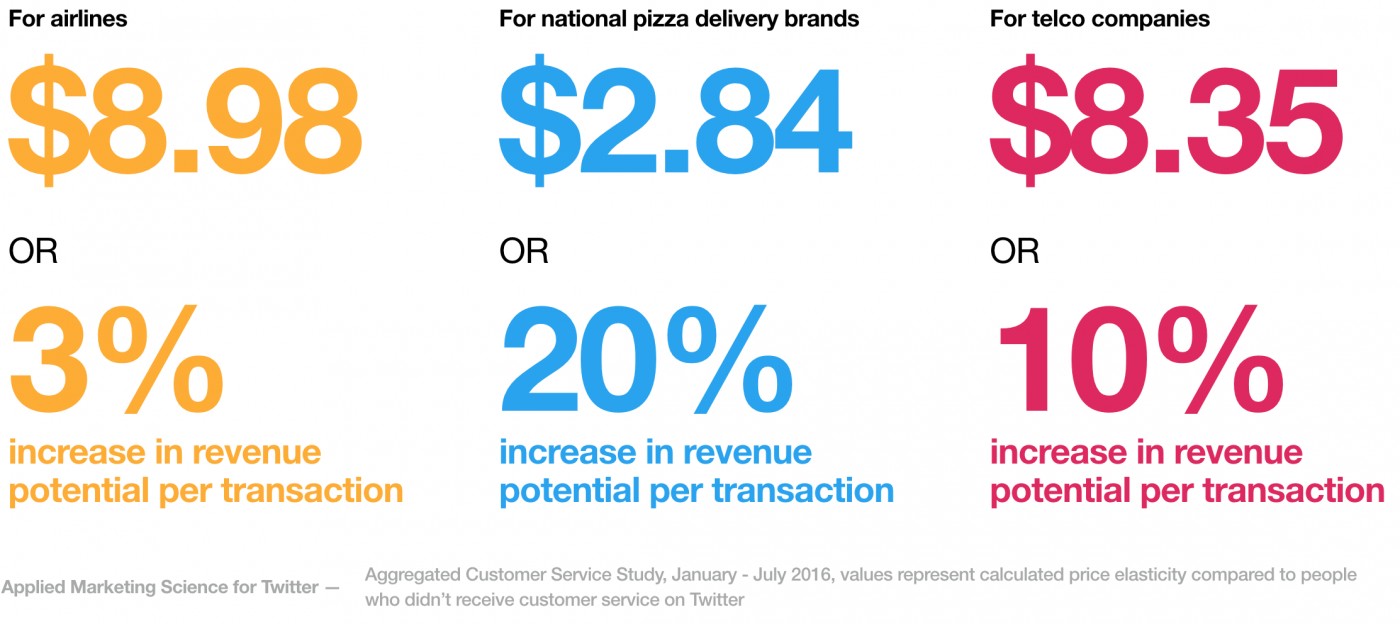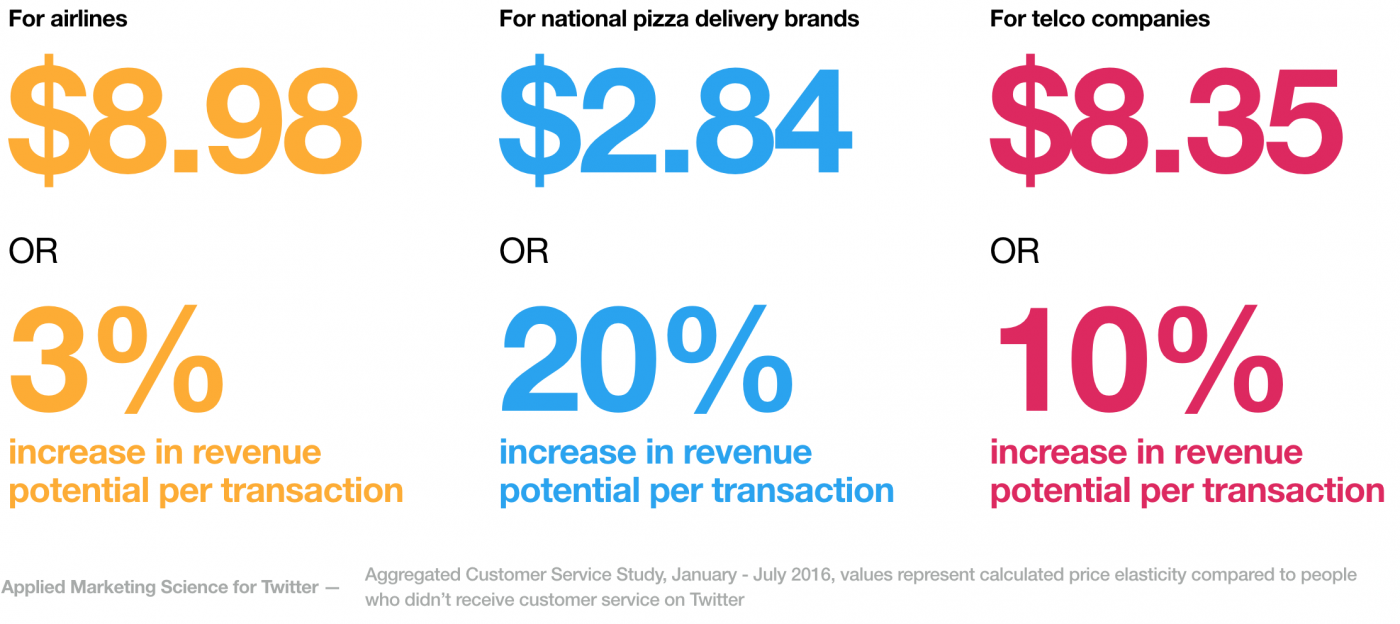 Acknowledging an issue is the first step towards readdressing the problem. But to give the customer a positive experience, it takes more than just acknowledgement.
Customers Opt For Twitter for Quick Reply
Customers try to connect with businesses through Twitter because they expect a quick solution to their problems. Fastest responses generate the highest revenue for the firm. The time of reply doesn't affect the QSRs as much as it does the airline and telecom companies. In the aviation segment, customers are willing to pay almost $20 extra if the response time is less than 6 minutes and a mere $2.33 if the reply time goes beyond 67 minutes. In the case of telecoms, customers are willing to pay $17.18 more per month for a phone plan if the response time is less than 4 minutes, but they wouldn't pay more than $3.52 if there is no response for or above 21 minutes.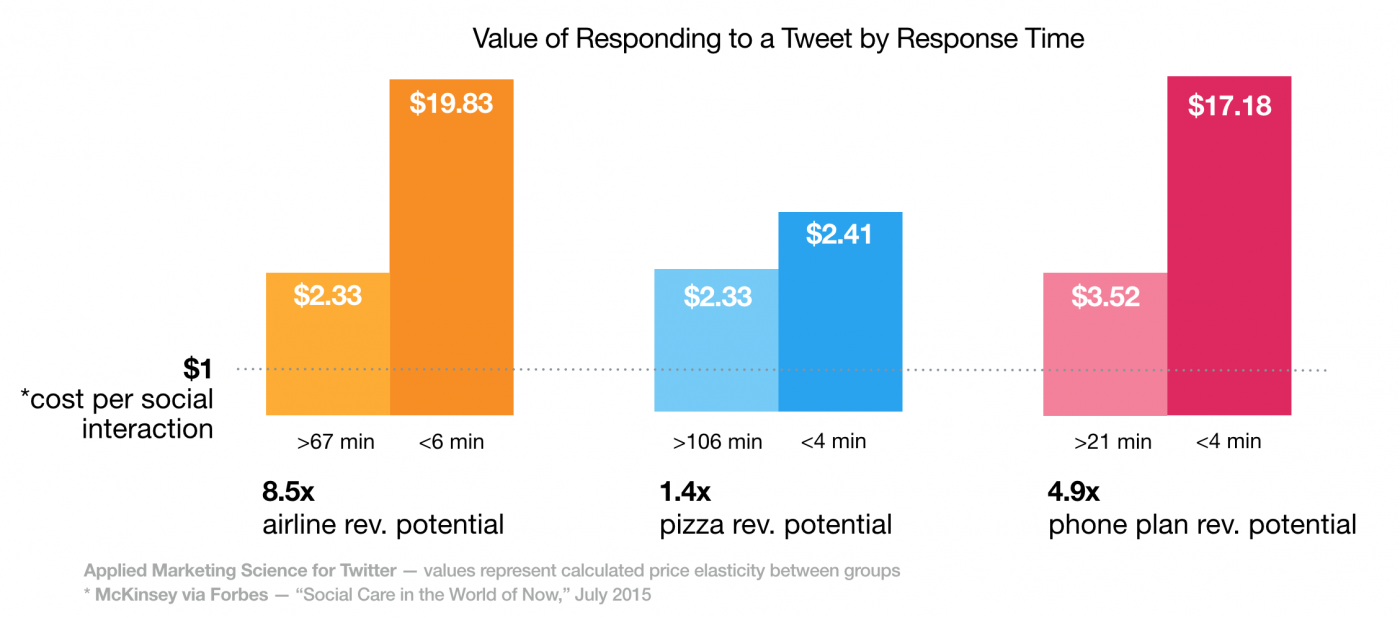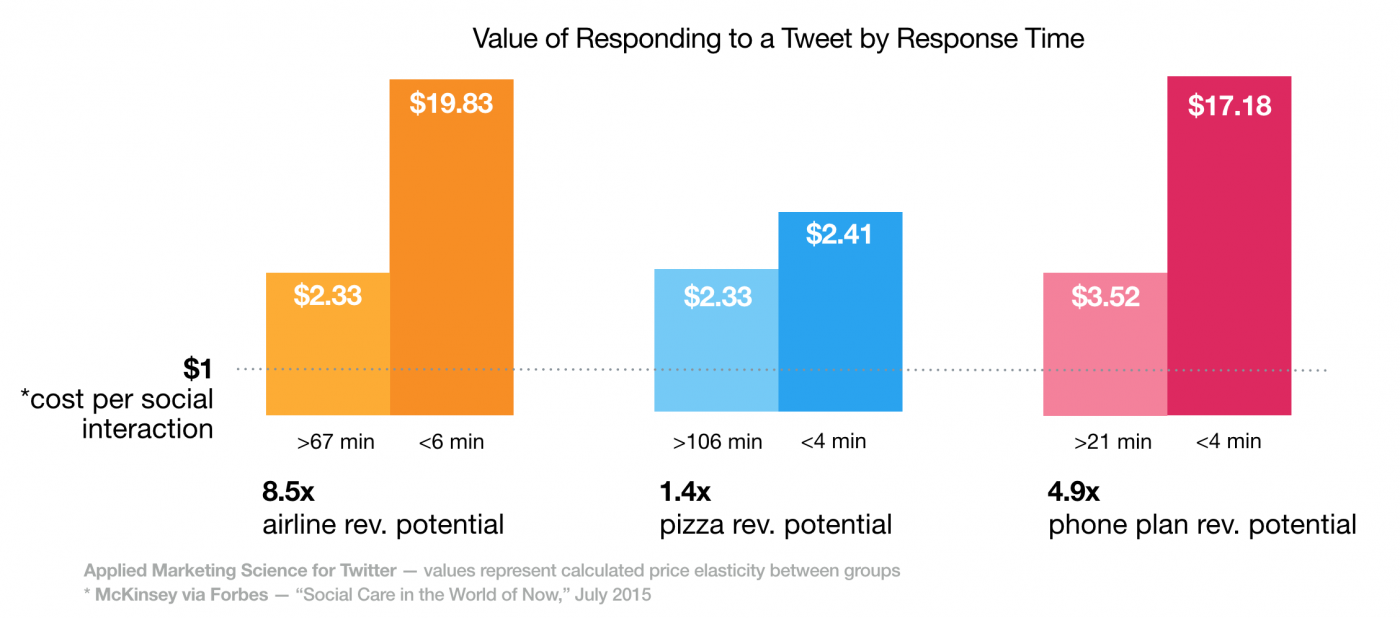 Moreover, 69% of the people who tweet negative feedback feel more favourable when a business acknowledges their issues. In the case of telecom companies, if they address a negative tweet, the customers are willing to pay three times more for their monthly wireless plan.
For the customers, Twitter is the quickest way to connect with a company. It takes nothing more than a Tweet to gain their attention. Also, the customers find Twitter the least frustrating channel to get in touch with the companies. In this era of internet and social media, phone/voice calls are deemed as the most disappointing channel with 32% of the consumers agreeing to it, followed by Web (15%), Email (12%) and In-person (7%) respectively. Moreover, it also saves cost.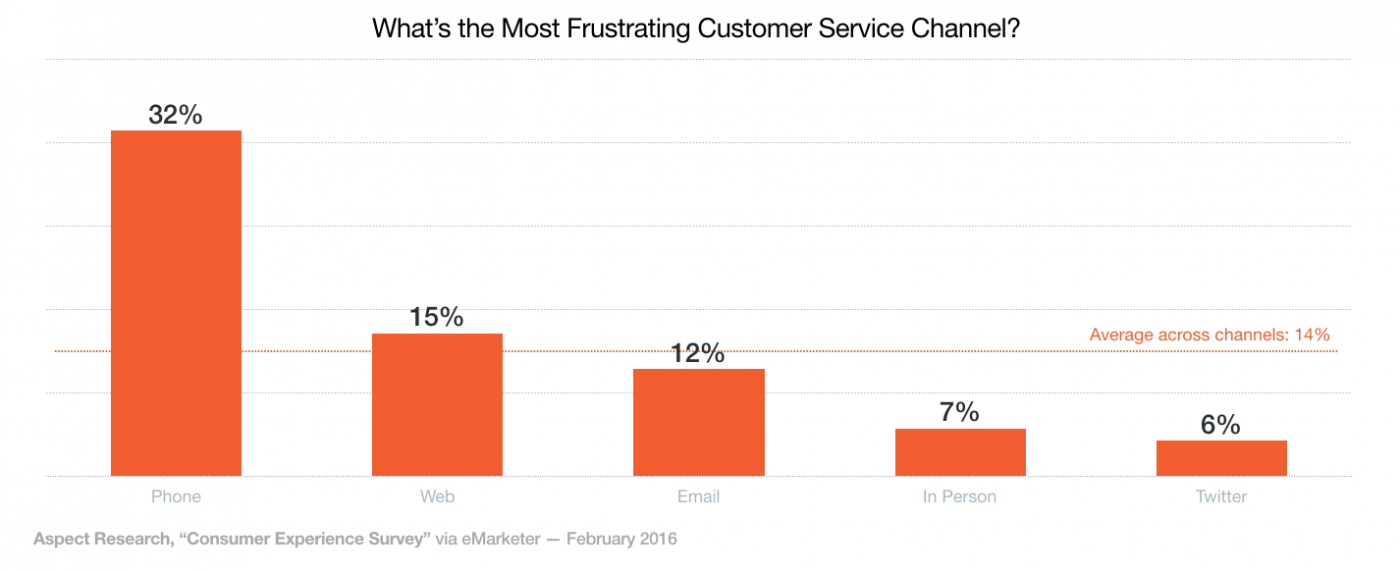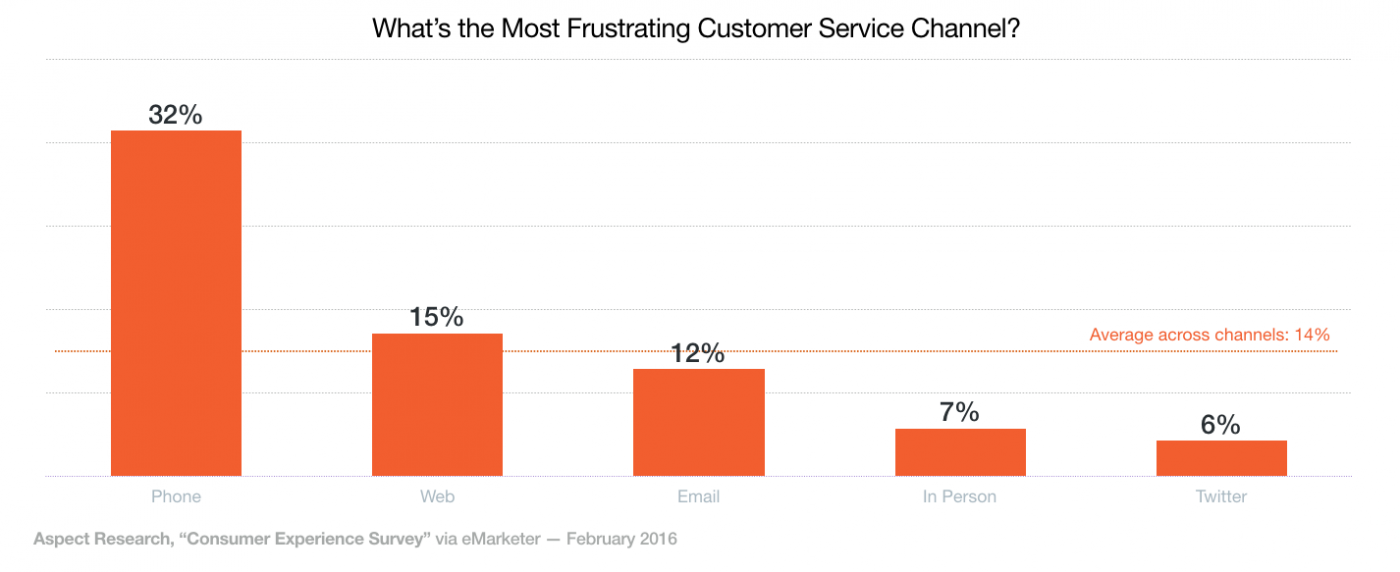 Word of Mouth helps too!
Apart from getting revenue benefits, 44% of the customers are more likely to share their positive experiences online as well as offline. It helps in creating a positive brand image in the market among the consumers. It doesn't just end with sharing experiences; 30% of the customers are likely to recommend the business to others. This helps in gaining new customers efficiently. Word of mouth is the most powerful tool that affects the growth of business. Therefore, customer satisfaction is the key point where any company should focus.
The best part is, the whole of it comes at the cost of $1 per social interaction. The cost is significantly low as it is just 1/6th of the cost incurred by a call centre/customer care centre. To sum it up, handling customer issues on Twitter helps in the following ways:
Generate higher revenues.
Customer satisfaction and loyalty.
Better brand image due to positive word of mouth and shared experiences.
Cost Saving.
Gaining more and more new customers.
Companies should focus more on social media to connect with their customers in a quick and efficient way to solve the issues and give the customers a positive customer service-related experience. Customers prefer working with a business that provides the best service, even if they have to pay a little extra. An excellent service quality provides the customers with better convenience which saves their time and money as well.
To make this easy, Twitter has also launched three new customer service tools to help businesses give their customers a better experience.