One of the most important tasks for an app marketer is to ensure that users are actively engaging with the app. To create more engagement, app marketers are now turning towards Push Notifications, which provide higher click-through and conversion rates. Most importantly, customers are all game for push notifications. According to a report by Localytics, 75% of the push notifications are segmented, and 25% are broadcast in 2016. In the previous year, the percentage of segmented push notification and broadcast push notification on apps were 65% and 35%, respectively. The 10% increase in segmented push notifications is a great progress for app marketers. It will also help marketers to reach people in a more targeted ways, resulting in greater engagement.
Segmentation of push notification on apps is all about truly delivering the right message to the right audience, based on their convenience and previous actions. By realising the importance of it, tools like Pushengage have added the feature to make Web Push Notification more engageable. Segmentation is a step ahead of personalization. Personalisation is mostly about creating messages that include the user's first name or writing the message in a specific language. Surprisingly, personalised messages failed to address the actual information about the user's behaviour within the app. Messages with users' first name apparently generate a click-through rate of 5.5% and an average of 2.7 sessions within the first week. Similarly, messages in a specific language generate a click-through rate of 5% and an average of 3.5 sessions within the first week. However, segmentation helps in achieving better results.
However, segmentation helps in achieving better results.
Ways of Segmentation of a Notification
Segmentation is generally based on three major user attributes, as follows:
Creating audience based on their profile attributes like the number of sessions in the past month, user choices or any other simple demographic information about the user.
Segmentation based on their behavioural attributes. Users performing specific tasks can be segmented based on that task.
Segmentation based on both profile and behavioural attributes.
Segmented push notifications help in achieving better click-through rates, customer engagement and click-through conversion rates. And when a personalised message is included in it, users find it more appealing. Such notifications tend to annoy users a lot less in comparison to the broadcast messages.
Effect of Segmentation on Click-Through Rates
Segmented messages have an average of 9% click-through rate within the first week. In the same span of time, broadcast messages have a mere 4% click-through rate. As the segmentation increases, the percentage also increases. Messages with profile attribute generated 7% click-through rate while those with behavioural attribute was at 9%. The messages that included both the attributes had a click-through rate as high as 11%. Click is the first positive response from the user. Hence, it is very important that the information conveyed to the user is creative and convincing enough to make them click on it.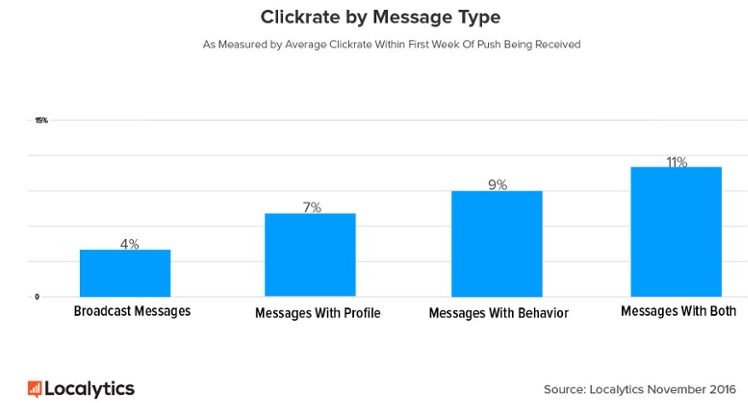 Effect of Segmentation on User Engagement
Engagement is the average amount of session a user has. In terms of engagement, it is again segmented messages that helped in achieving an average of 6.4 sessions within the first week after receiving the notification, compared to 2.8 sessions for broadcast messages. Same as click rates, the number of sessions increased with the level of segmentation. Marketers should know how to add value to each session that a user has, to ensure that they return to the app. The app should provide the user with a personalised experience. An increase in a number of sessions indicates that the user is satisfied with the engagement.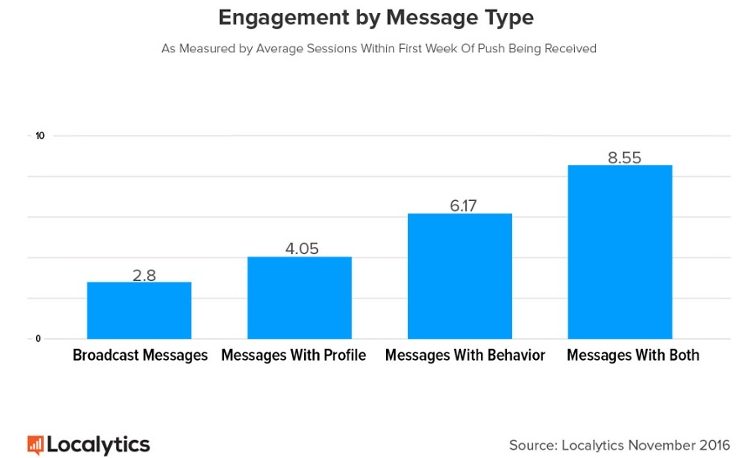 Effect of Segmentation on Conversion Rate
Conversion is the desired finish line where the users perform actions like watching the video, completing a checkout, etc. Segmented messages had an average conversion rate of 2.6% whereas broadcast messages had the conversion rate of just 0.6%. Conversion decides how effective the push notification and the whole campaign was. It is the ultimate motive for any app or a marketer.
In this case, messages with profile attributes and behavioural attributes had the same conversion rate of 2% each. Messages with both the attributes had 2x more conversion rate at 4%.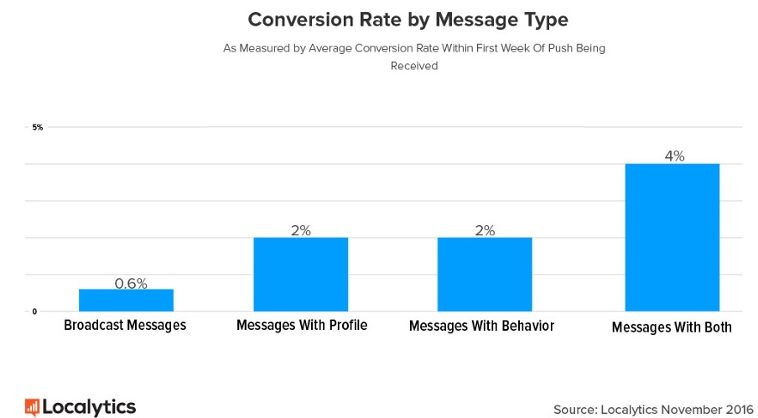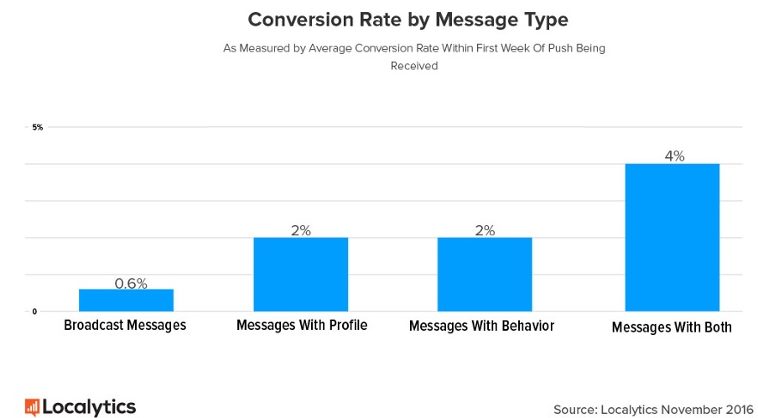 Retail & Travel Apps Most Benefitted
Segmented push notifications work differently for different industries. However, retail and travel industry benefit the most from this kind of notifications. Retail apps showed a significant impact of segmented messages when compared to broadcast messages, in terms of engagement, click-through rate and conversion. With segmented messages, the user engagement doubled, click-through rate tripled, and conversion increased by 9%.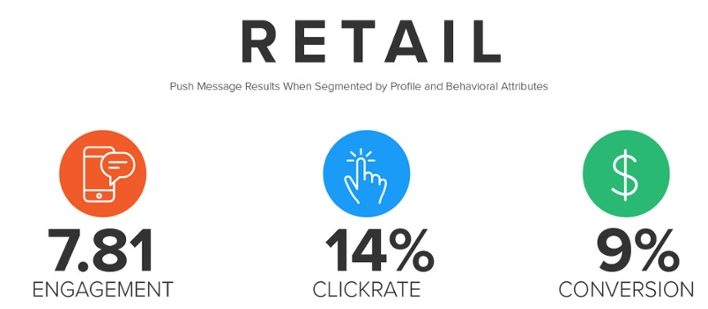 In travel apps, segmented messages with both the attributes resulted in a session of 7.19 within the first week. In comparison to this, broadcast messages had just 1.06 sessions. The segmented messages increased the click-through rate by 8%, while the conversion rate tripled.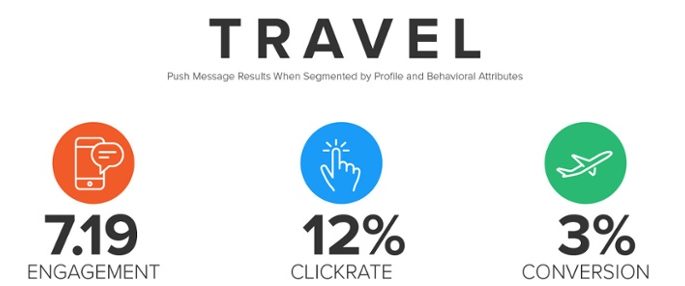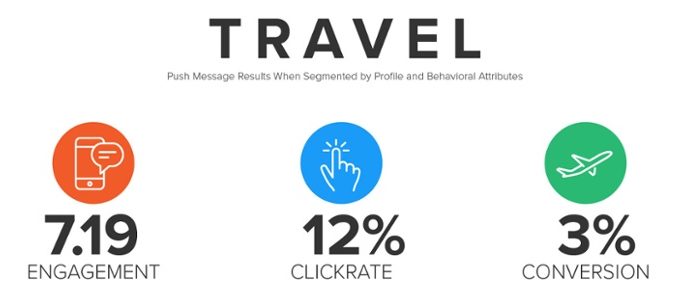 Ensuring that Notifications Aren't Annoying
Nearly 50% app users find Push Notification annoying. Marketers should make sure that notifications are used in such a way that it keeps customers connected. Too much of it can annoy the user! A marketer should keep in mind the following points to avoid annoying the users:
Do not push too many notifications: Marketers need to ensure that they do not indulge in sending out irrelevant notifications or alerts. They should be aware of how many notifications they are sending. If notifications are sent out in bulk and that too irrelevant ones, users might just turn off their alerts.
Effective Segmentation of the User: Based on the users' behaviour and habits, the notification should be altered accordingly.
Effective Segmentation of the Message: Marketers should send messages that their users would prefer. Tracking their activities can help in understanding the user preferences.
Ensuring Accuracy: When dealing with push notifications, the standard of accuracy becomes even more paramount. For breaking news or exclusive offers, notifications should be delivered at a maximum speed and accuracy.
Push notification is a way of letting the users know about the latest updates and upgrades of an app. It is a dynamic way of telling the user that the app shouldn't be kept idle. If used in the right way, they can be really helpful for app entrepreneurs. App marketers should also keep in mind the prevailing situation in the eco-system before sending a push notification. In short, the alert should be relevant, personal and truly worthy of the distraction.