The big screen Apple iPhones have pushed the worldwide smartphone OS industry to go through an interesting phase. While iOS (iPhone) is winning in all the major markets, it's losing grounds to Google Android in the home country.
In the battle for supremacy in today's smartphone-centric world, only two competitors have emerged from the pile of rubble that is the cesspool of smartphone operating systems – iOS from Apple Inc. (NASDAQ:AAPL) and Android from Google (NASDAQ:GOOGL). The reasons behind their success though are diverse and so it's not exactly an apple-to-apple comparison! However, market share is always a factor that drives revenue streams and having a look at them from time to time can reap valuable insight. Today we take a look at how the smartphone consumers have chosen their Operating Systems around the world in Q3 2015 and try to read between the lines to decipher some of their reasons for going either Team Android or Team iOS!
Traditionally the Q3 of any year is a tame quarter with OEMs gearing up for the holiday season in Q4. Without breaking the trend the third quarter of 2015 has provided some interesting facts for both camps – iOS and Android – to work on going into the new quarter. For the Android side of things we see they continue to make progress in the established US market and eat into Apple's market share when it comes to quarterly sales. Apple, on the other hand, continued to expand in China with a 25.65% YoY growth in iPhone sales that bodes well for them next quarter as they expect to see the iPhone 6 and iPhone 6s come into full effect. Europe remained a sort of mixed bag with Android losing ground to iOS but finding a new warrior in Huawei. For a more in-depth look at the two camps let's dive right into the smartphone OS sales share from the latest report by Kantar Worldpanel ComTech.
Smartphone OS Sales Q3 2015: Apple iPhone Winning
While Android has been dominating the smartphone marketplace for the last few quarters, Apple has slowly been eating away at the deficit margin. Although sales shares of Android tend to overshadow Apple in most regions, the higher ASP of the iPhones means that profit margins of Apple are exponentially greater than that of any Android OEMs or Google themselves. This coupled with growing sales share of Apple may ring alarm bells at Mountain View because they don't want Apple to seize control of the smartphone pie any more than they already do. However, there are worrying signs for Apple, as analyst reports indicate towards their new iPhones underperforming despite their early success.
Android: Is their Empire crumbling?
If we take a look at the business model from Google, they thrive on market share as they don't make money directly off the Android OS, but rather via advertising and other internet related services. Keeping this in mind, one of the greatest positives in the last few quarters has been their sales growth in the US market. Being a developed market, the revenue stream on apps and services is the highest from the country and the sales growth rate of 13.4% QoQ is astounding. If we turn the clock back to Q3 2014, we find that Android has increased their sales share from 61.9% to 65.9% in Q3 2015, a steady YoY growth of 6.46%.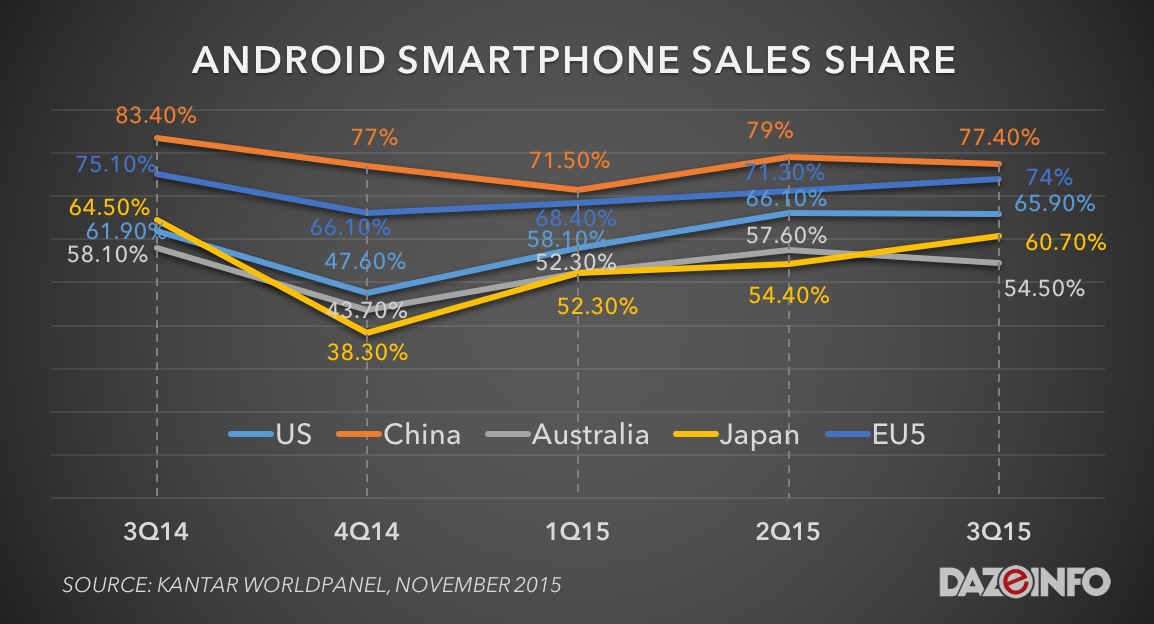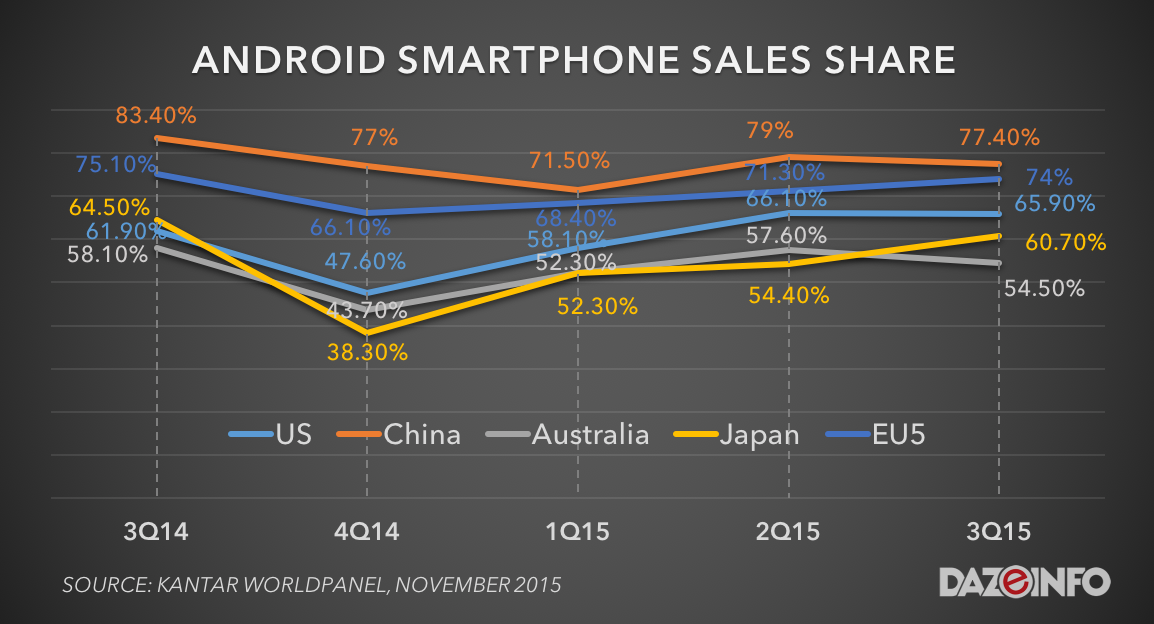 However turning our attention to the Chinese market, we find that Apple has been eating away at Android's pie as year-over-year iPhone sales shares have decreased at an alarming rate of 7.14% ending Q3 2015 at 77.4%. The numbers as they stood in Q2 2015 indicate that Android though has recovered some of it's loosen the grip as it actually moved up from 71.5% in Q2 to 77.4% in this quarter, a QoQ growth rate of 8.25% .
In the other developed nations, the big 5 of Europe, Android lost 1.1 percentage point on a QoQ basis and ended Q3 2015 with 74% of the smartphone sales market. Interestingly enough, among Android OEMs, Huawei gained the top position in Europe beating out traditional vendors like Samsung, HTC and Sony. This is of particular interest because this is the first time that a Chinese brand has been able to displace the other OEMs from the top spot outside of their domestic market.
This is also interesting because not only does this coincide with the fact that Huawei is now the top-selling brand in China, but Google for the first time has partnered with a smartphone OEM from China to make the new Nexus 6p. Chinese OEMs, likes of Huawei, Lenovo, Xiaomi, are on the rise and with their specific brand of low-cost high-performance handsets marrying perfectly with Googles Internet for Everyone motto, Android looks ready to soar this holiday season.
Apple: Riding The Chinese Dragon Into Europe
Apple has had a stellar last year with their big screened iPhone 6 Plus setting new sales records for iPhones everywhere. The trend has continued well into Q3 2015 as the first reports of the sales of the new iPhones are creating new records. However, Apple has lost some momentum in their US markets where iPhone sales share dived to 29.5% in Q3 2015 from 36.5% in the previous quarter – a straight slowdown of alarming 20%. This seems to be a culmination of a steady decline for Apple who has now lost 3.4 percentage points at a rate of 10.42% YoY. It was too early for new iPhones to make any impact as both the devices – iPhone 6s and iPhone 6s Plus – were up for grab only in the last few days of September.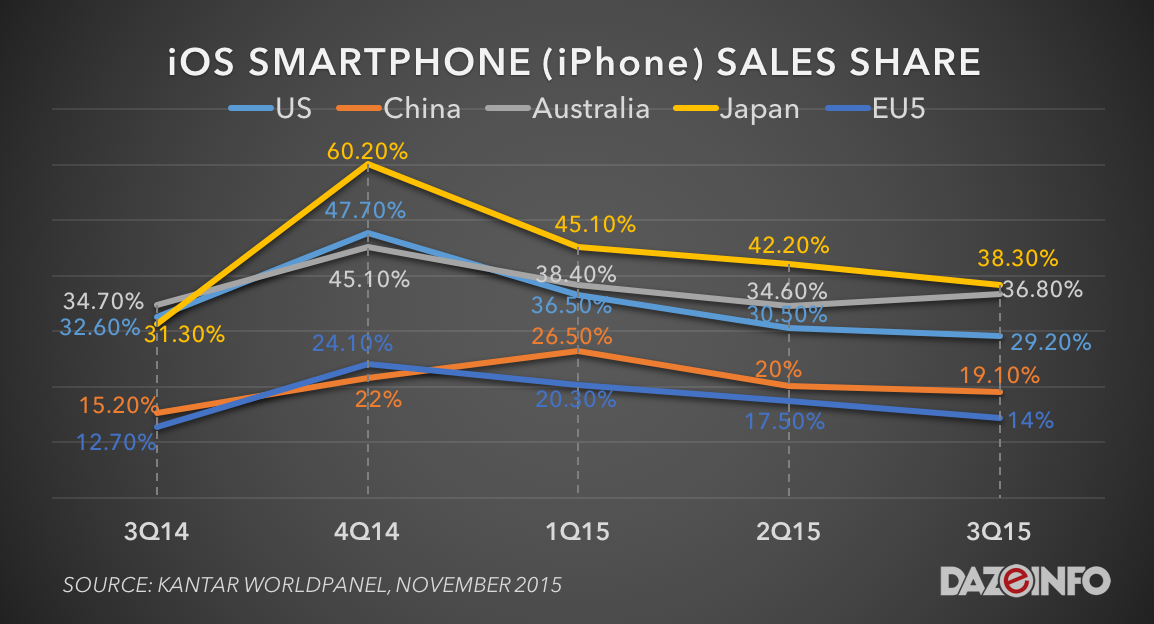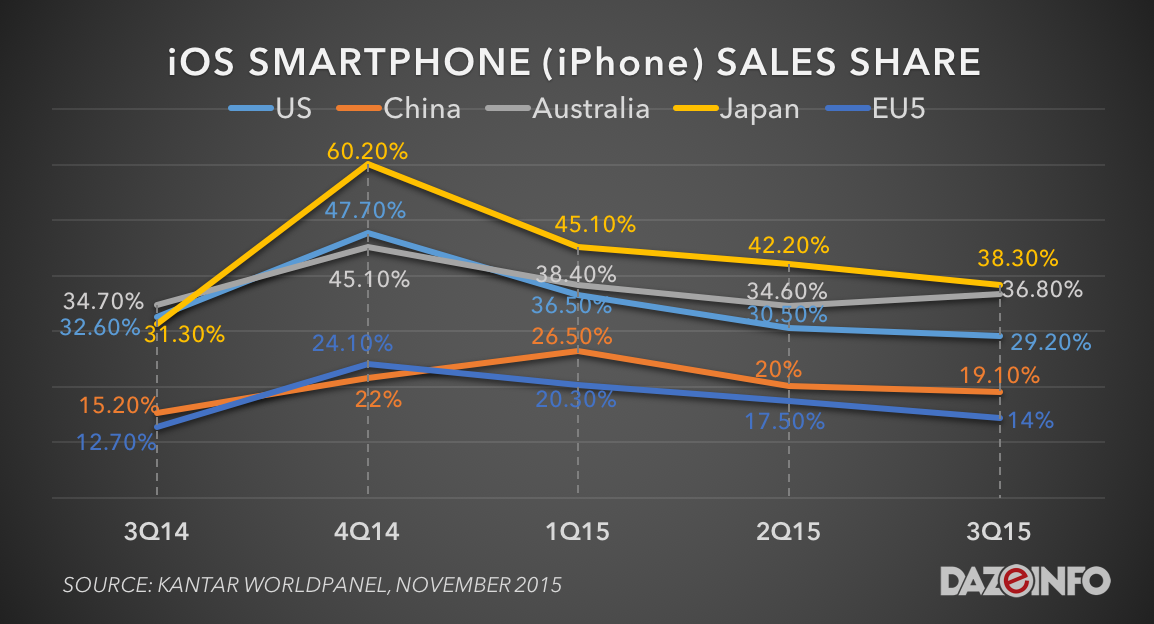 Apple though has recently focussed more on the growing Chinese market and their efforts have paid off as they have shown very strong sales growth of 25.65% YoY which is phenomenal! The third quarter, however, hasn't been a great quarter for them as a 27.9% fall in QoQ market share sees them down 7.4 percentage points from 26.5% of Q2 to 19.1% in this quarter. But this doesn't look a matter of much concern considering new iPhones are generally launched China with some delay. Therefore, it would be interesting to see how the smartphone users react to new iPhones in the Q4 2015.
Europe has been one of the surprise performers for Apple this quarter with them recording their best ever 3rd quarter in Great Britain with 38.3% of the total smartphone sales market. Looking at the big 5 in the European countries overall, we see that Apple has managed a 1.7% YoY growth with iPhone increasing their sales share from 12.7% to 14.4%.
Apple, however, will not be too worried as 56% of iPhone buyers in China switched from Android in Q3 2015, and iPhone 6 and iPhone 6 Plus retained their positions at the top two spots on the smartphone table. The new iPhone Upgrade programme might be off to a good start as well with iPhone sales through the Apple Store almost doubled compared to 3Q14, registering 7.9% in the third quarter of 2015, up from 7.7% in the three months ending in August.
Looking to The Future: Q4 And Beyond
This quarter has had many redeeming factors for both the camps; factors that if used to their advantage will cement their positions in the market. For Android it's fairly simple, keep doing what they're doing and they are already on the mend in most markets. The iPhone 6s and iPhone 6s Plus aren't that great an upgrade and Apple will take solace from the fact that 28% of consumers in China who own smartphones plan to upgrade in the next 12 months. Among them, 79% of those who own iPhones, and 25% of Android users have voiced a preference for Apple.
As for Android, Google will bet big on getting more into the untapped potential of newer markets like India, Brazil and South Africa. With the Android One project picking up the pace once more, Google seems to be on the right track of getting everyone to use an Android-powered device in the markets with relatively less buying power. And that actually sums it up pretty well, as both the OS's Android and iOS are looking to target different demographics and thus with plenty of growing room still left, we foresee them expanding in the future with Apple controlling more mature markets while Android continues to grow in a sheer number of devices.