When the situation is favourable most of the entrepreneurs and leaders savour the victory, but their true potential can be judged at a time when odds start knocking the door of their startup. And, that's when a real entrepreneur gets groomed. Probably, It's time for Lei Jun, Founder & CEO – Xiaomi, to show that the world's second most valued startup has got much more into its kitty than just manufacturing general slabs of smartphones.
Xiaomi, which is known for introducing path-breaking devices at a very adorable price, is struggling with the sales performance since the beginning of 2015. In the first 6 months of this year, the company sold only 34.7 million smartphone devices worldwide, registering almost nil growth from the previous six-month period.
Excited by overall company's growth in 2014, Lei Jun last year set the sales target of 100 million devices for 2015. The situation, however, forced him to give a second thought to the target. Jun revised the target between 80 million and 100 million units after seeing the Xiaomi's performance in the first half of 2015.
As the world just entered into last quarter of the year companies and research firms have started releasing the report card of Q3 2015. A new research report from Trendfroce claims Xiaomi may even miss its revised target as the company is estimated to sell about 70 million devices in 2015. We, however, have a bit different view on sales projection; considering the upcoming holiday seasons, Xiaomi may end up selling nearly 79 million smartphone units in 2015 – still, quite a disappointing performance compared to last few years.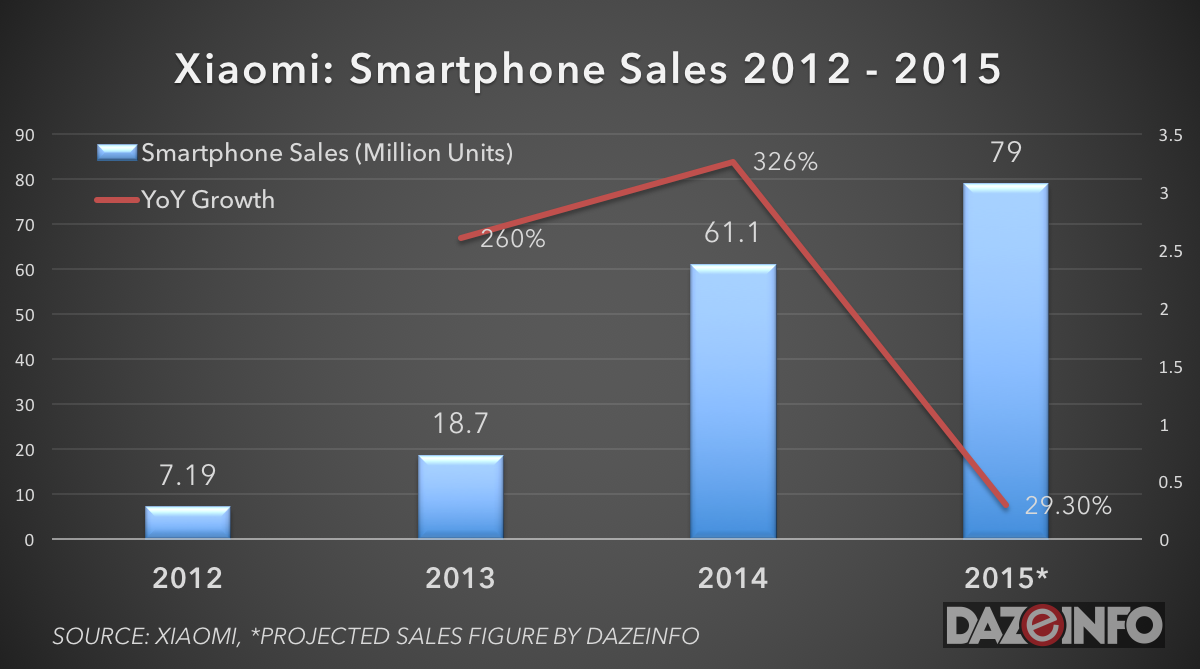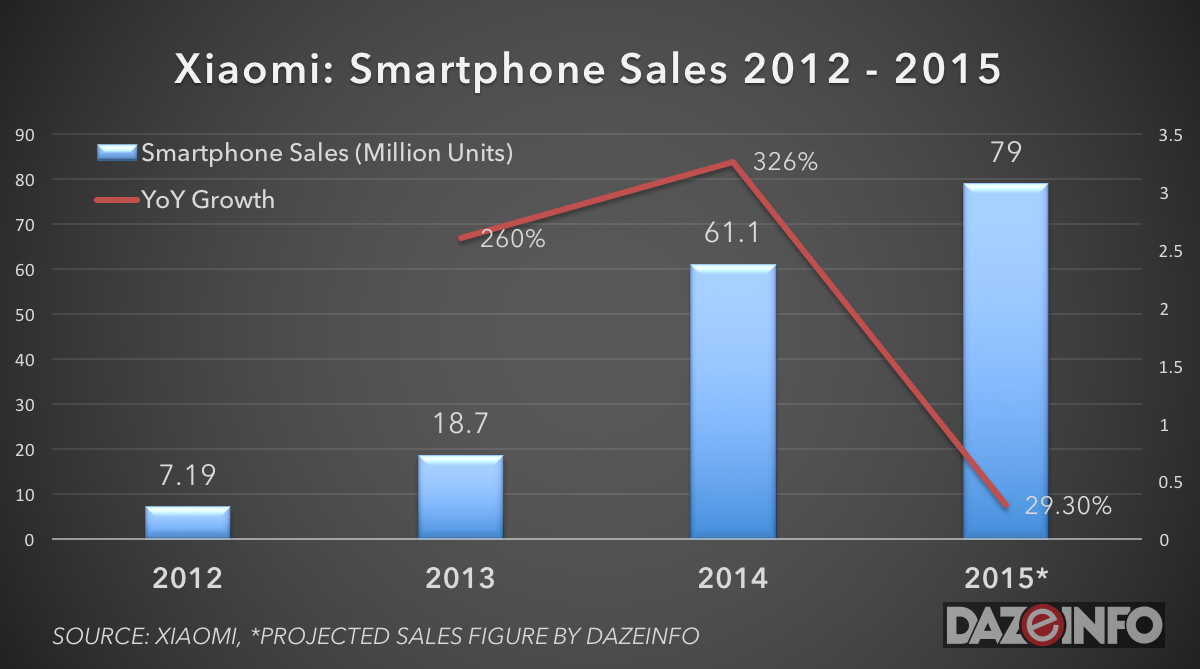 While there are many interesting findings in each of the reports, one thing that is highlighted by all – Xiaomi is failing measurably. The hype surrounded the company, apparently, has started dying down and the company may have some tough time ahead vis-a-vis sales growth.
So, what has gone wrong with Xiaomi? Did the company completely misinterpret the market conditions or it is just a matter of time every startup has to go through, especially when it is aiming for something big? Let's dig deep into it and find out what's cooking at the backyard of Lei Jun for the future!
It's Not All About China Anymore
China is a home market for Xiaomi, and the company's performance is largely dependent on the world's largest mobile phone market. With the number of mobile phone subscribers topped 1.3 billion in the country, the penetration has reached almost 100%. The smartphone market, on the other hand, doesn't have a big room to expand as the number of smartphone users is estimated to reach 913 million by the end of this year – 68% of the total mobile users.
However, the smartphone market in China has saturated. The growth of China's smartphone industry has remained flat throughout this year. The quarterly shipments declined from 98.8 million units in Q1 2015 to 97 million units in Q3 2015.
In Q2, 2015 Xiaomi dethroned Apple from the top Smartphone vendor position in China. The company, however, failed to maintain the growing pace and lagged behind Huawei in the third quarter of this year.
It's evidently clear that Xiaomi has got a very small cushion in China, and the company has to have a focused strategy in place for other developing markets, especially India and Brazil.
Early Mover advantage is Fading off in India
It's been more than a year for Xiaomi playing in Indian smartphone market. The company had launched its first smartphone at a jaw-dropping price in July last year. From poaching Hugo Barra, a top Google executive, to introducing first-ever exclusive online flash sales, the company made many moves that helped in creating enough of excitement, buzz and appeal to the mobile phone users in India. Consequently, the company sold 3 million units of handsets in just 14 months.
But, when we drill down the sales figure, it becomes clear that the sales growth of Xiaomi in India is also slowing down. The company took 6 months to sell its first 1 million handsets, in the following 3 months, until March, it sold another 1 million units. The company, however, failed to maintain the pace and took 5 months to sell another 1 million handsets in India.
Here, it is important to highlight that smartphone industry in India has been registering a staggering growth quarter over quarter for the last couple of years. The smartphone shipments went up by 44% YoY, to 26.5 million units, in Q2 2015. During the third quarter of the years, the industry is expected to witness similar growth pattern due to lowering cost of smartphones and increasing adoption of mobile internet. Despite, Xiaomi failed to garner its growth rate in India in the last two quarters.
Analysts at Dazeinfo believe that Xiaomi's not-so-encouraging sales performance in India is attributed to the two reasons:
Limited manufacturing capacity
Allowing other strong competitors to take over the market segment created by Xiaomi
Xiaomi had debuted in India when the ASP (Average Selling Price) of a smartphone was hovering $350 (Rs. 22,000). Most of the smartphone OEMs, including Samsung, HTC, Sony, were focused on minting profit from their high-end devices. Micromax, Karbonn, and Lava were the only homegrown players that were trying to lure the entry and mid-range smartphone users by offering not-so-powerful devices, missing all the charm of latest technologies, likes of 4G, Full HD Display and a high-end camera.
Between July and December 2014, Xiaomi changed the game by introducing a powerful Mi 3 smartphone, sporting 5-inch IPS display, a powerful Quad Core 2.4 GHz processor, and a 13-MP camera, at just $210 (Rs. 13,999) then. After 3 months of the launch of its first device the company almost killed the competition by introducing an entry-level smartphone Redmi 1S at $100 (Rs. 5,999) and another 4G compatible smartphone Redmi Note 4G at for $160 (Rs. 9,999).
The company managed to create enough of buzz and hype in the market then but failed to close the gap between demand and supply. Despite a lot of hue and cry, Xiaomi couldn't scale up its production capacity to meet the demand of its devices in India. Sensing it as an opportunity Lenovo, another Chinese smartphone OEMs, ramped up its production capacity of its entry-level and mid-range smartphones in no time and made enough number of devices available for disappointed prospective customers of Xiaomi. Soon, the other players including Samsung, Huawei, and many other Chinese smartphone manufacturers joined the race only to beat Xiaomi in its own game. Among all Lenovo has reaped the maximum benefits as the company has sold 3 million units of its 4G devices in India. The company had captured nearly 30% of the 4G smartphone devices shipments in Q2 2015.
In 2015, convinced by the growth of Xiaomi and Lenovo, many other Chinese manufacturers debuted in the market to eat into others' share. While Huawei jumped into B2C segment by introducing its own range of smartphones, OnePlus, Oppo, Vivo, Meizu and CoolPad have come up with low-priced, yet powerful, smartphones to fuel the competition in entry and mid-rage smartphone segment. This has made potential customers to look beyond Xiaomi now.
Exploring New Marketers with Limited Capabilities
In the last July Xiaomi had ventured into another developing mobile phone market out of Asia. The company introduced Redmi 2 to Brazilian mobile users in the biggest ever public event in the history of the country.
The smartphone market in Brazil, though, is already showing signs of slow-down, Xiaomi still believes the market is good enough to bet upon. The smartphone sales growth in the country is declining month over month, and analysts are reconsidering their views on the market. IDC has revised its earlier projection of smartphone sales in Brazil from 63.5 million to 54 million for 2015. Despite, the market will grow at a CAGR of 25.9% over the period of 2014 – 2019, claims another research firm Research And Markets.
The scenario in Brazil is indeed lucrative as smartphone penetration will reach only 30% by 2016. But, for a startup like Xiaomi, which is already struggling to meet the demand in India, it may bring few other challenges as well. Being a startup having a very limited production capacity Xiaomi is facing a tough time to meet demand in India, especially after creating enormous hype in the market. Between July and December last year, Xiaomi caused enough hue and cry among its fans for not making an adequate number of devices available in the market. In most of its flash sales company could make 20k – 25k units of devices available despite hundreds of thousands of pre-registrations.
At the time, the situation became so ugly for Xiaomi that the company's Vice President Internal, Hugo Barra, had to apologize to fans and accepted that they completely underestimated India market.
The production struggle, however, had continued for the Xiaomi till the launch of its flagship device Mi4. The overall sales number, though, failed to impress, but the company faced criticism for selling the devices in small batches.
Can Xiaomi Bounce Back?
According to the latest report from Canalys, Xiaomi has once again lost its numero-uno position in China to Huawei. It's quite unlikely that Xiaomi can bounce back in the ongoing quarter, considering Apple is out with iPhone 6S and iPhone 6S Plus and Chinese smartphone users are insanly crazy about the new iPhones.
In the recent months, Xiaomi lost the opportunity to introduce new smartphones in the fastest growing smartphone market, India. The company withheld the plan to introduce Redmi Note 2, allegedly due to the ongoing patent dispute with Ericsson.
Besides, the company is also quite late in running the upgrade cycle. The last year's flagship device Mi4 is yet to receive the upgrade. While Rumors are making rounds that company may soon introduce Mi5, but the actual release date still remained a mystery.
Xiaomi, however, has got few interesting products lined up for the latest quarter of 2015 and for 2016. Besides Mi5, Redmi Note 2, Redmi Note Pro 2, there are many other products, including Notebook, Smartwatches and Cameras, company is reportedly working on.
Overall, Xiaomi seems to be going slow this year, for reasons unknown. The company may be busy in channelizing all its capacity for few path breaking future products, but competitors have already started taking over. As we may see a lot more amazing gadgets at a very affordable price, something company is known for, in the future, it's important that company must keep an eye on the present market condition as well.