In a highly competitive marketplace like China, smartphone OEM Xiaomi has managed to solidify its position in the top three. But how can a 4-year-old smartphone manufacturer, which many still brand as a "startup", be so disruptive in the cut-throat smartphone industry where even veterans like Samsung Electronics Co Limited (KRX:005930) are struggling to keep themselves intact? The answer lies in the fact that Xiaomi has been able to quickly establish a devoted fanbase. The self-proclaimed 'mobile internet company' is out to take over the world with great specs at a rock bottom price and have often been referred to as the Apple of China!
However, looks like their plans of dominating smartphone industry would need to undergo a branding makeover! According to the latest Advertisement laws being enforced by the Chinese Government the use of superlatives like 'best' and 'king of screens' is not permitted in any ad campaign. This has led to an investigation on Xiaomi and their advertising catchphrases by Beijing Ministry of Industry and Commerce. However, the most interesting fact might be that the inquiry was brought on by the 'concerned' CEO of rival smartphone OEM Cong, Tan Wesheng. Is this a cause of concern for the general smartphone buyer? Or a case of salty rivals? Stick with us to find out!
Xiaomi's Tryst With Government Authorities
As it is with most large companies and the ruling government, Xiaomi and the Chinese Authorities have locked horns more than once in the past. But before we dig up old skeletons, let us first take a look at the most recent accusation against the company and see for ourselves if it has any merit or is just bitter rivals crying foul.
China's new ad restriction which went live from September 1 is a bid to tighten regulations on personal endorsements and count the use of "technical or digital methods" to fabricate or "improve" the real effect of the product or service as false advertising. Xiaomi uses words like "first-class" and "the king of screens", among others, on the company's website to promote its smartphone lineup. If found guilty, Xiaomi has to pay up upwards of RMB 200,000 (US$30,300) with the amount increasing depending on the severity of the breach of the law.
However, two things make us shrug this off as a minor speedbump in Xiaomi's path
Companies all over the world have been doing this for decades. Even other smartphone OEMs like Apple Inc. (NASDAQ:AAPL) use the world 'magical' and 'amazing' to describe their iPhones. And the another Chinese OEM One Plus describes their phones with the tag 'Flagship Killer'. Even the consumers have evolved to look past the charade and exaggerations and are now more educated about the products that they want to buy. With all this in mind, we don't expect the Chinese authorities to take too large a bite of the Apple of China.
This will not be the first time that Tan Wesheng has tried to accuse Xiaomi. As the CEO of Red Pepper, a now-defunct Xiaomi competitor, Tan was fined roughly $23,500 for publicly making false statements about a competitor.
So, take all of these accusations with a pinch of salt for Xiaomi certainly knows how to take these minor hiccups in their stride.
Xiaomi is no stranger to such lawsuits either. They had earlier been fined to the tune of $20,000 in Taiwan for fudging sales numbers in their flash sale models. They have also come under the scrutiny of the IAF, who released an advisory advising their employees not to buy Xiaomi phones as they were suspected of sending private data to Chinese servers. However, both these matters have been closed with little to no damage done to Xiaomi as a company.
Will This Halt Xiaomi's Rise?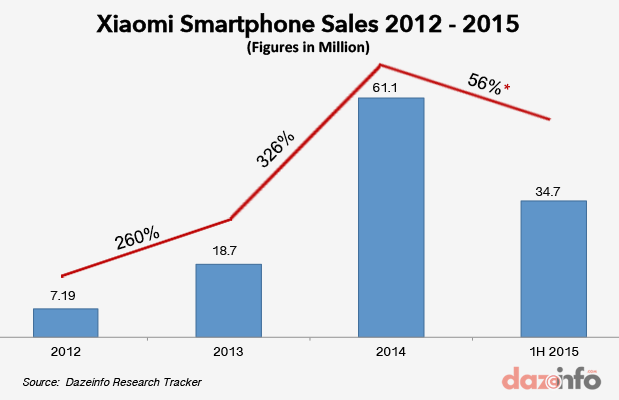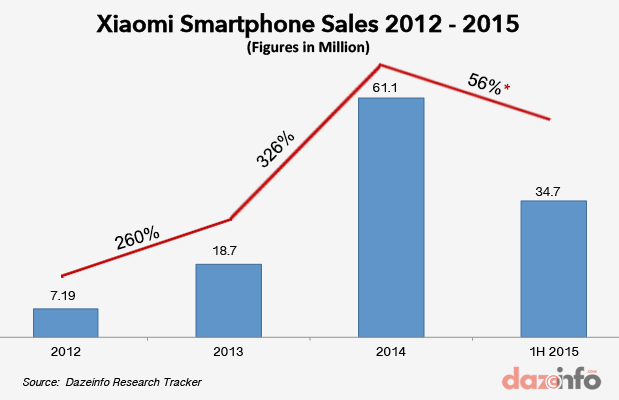 The short and sweet answer to that question is NO.
If we take a glance at the graph above, we see that the worm is in a continuous and steady rise. As has been detailed in this article, Xiaomi has scaled incredibly well and with Hugo Barra at the lead of the ship along with CEO Leo Jun, they seem to very well poised to take over the western smartphone industry. As they branch out from China, where market growth has shown signs of becoming sluggish, they have set their sights on India, Brazil. South Africa and soon even the US.
The Chinse smartphone manufacturer has a firm grip on the Indian smartphone market and has also committed to setup a manufacturing plant as a part of 'Make in India' campaign – the highly ambitious project of Indian prime minister Mr. Narendra Modi. With India gearing up to be the next major market for the smartphone wars, Xiaomi's future here seems secure in the capable hands of Indian CEO, Manu Jain. According to a recent interview, Xiaomi expects smartphone sales in India to reach 200 million units in the next 2-3 years, a full 100 million rise from where it stands today.
Taking the second spot in the 50 smartest companies of 2015, Xiaomi has announced at the world stage that they know what they're doing and they're pretty good at it too! However, they are aware that once they step into the US market, Apple will come at them all guns blazing and bury them under a slew of patent lawsuits for their design cues. Xiaomi also faces several licensing issues with other companies like Ericsson that may thwart it from offering its entire line up in countries outside China. But they claim they are ready for all of it!
With an ambitious aim of 100 million smartphones shipped in 2015, Xiaomi is all set to reach for the skies and announce itself as a major player in the global smartphone market! For a company with such a meteoric rise under its belt, a tiny bit of swagger is justified; wouldn't you agree?