Yet again, MIT's Technology Review blog has listed top 50 Smartest Companies for 2015. Otherwise flooded with companies from Electronics or Computing industry, the 2015 list from MIT considered the innovation drive on the Biotech platform honoring 12 different companies from the industry by listing them in top 50.
As a category, Biotech tops the chart with having 15 companies listed. Internet & Display Advertising category follows closely with having 13 companies listed in the list of MIT 50 smartest companies 2015. 11 companies listed in the list belong to Computer and Communication category, followed by Entergy and Transportation having 7 and 4 companies listed, respectively.
There was no surprise seeing Tesla Motors at the top of the table in 2015. The Automotive Company has pioneered in developing innovative technology that aims to develop super-fast energy efficient electric cars well within the budget of a general public. In April this year, Tesla Motors also announced its plans for developing a line of batteries that can be utilized as energy grid for industry, utilities and residences.
The 2015 list of top 50 Smartest Companies also included many new startups such as Counsyl, ranked at 5th position. The startup is known to have introduced cheaper automated DNA analysis that would help in parental testing and cancer screening.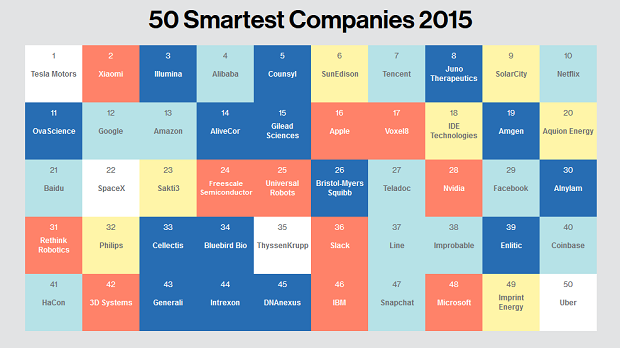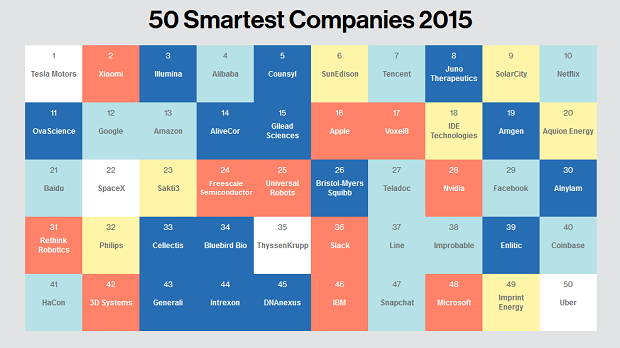 Xiaomi takes the lead ahead of Apple
Surprisingly, the world's most valuable startup with over $45 billion valuation, Xiaomi beats every other company in the contest but Tesla Motors to be crowned as the 2nd Smartest Company of the world, according to MIT. It was quite a big leap after getting listed at 30th position last year. Xiaomi touted as Apple of China has already outranked the likes of Samsung and Apple in term of Smartphone sales in developing markets like China.
The excellent strategy adopted by Xiaomi to target the developing markets for Smartphones has worked out brilliantly in the favor of the Chinese manufacturer.
The Return of Apple, Microsoft and Facebook
One of the world's leading technology companies, Apple Inc. (NASDAQ:AAPL) finally made to the list this year at No.16 after being dropped off from the top 50 Smartest Companies last year. However, it is still way too far behind considering its reputation in the global corporate sector. Facebook Inc. (NASDAQ:FB) and Microsoft Corporation (NASDAQ:MSFT) also secured 29th and 48th rank respectively in the top 50 list of 2015 after being missed out last year.
During the reign of Steve Jobs, Apple was known for its innovative ideas that revolutionized the way we use technology today. Introducing gadgets like iPod, iPhone and iPad; Apple showed the way to the current electronic giants in the industry. After Steve Jobs, the think tank of Apple seemed to lose its inspiration. But with the launch of its well-designed Apple Watch and digital-wallet service, Apple seems to be back with new ideas. Microsoft too, are back in the game with its HoloLens device, a wearable gadget that blends virtual reality and the real world.
Biotech Companies Lead the Pack
In terms of new idea and innovation, this year was truly dominated by Biotech firms. These firms have managed to take medical science to a whole new level finding cures for diseases that were untreatable couple of years back. Most of these companies focused on genomic analysis developing technologies that would help detailed DNA analysis which turned out to as a breakthrough for subjects from parental testing to cancer screening.
One of the Biotech companies that is ranked No. 15 on the list, Gilead Sciences has successfully developed a pill that can cure most cases of hepatitis C. The No. 26 ranked Bristol-Myers Squibb is saving many lives by selling an immunotherapy drug that can cure skin or lung cancer. Aiding with the technology for DNA analysis is the No.3 ranked Illumina that manufactures Genome-Sequencing machines that are credited for 90% of all DNA data collected to this date.
Consistent Performers in the last 3 years:
Although many established companies were outranked by the new startups in the past 3 years, few companies performed well at par with their reputation in the global corporate industry. For the past 3 years, these companies remained consistent by continuing with their innovative drive to secure their places among the top 50 Smartest Companies in 2013, 2014 and 2015. Despite being shuffled from top to bottom, these companies were never opted out of the list in the last 3 years.
Here are the consistent performers of past 3 years:
Google
Illumina
Tencent
Amazon
Aquion Energy
SpaceX
IBM