Samsung Electronics Co Ltd (KRX:005930) and Apple Inc. (NASDAQ:AAPL) have had held the top notch positions in the smartphone market for quite a long time. Where Samsung is struggling to compete with domestic and Chinese vendors who are locking up its low-end users, Apple is facing tough time in low economy countries where product price is the prime criteria for purchase. In recent times, it has become attractive to look beyond these two giants. Canalys' has come out with its country-level smartphone shipments data for Q3, 2014 which has seconded the same. With a Y-o-Y  growth of 23% over Q3, 2013, global smartphone shipments exceeding 300 million in a quarter for the first time. A good share of this growth can be accounted to the rising market in countries like India and China.
'The global market is becoming more competitive, with vendors beyond Samsung and Apple enjoying growing success,' said Canalys VP and Principal Analyst, Chris Jones. 'A year ago, in Q3 2013, Samsung and Apple together accounted for 48% of worldwide smart phone shipments. While still impressive, in Q3 2014 this had slipped to 38%. This trend is likely to continue. It is down to the strong value proposition and increasing quality of products offered across all price points by competing vendors, most notably Chinese companies. In fact, six of the top 10 global vendors in Q3 are based in China.'
Samsung has retained its dominance in the smartphone market with 25% share in Q3, 2014, though its slice of the industry slipped by 9% point from 34% in Q3, 2013. Apple stood second with 13% share in the review period. Where on one hand the number showed Samsung losing grounds, Apple's figure were comparatively higher than its performance during the year-ago quarter. Both the arch rivals, though, together account for 38% of the global smartphone shipments,down from 48% from the same time last year, they have witnessed dip in their share in developed markets, like US, to the emerging yet strong ones like China and India. Xiaomi continues to grow and expand standing right behind Samsung and Apple. Vendors like Lenovo, Motorola and  Karbonn, are also competing fiercely to grab the market. Interesting is the fact that more than Samsung and Apple, it is the rise and the fall of share of these brands that are being most watched after.
Xiaomi Becoming A Nightmare, Lenovo and Micromax Follow Closely
According to the report, Xiaomi -, widely called as Apple of China – grabbed the third position, standing strong right behind Samsung and Apple with a market share of 6%. Market researchers have come to agree that Xiaomi has been a key factor in changing the market equations. With a mere four years of existence, it has already brought nightmares in boardrooms of the high profile companies, which have been in the field for almost a decade.
Lenovo Group Limited (ADR) (OTCMKTS:LNVGY) has been planning aggressively for quite some time. In October, Lenovo completed the acquisition of Google's Motorola Mobility division which gave it power to control Moto and Driod branded handsets. Early in the year, it  purchased IBM's low-end server business. It also brought on board, Yahoo! Inc. co-founder Jerry Yang as an independent non-executive member of its board of directors. Its competitiveness in the market is well justified and is in line with Xiaomi in making big giants run for their money in the smartphone sector.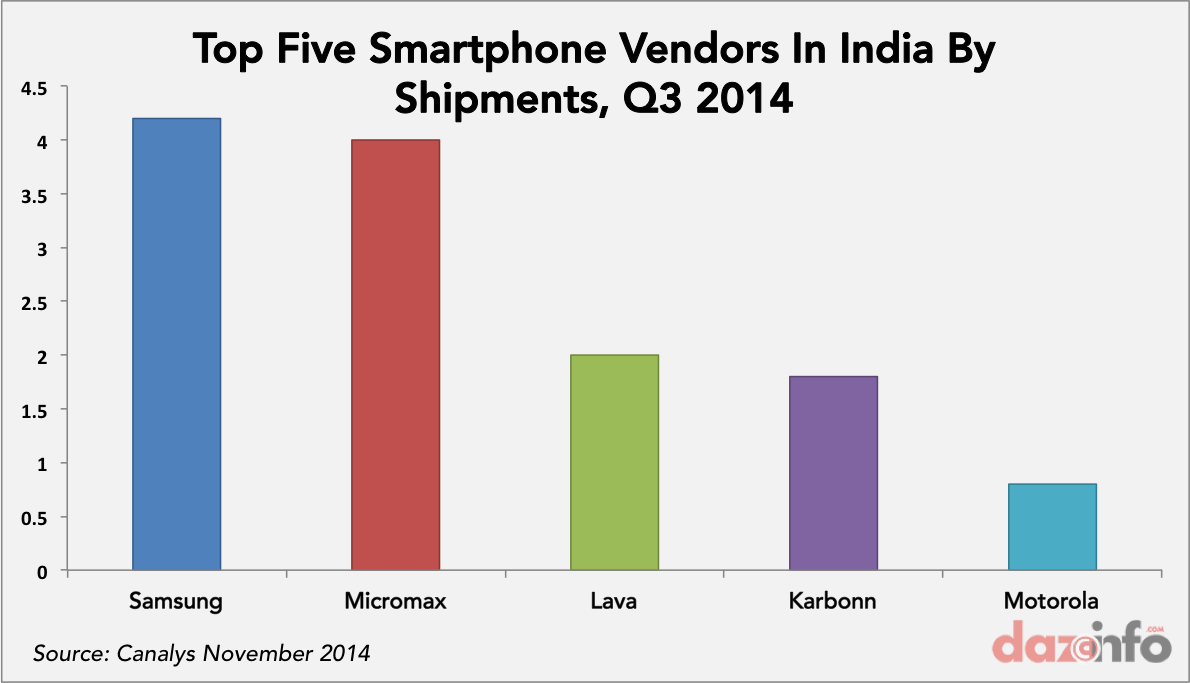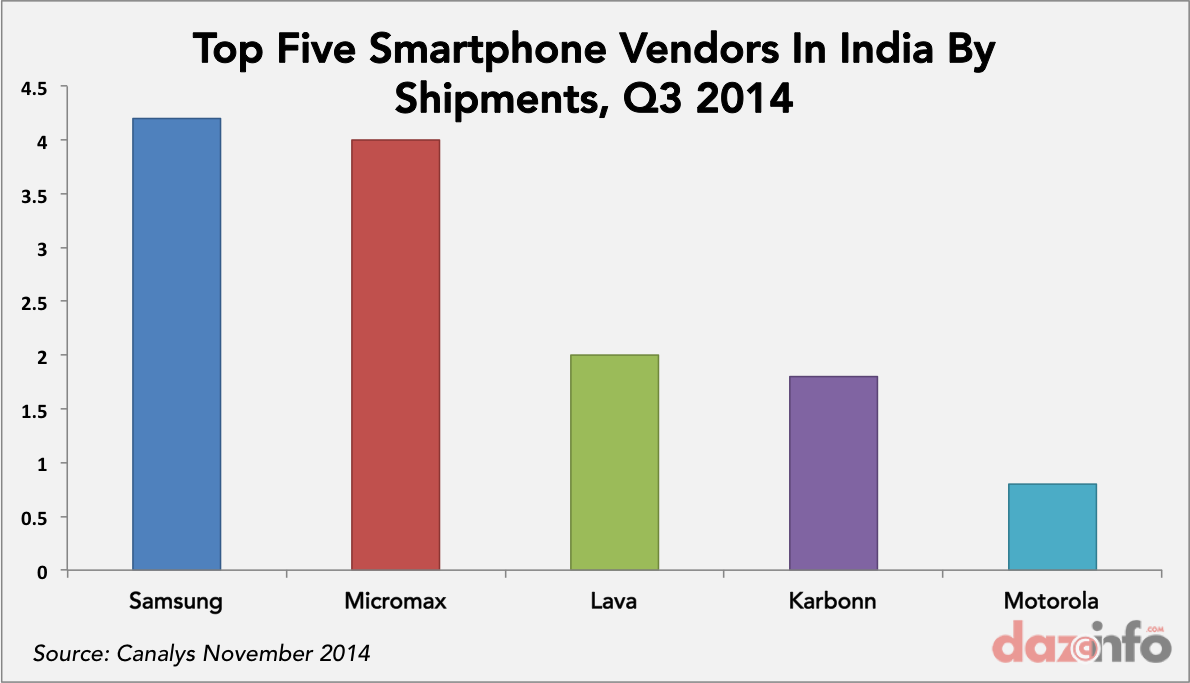 A by-word for the low-cost phones in the India, Micromax has time and again come up with enough reasons to buy it. Rolling out a "MAd App", apparently the first ever phone that paid its consumers to watch ads), a pre-loaded MUnlock app on the Canvas 4 were a big hit. Wolverine endorsement gave it new heights taking it beyond India however it failed to leverage on this tie-up. With its captivating marketing strategies, this 5-year-old manufacturer has undercut and outsold its way creating a niche in the Indian market and is planning well to grow beyond the homeland.
China's Home Market Advantage Drive The Sales Of Xiaomi And Lenovo
Mainland China witnessed the highest growth and account for 34% of global smartphone shipments in Q3 2014.  Xiaomi took the maximum advantage of this and closed the quarter with the shipments of 17 million smartphone units in the quarter. This emerging brand, primarily having the advantage of the home market, dethroned Samsung, which long dominated the low-range smartphones.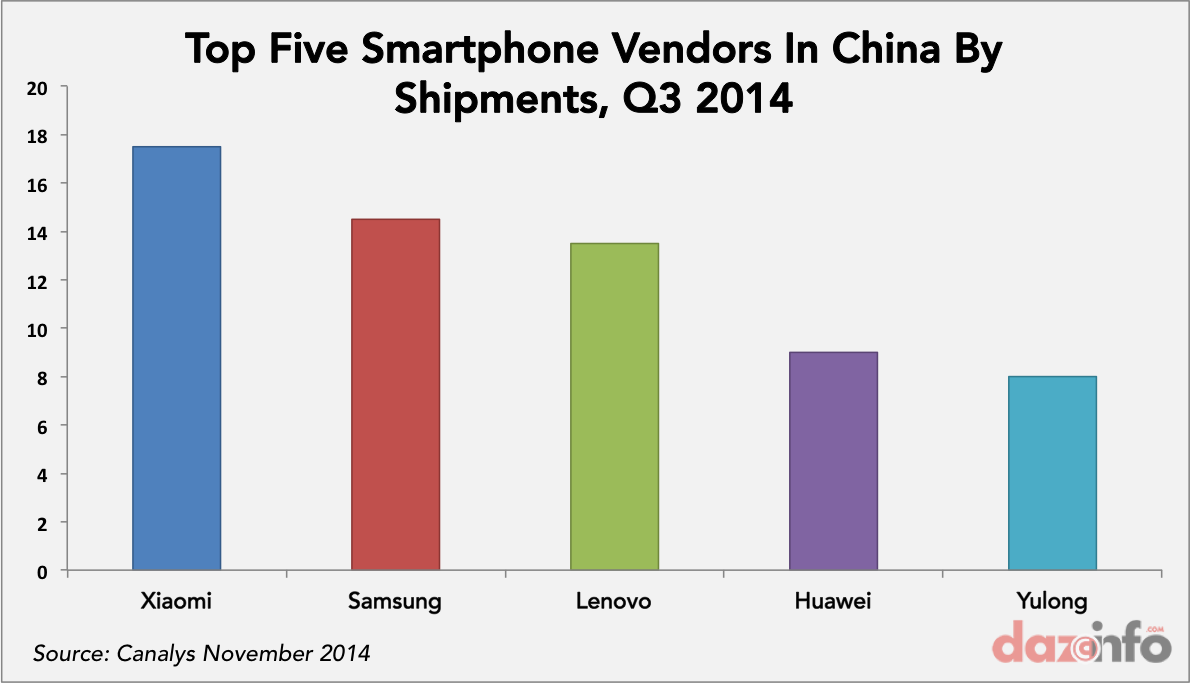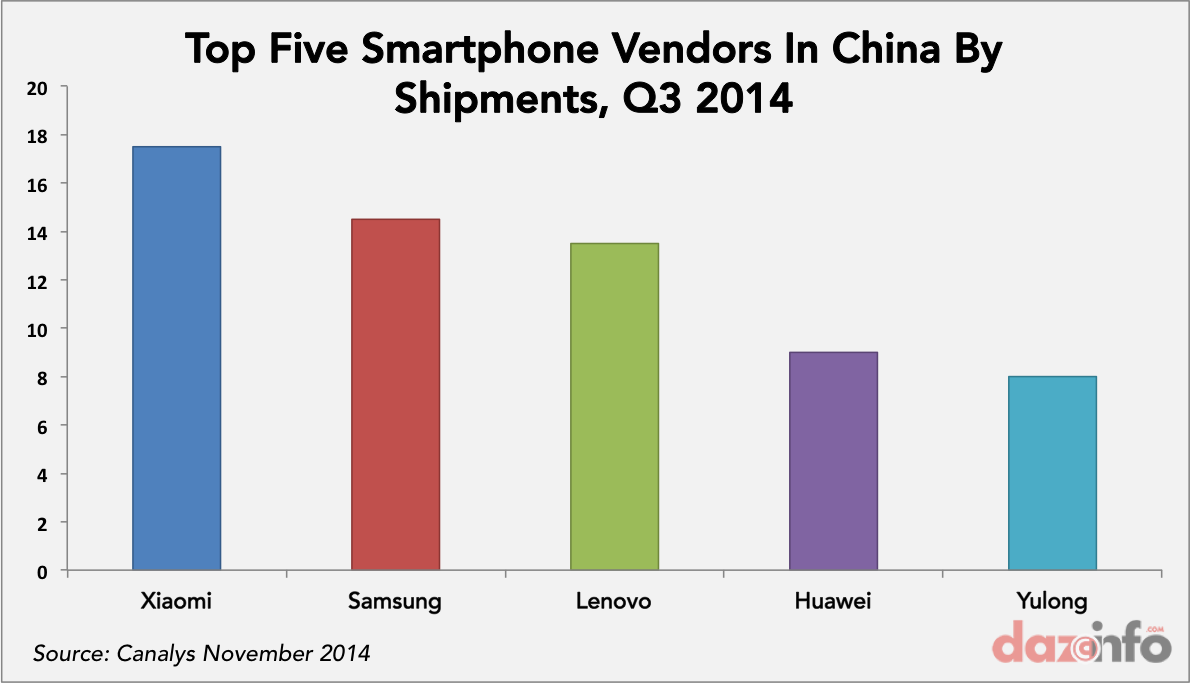 Meanwhile, Lenovo's rise in share in China was not a surprise keeping track of its recent launches of innovative products. With the shipment of more than 10 million units in Q3, 2014, this $39 billion global Fortune 500 company may soon surpass Samsung if improvement is consistent with the time. However, it will remain in tough competition with another home-grown giant "Xiaomi" which is speeding up at a faster pace.
 "Mobile and Enterprise are now our new growth engines, and over time, like PCs, they will become our profit pool as well," said chairman Yang Yuanqing in a statement.
China Driving Major Smartphone Sales, US And India Account For One-Forth Of The Shipments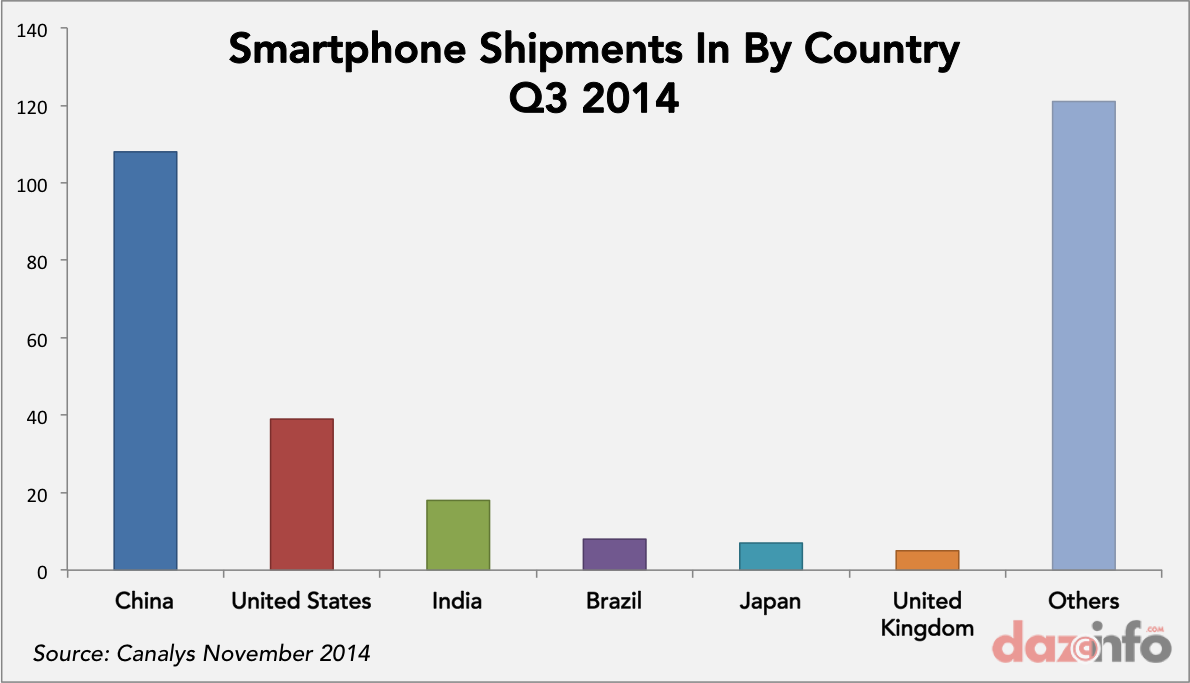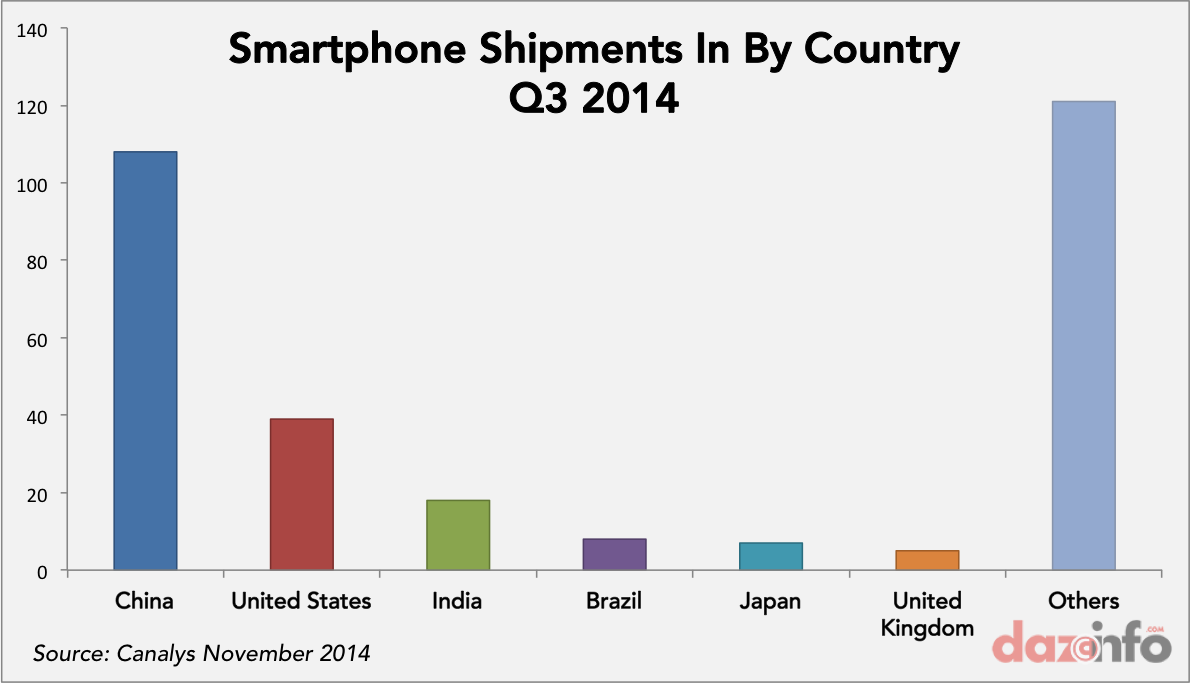 US was once the hub of worldwide smartphone market. However, it took only few years for China to take over Uncle Sam's share and become the Big Daddy in the sector. China alone accounted for 34% of smartphone shipment in Q3, 2014. US followed with 13%, way far from China. India that is touted as one of the largest market for 3G growth in smartphones and 2G feature phones, boasted of its 6% share in the global smartphone market.
'A key similarity to the Chinese market has emerged in India with respect to the substantial contribution made by domestic vendors,' said Canalys Research Analyst, Rushabh Doshi. 'Three of the top five vendors there – Micromax, Lava and Karbonn – are Indian companies, achieving promising growth in their home market, but with aspirations and potential, in time, to be disruptive on the global stage. As market leader Samsung has faltered, with its share down 6% from Q2, it has faced stiff competition from local players with aggressive pricing strategies. With local partners, including Intex, Karbonn and Micromax, Android One is making steady progress at the low end and volumes will grow as more partners come on board, adding further pressure. Growing demand from the large, youthful middle class; the rising popularity of online channels, such as Flipkart; and the increasing availability of better quality, aggressively priced smart phones and affordable mobile data tariffs are all driving the smart phone market in India forward.'
However Well Positioned, Big Guns Have A Reason To Worry
If the dip in shares of the likes of Samsung and Apple continue to happen,they, no wonder, have a reason to worry from native vendors. With squeezed earnings and both high-end and low-end market being locked up by emerging vendors, the rapidity in the decline is expected. It will be interesting to see how arch rivals Apple and Samsung continue to compete with others and these new vendors. Not only the vendors, the emerging markets too will be looked after with high hopes. Where countries are investing in building wireless networks, companies are making best efforts to beat their competitors with the delivery of well-designed low-cost equipment.