In the wake of the second decade of this new millennium, an online presence has become more than necessary. Several platforms are available to grab the attention of users and allow them to connect both at a personal as well as professional level. Mobile messaging has gone viral since the arrival of apps like WhatsApp (2009), Kik (2010), Snapchat (2011), iMessage (2012) and Wickr (2012). The best advantage that these services have had that they didn't involve any charge by the mobile carrier, unlike SMS. This was a great boon for international communications which were otherwise quite costly. In a survey conducted by Pew Research Center, 36% of smartphone users in the US have said that they used these platforms on a regular basis. It was found that 85% of the surveyed group comprise internet users and 67% were actively using smartphones.
Young adults prefer Mobile Messaging Apps and Online Forums
Mobile messaging apps have found loyalty among the younger generation. With several advanced features of sharing a multitude of data like text, image, audio and video; these platforms have gone to earn a high level of engagement. Almost half of the adults in the age group of 18-29 use services like WhatsApp, Kik, and iMessage. This number decreased to 37% and 24% for age groups 30-49 and 50+ respectively.
An interesting trend was noticed for the apps which auto deletes messages such as Snapchat and Wickr; There was a drastic change in the engagement by age group. While it was as high as 41% for adults in 18-29 years, it dropped drastically to 11% and 4% for age groups 30-49 and 50+ respectively. This is indicative of the higher security concerns prevalent among the younger generation.
The increase in internet usage has triggered an increase in the number of people who engage in online discussions. The survey found that 15% of all internet users involved in discussion forums such as Reddit, Digg or Slashdot. The male users (20%) were more likely to engage in these forums than female users (11%). Younger adults (18-29 years) seem to be more enthusiastic with a 23% engagement while this number decreased to 14% and 13% of adults in 30-49 and 50-65 years. It was quite interesting to find that 6% of internet users beyond 65 years of age were also active on online discussion forums.
Social Media: Women, Young Adults and Professionals rule various platforms

In contrast to the trends seen for messaging apps or online forums, women lead the charts when it comes to Facebook. 77% of women internet users are on Facebook as compared to 66% men. Following the popular opinion, in this case also young adults (18-29 years) have the highest user density of 82%. These numbers were 79%, 64% and 48% for age groups 30-49 years, 50-65 years and 65+ years respectively. When compared to users of messaging apps these numbers are way too large. Surprisingly, the oldest category had an engagement equal to the youngest category of message apps users. This is an indication of the ease of use provided by the social network. Other categories based on income, education or location didn't have a great variation as the Facebook users were found to be anywhere between 66% and 78% of total internet users. This is enough to claim that Facebook is the most popular social media among all categories of users.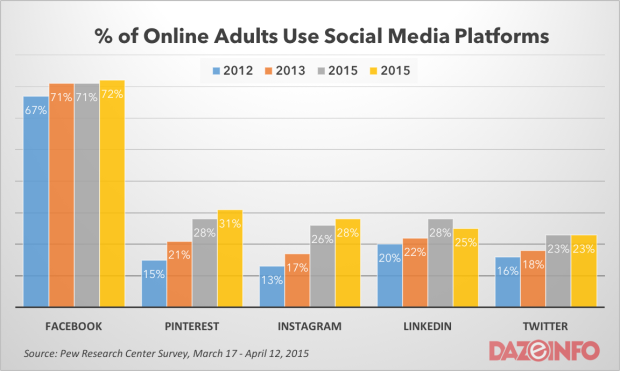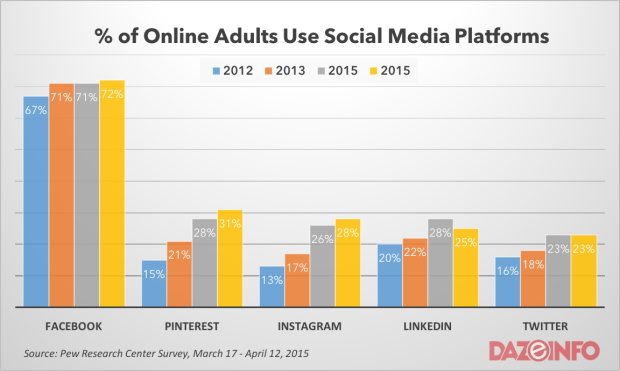 Pinterest had 31% of all internet users. This was an increase of 3% point over the last year. A trend similar to Facebook was observed for this as well; 44% of women while only 16% of men. Also, distribution by age saw the youngest category contributing the highest percent of users, which gradually decreased with increase in age. The youngest group had 37% users while the oldest had 16%. Instagram had a slightly smaller user base with 28% of all internet users registering a 2% point increase since last year. Again, women (31%) were more likely than men (24%) on this platform. As this is an instant image sharing platform, 55% of the younger group (18-29 years) were active here. This number decreased drastically to 28%, 11% and 4% for age groups 30-49 years, 50-65 years and 65+ years respectively.
With a 3% point reduction in user base, LinkedIn had a 25% share of all internet users. Men and women had almost equal representation on this platform with 26% and 25% respective shares. Owing to the higher professional nature of this platform, less engagement was observed from the younger age group. The users in age groups of 30-49 years and 50-65 years had 32% and 26% representation respectively. The younger group of 18-29 years had only 22% users while the older group of 65+ had 12% users. Also, this platform had a larger proportion of college graduates and higher income groups which is quite unique. Twitter had 23% of all online users, which was same as that of last year. Women were slightly higher at 25% as compared to men at 21%. A trend similar to Instagram was observed for the users in various age groups. The largest participation of 32% was from the youngest group (18-29 years) closely followed by 29% from age group 30-49 years. The older groups were very less likely to be on such micro-messaging platform with only 13% users in the 50-65 years category and 6% users in the age group beyond 65 years.
Engagement on Social Media
As expected Facebook ruled the charts with 70% of users visiting daily. In spite of having the largest share, Facebook didn't see any improvement as compared to last year. Nearly 43% of users claimed to visit the social network more than once every day. Instagram was second with 59% of users as daily visitors. This was a remarkable 10% point increase over the previous year. A similar increase of 10% points was registered by Pinterest from 17% of users visiting daily in 2014 to 27% in 2015. LinkedIn was slightly lower at a gain of 9% point to settle at 22% of users visiting daily in 2015. Twitter had a meager 2% point increase since last year's 36% of users visiting to reach 38% in 2015.
An analysis of the usage among various demographic groups and engagement across various social media platforms indicates that Facebook has performed best in most of the parameters across the USA but has been stagnating since 2012. However, Pinterest and Instagram show a consistent increase during the same period. It might be noted that there has not been any considerable enhancement since 2014. LinkedIn has seen a decrease in user base since 2014 which is quite surprising given the increasing number of professionals across the USA. Twitter was almost flat since last year, which might be indicative of a saturation point.