Social networking sites were, initially, introduced for people to connect with friends and families. But nowadays, apart from serving as the biggest platform for e-commerce to flourish, they are also turning out as one of the biggest platforms for job seekers and recruiters, both. Over the last two years, social networking sites like LinkedIn Corp. (NYSE:LNKD), Facebook Inc. (NASDAQ:FB) and Twitter Inc. (NYSE:TWTR) have become the best forums for recruitment. This ensures a rise in competition, both on the part of the recruiters as well as the job seekers. Recruiters seek for more information about the candidates through their profiles and posts on these sites. Jobvite, the online recruiting platform, has recently surveyed 1,800 HR professionals across industries about how actively social media helps in the recruitment process.
Recruitment through social media
According to the survey, 69 percent of the professionals expect recruitment to become more competitive in 2015. It was found that 73 percent of employers are thinking of increasing their expenditure on social media recruiting. The recruiters don't want to let go of the opportunities of employing the best skilled workers. 63 percent of the recruiters would like to invest in referrals and 51 percent on mobile recruitment.
The Sales section is more likely to fill up the highest percentage (50%) of job openings this year, followed by the Operations (49%) and the IT (48%). Then, 41 percent of marketing posts and 38 percent of Engineering posts are expected to be filled this year.
The competition on the part of the Employers
The competition among the employers in search of skilled, long-term workers is no more a budding one. Derived from the study, here are some of the reasons why employees leave their job: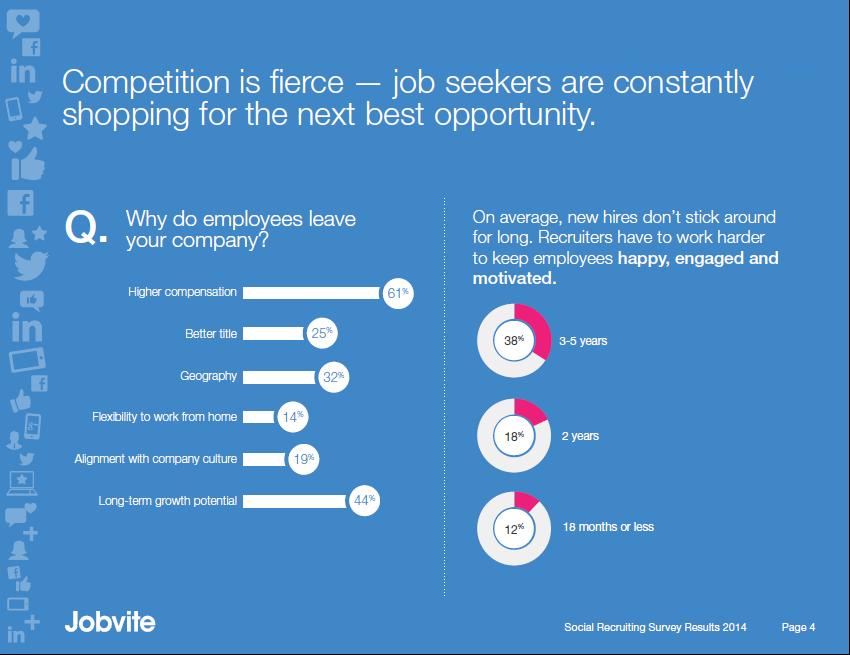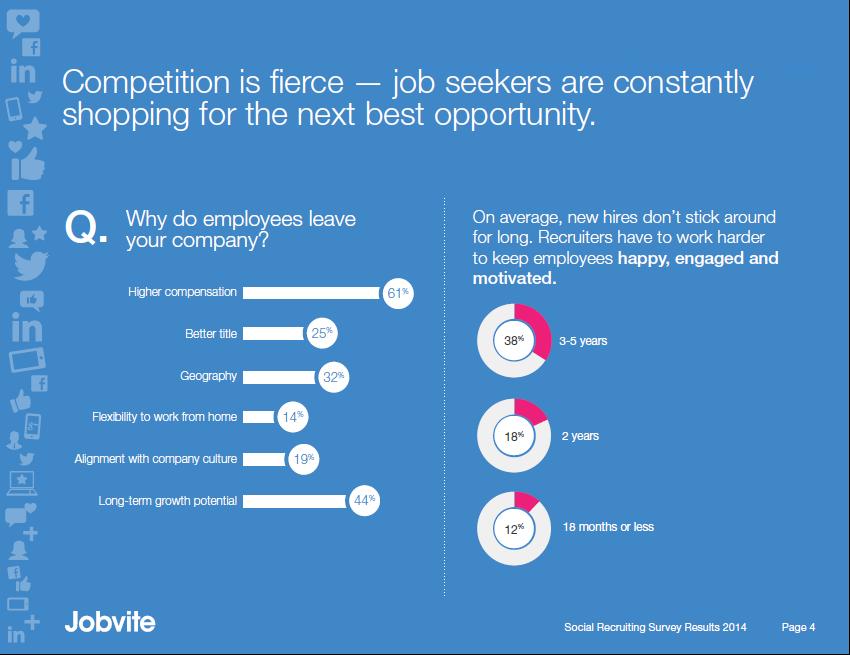 Higher Compensation– The maximum percentage (61%) of employees leaves their jobs for other companies who offer them a higher remuneration.
Long-term growth potential– After working for certain tenure in a company, every employee gets a picture of his/her scope for better growth in the long-term. When a company fails to fulfill this promise, they prefer to leave and look for a better opportunity. A huge 44 percent of employees leave their jobs due to this reason. Thus, the companies need to ensure a long-term growth for its employees.
Geographical location– 32 percent of employees leave a job either in search of a job or when they are offered a job in their preferred geographical location. This is one issue which is not in the hands on the company he is currently working in.
Better designation– Apart from a better remuneration, employees also look for a better title. This improves their image in the professional as well as the social domains. 25 percent of employees quit a job for a better designation offered by another company.
Alignment with company culture– Every company should highlight their company culture. When this alignment with the company culture doesn't work, employees resign. 19 percent of employees leave jobs due to this.
Work from home– Many companies do not provide the option of working from home when an employee is unable to attend the office due to some unavoidable circumstances. This leads a small percentage (14%) of employees quit their jobs.
Thus, companies need to ensure job satisfaction for their employees, considering these key issues which are faced by employees.
Competition on part of the Job Seekers
But that doesn't mean only recruiters have got challenges to overcome when it comes to recruiting a skilled manpower, even job seekers also have got various stern criteria to satisfy; It is found that 94 percent of the employers use LinkedIn for recruitment and 79 percent have hired from it. On the other hand, 66 percent of employers use Facebook and 26 percent have hired through the social networking giant. This clearly shows that employers are actively screening online networking websites to screen a candidate and job seekers must be conscious enough while they update or post anything on their social media wall. Since, the hiring process has changed along with the significance of the social networking sites; it is high time for the employees to gear up. When it comes to recruitment, LinkedIn leads among all since it was built to develop professional connections. LinkedIn has recorded
When it comes to recruitment, LinkedIn leads among all since it was built to develop professional connections. LinkedIn has recorded 332 million monthly active users in Q3, 2014. In fact, 95 percent recruiters search for candidates on LikedIn and 95 percent contact them too. Thus, job seekers need to be more active on LinkedIn than any other site. They should make sure that their profile must be completed and updated. Apart from their professional information, their profile must contain additional links or write ups which ensure their expertise. They need to start following thought leaders from the industries on social networking sites to enhance their reach and network to ensure better job opportunities.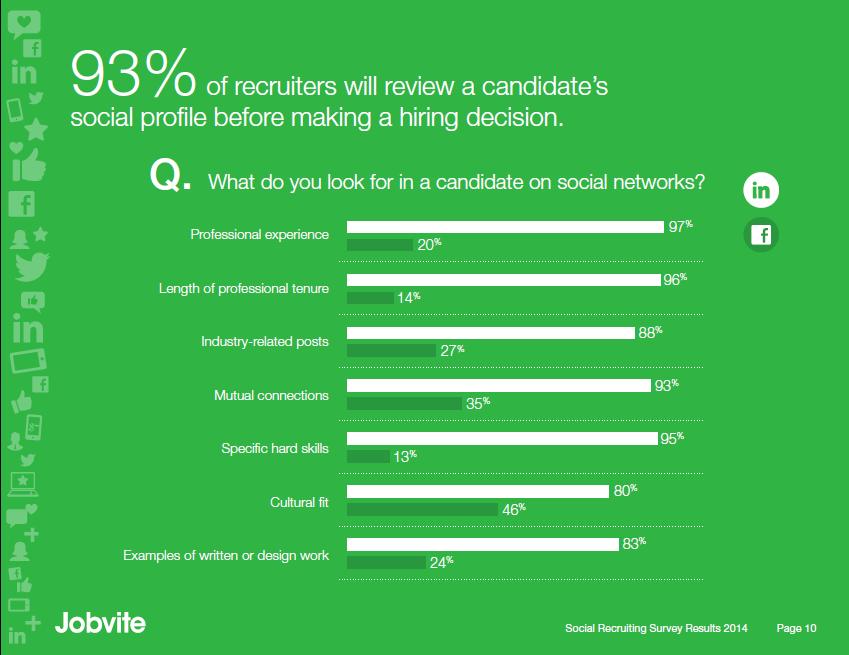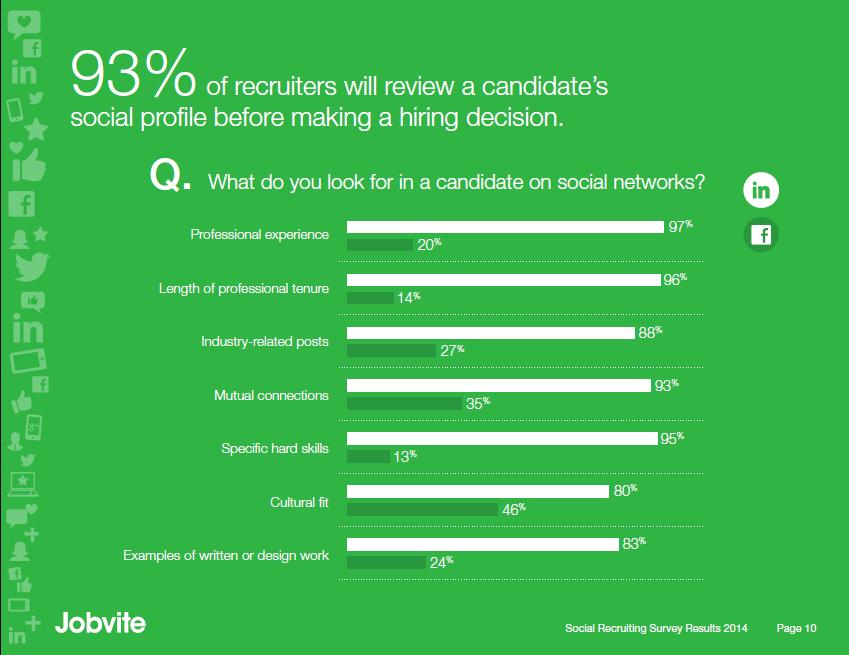 Now, the survey also says that 93 percent of recruiters consider reviewing a candidate's social profile before coming to a decision. 55 percent of them have actually reconsidered a candidate based on the information provided by the candidate and others on his/her social profiles. Hence, candidates need to be at top when it comes to catching the attention of the recruiters.
The information recruiters look for about a candidate in their social media profiles:
Professional Experience– The candidate's experience matters the most. 97 percent of the recruiters look for the professional experiences of a candidate on LinkedIn and 20 percent on Facebook.
Length of professional incumbency– 96 percent of the recruiters on LinkedIn laid stress on the candidate's length of profession tenure. Only 14 percent of recruiters did the same on Facebook.
Mutual Connections– 93 percent of recruiters on LinkedIn consider the mutual connections they have with the candidate on the social profile and 35 percent of recruiters on Facebook.
Industry-related posts– Industry-related posts are essential for candidates to catch the eye of the recruiters. 88 percent of recruiters on LinkedIn look for such posts on a candidate's profile and 27 percent on Facebook.
Specific hard skills– 95 percent of recruiters on LinkedIn, on a candidate's profile, look for information on the specific hard skills the candidate has. With Facebook, it is just 13 percent of the recruiters who look for the same.
Cultural fit– 80 percent of recruiters on LinkedIn and 46 percent on Facebook want to know that how culturally fit is the candidate.
Examples of written or design works– As mentioned previously, providing additional links to the previous works of the candidates ensures a better position for them in the online job market. 83 percent of recruiters on LinkedIn consider viewing these details before employing someone. On Facebook, just 24 percent lay stress on this.
The Jobvite survey informs that 61 percent of reconsiderations based the above-mentioned points have been negative. Thus, job seekers have to work towards making their social profiles more interesting for the recruiters to consider them for the jobs.
Few Takeaways
Majority of employees stick with one company for an average period of 3 to 5 years. Employers should start looking out for his replacement after 2.5 years of employment to provide new hire enough time for knowledge transfer and training from the possible depart.
Employers must talk with best-performing employees regularly to read their mind and discuss the company's growth plan, future opportunities, and strategies. This keeps such employees motivated and develop a clear vision about their own growth chart.
Job seekers must maintain their LinkedIn profile highlighting their experience and professional achievements than personal activities and likeness.
Job seekers must also serve his employers at least for a 3 years period as the job tenure is the second most crucial factor for recruiter.
Job seekers must pay attention to updates and posts they upload on Facebook. It represents their personality and employers pay close attention to these information to validate job seekers on cultural grounds.