Yet again?
That was my first reaction when I first read the news about the leading Indian online retailer Flipkart raising more capital on a fresh valuation of $11 billion earlier in the day.
The buzz which was earlier a rumour has now been confirmed. Flipkart indeed is raising some more capital- making it their third round of funding this year. People involved directly in the deal have confirmed that they have got the final nod for an initial investment of $180 million from the Hong Kong based investment firm Steadview Capital.
"Steadview has committed $100 million of the $180 million and as the subsequent tranches close, more new investors will come in," said one of the 'insiders'.

"The commitment for this round is $700 million, but as talks keep evolving that amount might vary slightly," said the second source aware of the talks.
After the round of funding got over, sources which were a part of the fund raising exercise confirmed that Flipkart had received a fresh $700 million boost.
Flipkart had earlier raised $210 million in May 2014 from DST Global. Thereafter, the company went on to raise a whopping $1 billion from Tiger Global, DST Global, Accel Partners (plus other new investors) before raising $500 million in November again.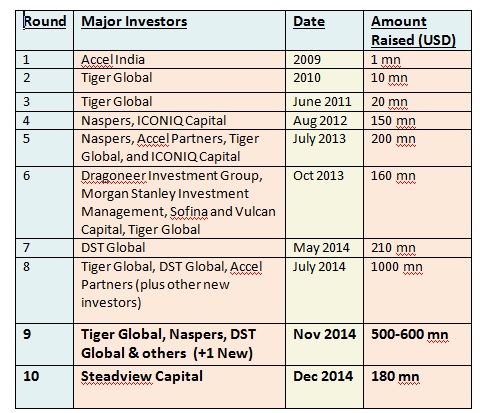 Is Flipkart Trying To Outdo Amazon By Beating Its $2 Billion Investment Proposal In India In 2015?
Flipkart online funding sprees have baffled the most seasoned analysts in the field.
What exactly are they upto?
Are the Bansals trying to outdo Amazon? Jeff Bezos had announced investing upto $2 billion in the country during his last visit to the country in the coming year. Do they think pumping in fresh capital alone will help them take on the online retailing colossal by its horns?
As we all know, the online retails scene in India is ruled by three key players:
Flipkart
Amazon, and
Snapdeal
The meteoric rise of Amazon in India has already been a cause of concern for Flipkart. To make matters worse for them, rivals Snapdeal are flush with capital. They too raised $627 million only recently from one of their biggest investors, Japan based Softbank.
Why Flipkart Cannot Do An Amazon Or Alibaba?
It is but natural to feel spurred to take on greater heights on seeing others from the same field do the same. Amazon and Alibaba are of course role models for the Indian e-tailer.
'Inspiration', at the same time, is different from fool hardiness and a tendency to overlook minor details, when ambitiousness takes the better of your judgment- as, we fear, is happening in this case.
Amazon is a global player as compared to Flipkart which is confined to the Indian shores. Besides, it relies heavily on the sale of its digital products- eBooks, AWS, movies, music, etc. which are huge sources of revenue for them. They also help the company offset some of the losses they might be incurring when they offer the most alluring discounts to buyers on their site.
Talking about the base from which an online retailer is reaching out, Flipkart cannot compare itself to Alibaba, which inspite of being a regional seller, is like a colossal over the Chinese mainland. It is virtually the king of the market, with no worthy rivals which could pose a threat to them- unlike Flipkart. Not only that, the opportunity window in China is much bigger than that of India. Their internet penetration is much stronger- they have 643.6 million internet users as compared to less than half the number in India.
In addition to that, a greater percentage of Chinese neighbours tend to splurge online as compared to Indian spenders. Nearly half of them buy online as compared to only 12% Indians doing the same.
If at all Flipkart is trying to put itself in the same league as the two giants, we do hope wholeheartedly that they o not fall flat on their space and shake up the emerging Indian eCommerce scenario.
This reminds me of a video interview of Mahesh Murthy – a seed investor and serial entrepreneur – that we did some time back, where he hit out those who prefer to represent themselves as synonymous of global successful ventures. He explained why there can't be any Amazon of India or Alibaba of India.
Is Flipkart Being Over-Valued?
Earlier in the week, we did hear rumours about the company being in advanced stage of talks to raise another $700 million to $1 billion by way of fresh funds on a valuation of $11-12 billion. The company had been valued at $6 billion barely six months back when it had received $1 billion from investors. The Qatar Investment Authority was said to be one of the three parties that were thinking of investing in the company.
This new inflow of capital for the ambitious Bansal duo project values the company at $11 billion (Rs 69,000 crore). While there is no doubt that eCommerce in scene in the country is bustling at the moment and it is poised for an even greater growth in the coming five years, it cannot but make you sit back and ponder whether the online retailer has actually doubled in net worth over the last six month period?
Two of the largest consumer good companies in India at the moment are Dabur India which is valued at Rs 41,000 crore and Godrej Consumer which is believed to be worth Rs 31,000 crore. Is the seven-year-old Flipkart as huge as, almost, the two of them together?
Inside sources working on the deal have also said that some of the earlier investors in the company might decide to move out after the present round of investment in what is called a secondary sale. During the last round of funding, we had been told that none of the existing investors of the company had expressed any desires to sell their stake. Does the possibility of secondary sale mean that some of those who have invested in the company are already beginning to lose interest in it?
The performance of the company in the last few months has left a lot to be desired. Its public image got a severe setback after its huge debacle in the Billion Dollar Day offer. Though the site owners claim to have sold goods worth more than $100 million over a ten hour period, they came under a lot of flak and criticism from almost everyone- from brick and mortar store owners to those who actually bothered to buy from them on the occasion. Causing the retailer to ultimately apologize to all their registered customers.
With the huge debacle still fresh in public memory, what is causing the perhaps overtly ambitious Bansals to raise fresh capital? What has this company done over the last six month period to double in net worth?
With all due respect to those chalking out their strategy, we only see their rivals getting stronger by the day- and fail to understand how that would brighten things up for them. Though all Indian e commerce main players are running into losses, Flipkart beats others by a mile here.
Flipkart leads the race here to losing 2.23 rupees for every 1 rupee of revenue. Amazon loses 1.90 and Snapdeal has least amount of losses at Rs. 1.72. It will be a long and steep uphill climb for the company before it can start getting its investors a good ROI.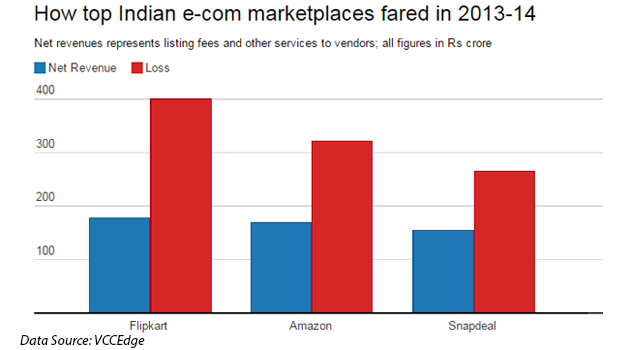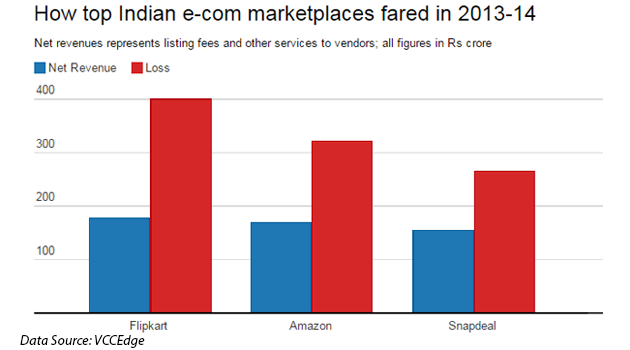 For a company that has, on more occasions than one, seen their servers crash every time experience greater traffic than usual, they have to do a lot of homework and set their house in order before they can even think of comparing themselves with either of the two mentioned above.
For a company that is yet to come out of the red and post a profit in seven years of its existence, valuing the company at a staggering $11 billion does sound like a very daring proposal. But as long as they have investors to back up their plans, could they care lesser?
[ Updated] Qatar Investment Authority (QIA) Jumps in
According to the latest update, QIA has also pumped in $150 million in Flipkart as a part of latest $700 funding injection. Middle East sovereign funds have shown keen interest in the rapidly growing Indian e-commerce market of late. The QIA has injected this capital in the Indian online retailing company after consultation with Deutsche Bank.
The only other sovereign investor in Flipkart besides QIA is Singapore based GIC. This investment has made the online retailer one of the top five privately held technology startups in the world. QIA owns the high-profile Harrods department store in London besides having investments in Tiffany, Barclays, Credit Suisse and a $1.2 billion stake in India's biggest mobile phone carrier Bharti Airtel.
Adding up $210 million from the Round 1 funding this year, $1 billion from Round, and the present $700 million, the total amount of capital raised by the company has reached close to the $2 billion target Amazon had set for itself.
How long can this poster boy of Indian e-commerce ride on investors' money and sustain itself?
[poll id="41″]