After much of speculations, leaks and guesses for over months, Apple Inc. (NASDAQ:AAPL) eventually puts an end to all rumors mills. The iPhone 6, iPhone 6 Plus and Apple Watch are unveiled at the Apple event held on September 9 at Apple's Cupertino based headquarters. The new 4.7-inch iPhone 6, accompanied by 5.5-inches iPhone 6 Plus come with NFC and Apple Pay – a revolutionary tap-to-pay system online and offline both. Apple is finally ready to challenge Google's Android Wear, with the new interface, design and features enough to surprise and attract anyone.
Many of us may find some of the Apple's new features influenced by Google or others announced few months or a year ago, but that's how Apple works. It doesn't become a part of an early adopter of technology, rather give it a time to understand till the core, perfect it, make it more user friendly and then introduce it with Apple devices.
A New iPhone 6 Look and Feel
Over a period of time Apple ceased iPhone from any major design change, but after facing the inevitable situation with respect to the big screen, Apple has introduced the 4.7-inches iPhone 6 with new design and look, which is smoother on the edges, thinner and rounded. Visually, iPhone 6 looks more appealing compared to previous iterations, satisfying the need of the big screen. An improved 8 Mpx iSight camera with Tru Tone flash and all-new sensor is capable of shooting pictures with greater clarity. The new powerful A8 processor is 25 times more powerful than the A7, which was included in iPhone 6 predecessors. Apple iPhone 6 comes with slightly better battery backup, offering 40 hours of talk time, which is a 40 percent increase over the iPhone 5S. However, with 3G and LTE usage, it will last for 10 hours only that could be a bit disappointing for heavy consumer of call as well as 3G data.
http://youtu.be/RS5mzvqWM-c
5.5-inch iPhone 6 Plus
Apple has finally ventured into phablet market with the introduction of 5.5-inch iPhone 6 Plus. The iPhone 6 plus has a Retina HD display, capable of providing resolution of 1920 by 1080 pixels. It's thinner than iPhone 5S at 7.1 millimeters but a big thicker than 6.9 millimeters iPhone 6.
Besides carrying all the features of iPhone 6, it has got long lasting battery backup, which provides nearly 50% more talk time. To make the fair features reachable with ease on the large screen, Apple has introduced a new gesture, called reachability: just-double-tab the home button and screen will automatically scroll down letting you reach all the options at the top of the screen.
http://youtu.be/FglqN1jd1tM?t=1m22s
Price And Availability
Both iPhone 6 and iPhone 6 Plus would be available for pre booking from Friday, 12th September while the sales will kick off on 19th September. Apple has discontinued the 8 GB and 32 GB variants with iPhone 6, The 4.7-inch iPhone 6 starts at $199 for 16 GB and goes upto $399 for 128 GB while iPhone 6 Plus is tagged with $299 for 64 GB and goes up to $499 for the 128 GB version. Both the iPhones are available in golden, silver and space grey.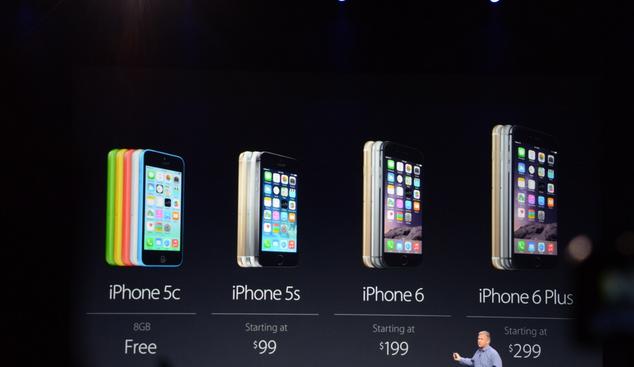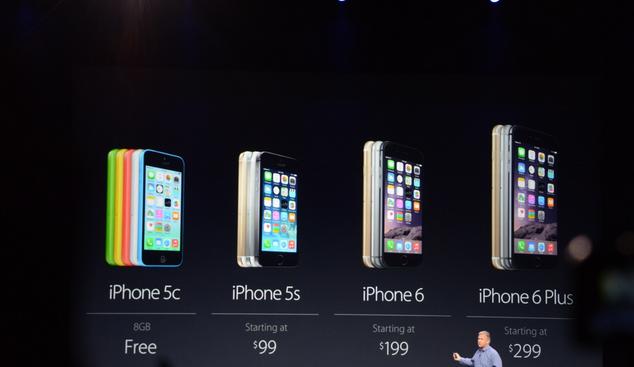 Apple Pay: Tap To Pay
Like every other major phone manufacturer Apple is trying to replace your wallet with its own digital wallet payment system. However, the growing number of failed attempts kept Apple away from NFC payment – till date. Now with Apple Pay users could easily make a payment offline as well as online with a single long press on the TouchID finger print scanner at the bottom of the device. In offline model, though NFC a user will have to touch the NFC reader while for online transactions a payment could made by pre-saved credit/debit card details in the phone but in a secured environment.
To make the whole payment experience seamless and hassle free, Apple has partnered with Visa, American Express, Master Card along with 22,000 retailers in the US. The company expects to expand its partnership network beyond US in the next few months.
Apple Watch: One More Thing
No, the rumors were wrong! Apple has not named tagged it as iWatch; rather call it Apple Watch. This is the first innovative product since 2010 and Apple has positioned it as a combination of Fitness and Health device that goes along as an accessory for the iPhone. Though, the Apple Watch would only be available in early 2015, it's going to be available in two different sizes and six different straps that could be replaced based upon needs.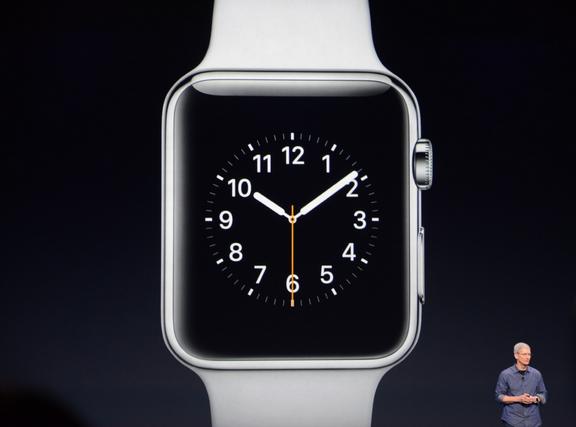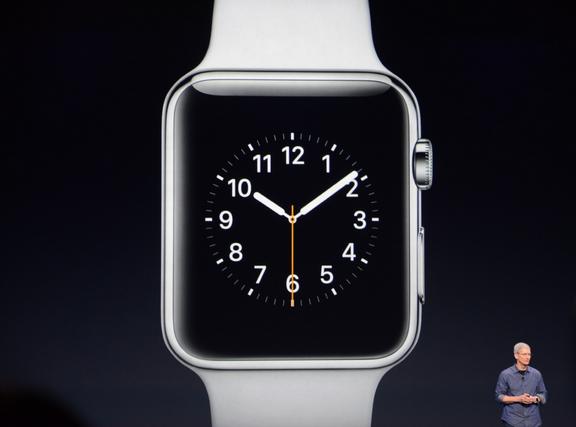 Apple Watch is the most personal device we have ever created, said Tim Cook.
The device lets you communicate directly from your wrist, monitors your health and tracks your fitness activities to ensure the optimal performance. It's designed to work seamlessly with iPhone 6, iPhone 6 Plus, iPhone 5S, iPhone 5C and discontinued iPhone 5.
Starting with $349, Apple has tried to build a fleet of smartwatch with two different dialers in size and with six different swappable bands.
http://youtu.be/ktujsc4ZUTo
[poll id="36″]