Mobile gaming has emerged as a strong disrupting force in the global app market. It is a well-known fact that both the Play Store from Google Inc. (NASDAQ:GOOGL) and Apple Inc. (NASDAQ:AAPL) AppStore receives a large portion of their revenues through gaming apps and in-app purchases. A new report from Flurry analytics, which was recently acquired by Yahoo! Inc. (NASDAQ:YHOO), is based on a global sample of successful games on 1.1 million devices and has revealed surprising results. According to the report, female gamers are more loyal than their male counterparts when it came to spending time on games, and they also make more in-app purchases. This is  good news for advertisers, since it means brands have a clear indication that they have a wide reach in terms of gender as well, when they select certain games to tie up with for their ads.
Mobile Gaming Is Not What It Used To
be
The average mobile user in the U.S spends a total of 2 hours and 42 minutes a day on mobile devices in 2014. 86% of that time is spent on apps, mostly mobile gaming. Yet the industry is quite small, and represents just 14% of the US$93 billion gaming industry. The overnight success of the Kim Kardshain Hollywood game which generated a total of US$1.6 million in revenue during the first five days of its release mostly through in app purchases, stunned most observers. The success of the game challenged most preconceived notions that the mobile gaming was mostly skewed towards males and teenage boys.
The statistics from Flurry report revealed that women were 31% more likely to make in-app purchases and 35% more likely to spend more time on gaming apps than their male counterparts. When retention rates for a game were measured over a 7 day basis, it was found that women had a 42% higher rate than men. The data clearly shows how the mobile gaming market is broadening as more mobile phone users begin playing games on a regular basis.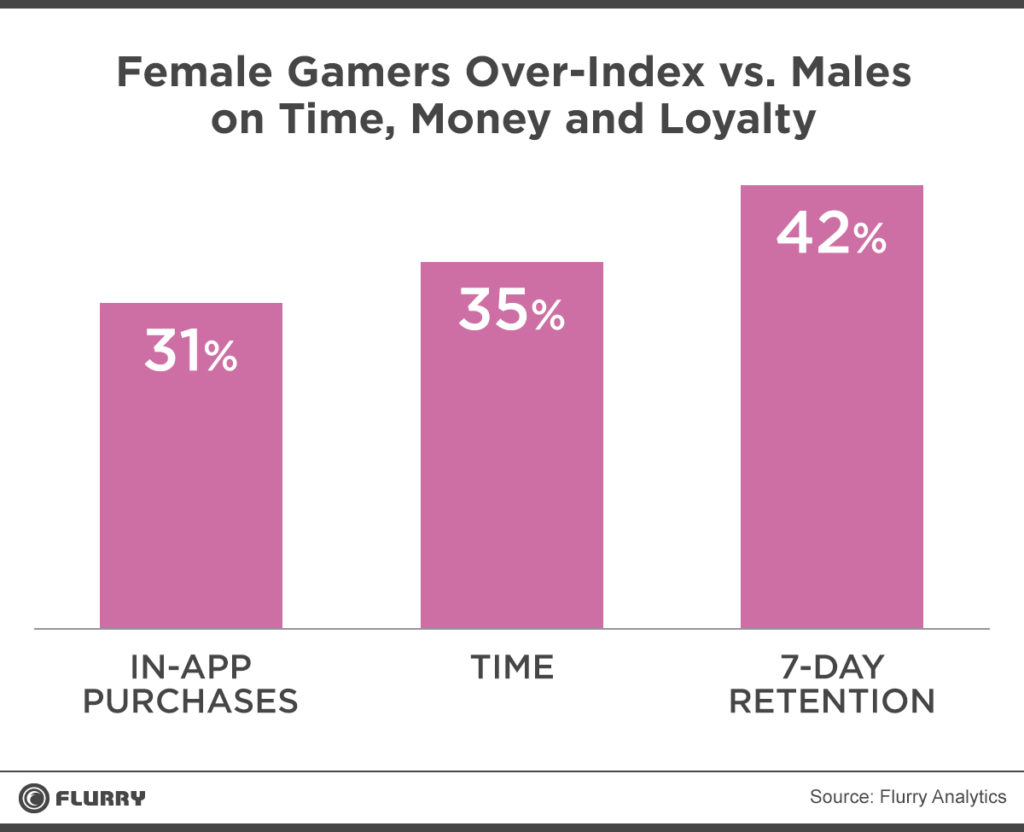 Hardcore Mobile Games Still Appeal More For Men
A total of 19 categories of games were analysed on the iOS Platform for a week. Here again, it was revealed that women spent more time than men on nine different categories of games including social turn based, bingo, casino poke, solitaire and management simulation games. A total of four categories, including racing and arcade, were skewed equally towards males and females. Males spent more time than females on six categories of games such as tower defence, sports and strategy. This shows that most of the hardcore gaming categories still appeals mostly to men.
Flurry analyst Simon Khalaf explained the findings in the report and why it is good news for advertisers.
"While the fact that females invest more time in gaming apps, especially in management and simulation games, has rarely been disputed, the fact that females also outspend males in In-App Purchases came as a surprise to us. The broadening of the mobile gaming base may not be welcome by hardcore male gamers, it brings good news to advertisers seeking to reach their audience. In fact, advertisers are shifting billions of dollars in advertising to the mobile platform with the hopes of reaching the audience that is glued to smartphones and tablets 24/7/365."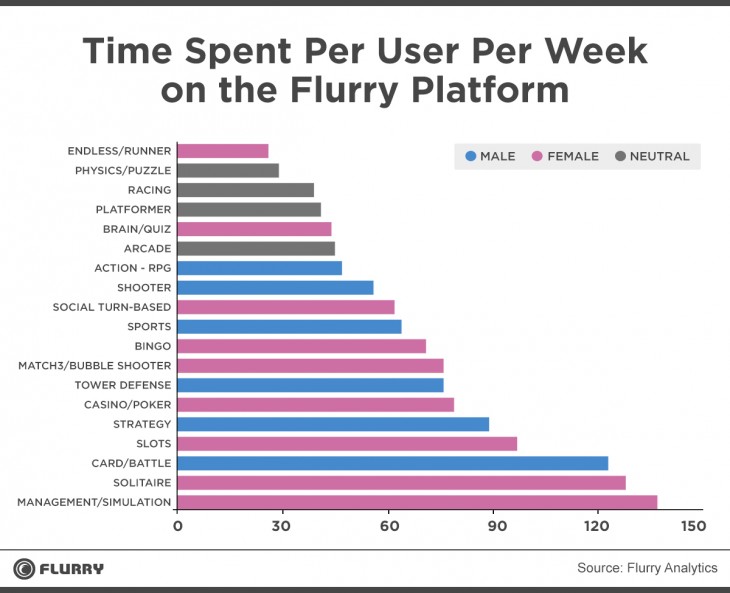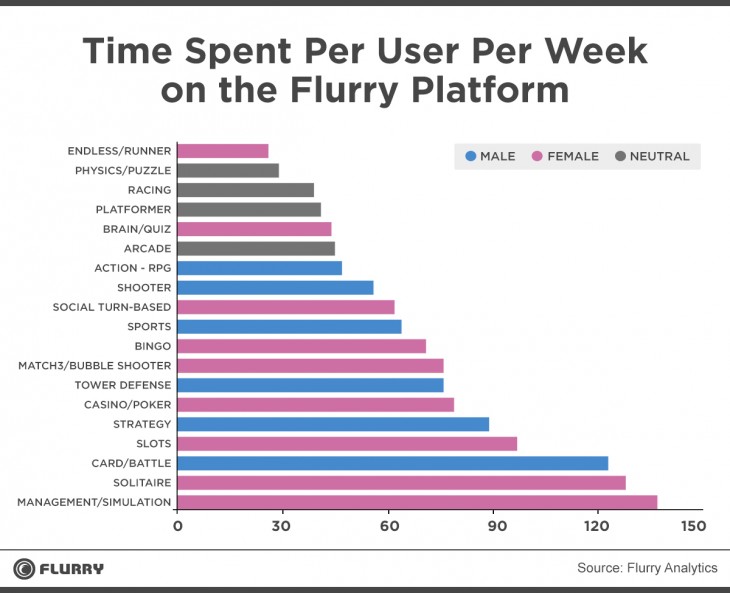 Advertisers Still Lagging Behind In Mobile
In the US, the mobile advertising industry still accounts for less than 5% of the US$162 billion advertising industry. The gaming segment is currently the most sought-after for advertisers since it accounts for 32% of the time spent on mobile devices.  This segment is attracting females as well as males of all ages, and hence makes it all the more appealing to advertisers and agencies alike. Although mobile advertising spending grew by 100% in 2013, mainly due to rich advertising and video ads there is still plenty of untapped potential in this sector.