Samsung Electronics Co. Ltd (KRX:005930) is taking some tough fight in India from homegrown smartphone vendors such as Xiaomi and Micromax. The Korean smartphone major needs some really great products to keep up with the competition. Samsung has already sent out a press invite to a big event where it is expected to announce a bunch of new products during IFA 2014 including Galaxy Alpha, Gear 3 and Gear Solo smartwatches as well as the GearVR headset but the star of the show would be their flagship smartphone, the Galaxy Note 4. But considering Samsung is going through some rough patches for the last few quarters, Can the Galaxy Note 4 be its saviour and bring their position back to their glory days?
As Expected, Galaxy Note 4 Will Be Stuffed With High-End Hardware Internals
Samsung is known to stuff its high-end smartphones with the latest possible components. The hardware specifications of Galaxy Note 4 have been confirmed via various leaks from trusted sources like SamMobile. According to various reports, the Galaxy Note 4 will have a 5.7-inch Super AMOLED screen with QHD (2560 x 1440 pixels) resolution and covered by Gorilla Glass 3, resulting in a pixel density of about 515 ppi. It will be powered by a brand new 64-bit octa-core Exynos 5433 processor, 3GB of RAM and 32GB of internal storage. The Exynos 5433 SoC will combine four ARM's (NASDAQ:ARMH) Cortex A57 CPU cores, four ARM Cortex A53 CPU cores and a newer Mali-T760 GPU. Samsung's Exynos 5xxx processors are based on ARM's big.LITTLE HMP – heterogenous multi-processing – architecture which in theory should have higher processing performance when the need arises but saves more battery under lighter tasks. But in reality, there have been reports that Exynos chipsets aren't as fast in real life situations as most of the tasks are executed using low-power ARM Cortex A7 CPU cores. It needs to be seen if Samsung has fixed issues in their previous chipsets and improved the performance with Exynos 5433.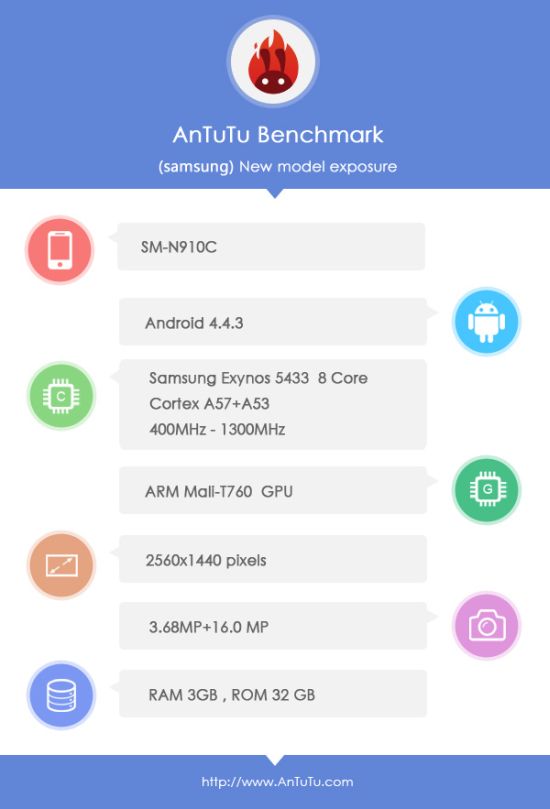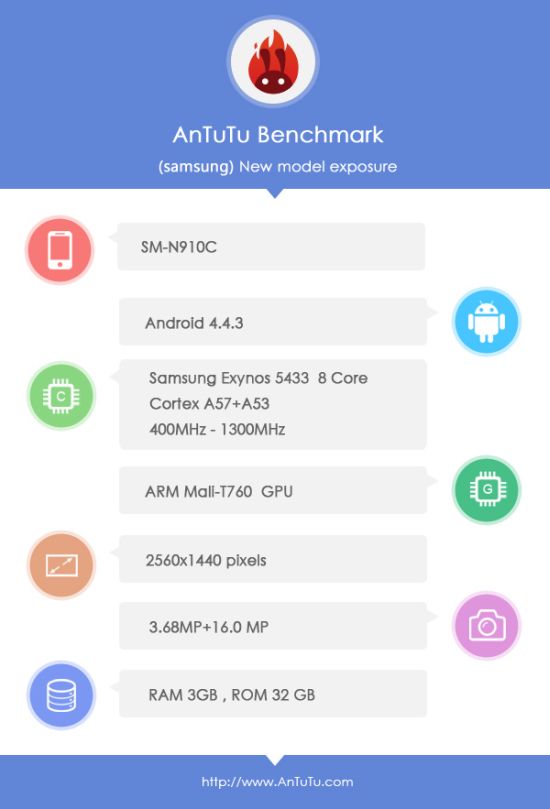 Although, in some markets, Samsung is expected to use a Qualcomm's (NASDAQ:QCOM) Snapdragon 805 processor with powerful Adreno 420 GPU. Going by the set of initial benchmarks that were leaked on the internet, it seems that the Exynos 5433 chipset will be powerful than the competing Snapdragon 805 SoC.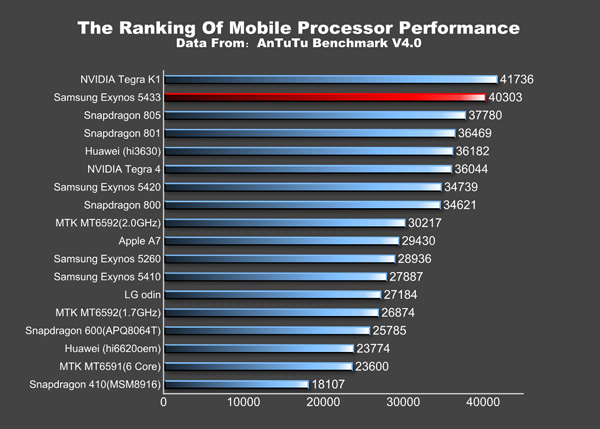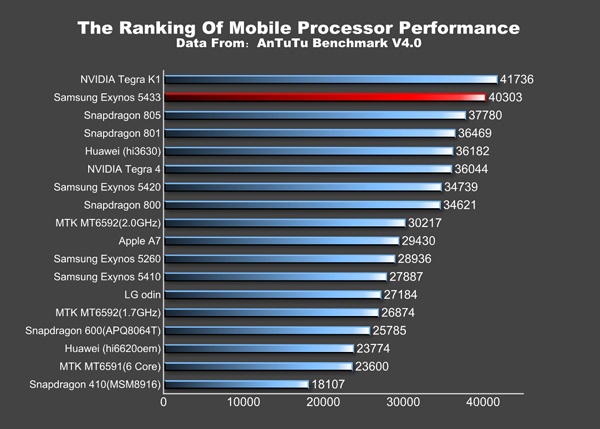 The Galaxy Note 4 is expected to be equipped with the same 16MP ISOCELL camera sensor (1/2.6 inch), which was used in the Galaxy S5. The ISOCELL camera sensor was praised by various experts for its ability to capture images with low noise and high amounts of detail, even in low-light conditions. This camera sensor has an ability to record 4K videos at 30 FPS. The camera sensor might also be from Sony (TYO:6758) if Samsung doesn't manage to produce enough ISOCELL camera units. It will also feature a 3.68MP (~ 4MP) front-facing camera for improved selfies but Samsung is still not going overboard with the front-facing camera similar to that of an 8MP autofocus camera which is used in the Gionee Elife E7.
Just like the Galaxy S5, it might most probably be equipped with a fingerprint sensor for an additional layer of security. It might also feature a retinal scanner for future proof device security, but take that possibility with a pinch of salt. The device might also be IP67-certified for water resistance. Connectivity features would include 4G LTE, Wi-Fi 802.11 ac/b/g/n, Bluetooth 4.0, Miracast, Wi-Fi Direct, DLNA, NFC, IR Port, GLONASS A-GPS and MicroUSB v3.0 port with USB OTG and USB Host functionalities. As usual, Samsung will include a bunch of necessary and additional sensors in the Galaxy Note 4, such as an accelerometer, gyro, proximity, compass, barometer, gesture sensor, heart-rate monitor, pedometer and a UV sensor. The industry-first UV sensor in Galaxy Note 4 is supposed to integrate with S Health application and provide users with UV readings in their area, so that users can save themselves from premature ageing of skin and skin cancer.
Samsung is unlikely to go the HTC Corp. (TPE:2498) way by using an all metal design due to their focus on ergonomics and removable back. But as per the leaked images, it looks like the Galaxy Note 4 will feature a faux-leather back similar to the Galaxy Note 3. Also, it will feature a metallic frame instead of a plastic one, thereby improving the in-hand feel without compromising on ergonomics.
Will Samsung's Bloated TouchWiz Continue To Be The Weakest Chain In The Link?
Even though Samsung provides one of the most powerful hardware internals, their devices tend to get slow over time. TouchWiz, which is a combination of Samsung's feature packed, extremely customisable UI and a set of additional applications are quite resource-intensive and makes the UI equally heavy, clunky and unnecessarily bloated for the user as well as the processor. With the Galaxy S5, Samsung had introduced a completely redesigned version of TouchWiz with flat UI elements, but you can still find some lag while using the device, especially when switching to home screen.
As opposed to TouchWiz, HTC's Sense UI and Sony's custom UI design are often praised by experts for being resource efficient. When Motorola (NYSE:MSI) launched the mid-range Moto G, Puneet Soni literally compared the speed of their UI with that of high-end Samsung Galaxy S4. He stressed on to showcase how their mid-range smartphone was faster than Samsung's high-end flagship in day-to-day tasks due to Motorola's software optimization techniques.
Apparently, Google Inc. (NASDAQ:GOOG) had any closed room heated discussions with Samsung's top management to tone down their UI customizations and limit the bundled software applications that come with Galaxy range of smartphones. If Samsung doesn't manage to optimize and dumb down TouchWiz, it will be quite hard for Samsung to provide satisfying user experience for consumers. Also, it is unclear whether Samsung will adopt the new Material UI design from the upcoming version of Android, dubbed as Android L.
Better Pricing Strategy Is Necessary To Compete With Chinese Smartphone Vendors
As per the latest report from Strategy Analytics  Samsung's smartphone market share dropped by a good margin in Q2 2014. China and India are the two biggest smartphone markets in the world and Samsung has lost their market share in both these markets. Xiaomi dethroned Samsung from the position of Top smartphone vendor in China, while Micromax did the same in the Indian market.
One of the most important factors that is causing the decline in sales is Samsung's steep pricing. The Samsung Galaxy S5 was launched at $699 that later declined to $499 within a span of two months. The scenario is no different for the company in largest and fastest growing markets; In India Samsung Galaxy S5 was intriduced with a price tag of of Rs 51,500 (US$850) but it is now selling for as low as Rs 36,000 (US$600), which calculates into a price drop of Rs 775 (US$13) per week since its launch 20 weeks ago. On the other hand, Sony's flagship device, the Xperia Z2 was launched at a price of Rs 49,990 (US$830) and is now selling for Rs 43,000 (US$715), which is a price drop of just Rs 492 ($8.2) since its launch 14 weeks ago. Launching its devices at steep prices and then drastically dropping the prices will not help Samsung as such strategy is bound to attract negative feelings towards Samsung brand among consumers.
| | | | | |
| --- | --- | --- | --- | --- |
| Device | Launch Day Price (Approximate, In INR) | Current Price (Approximate, In INR) | Weeks Since Launch (Approximate) | Average Price Drop Per Week (Approximate, In INR) |
| Samsung Galaxy S5 | 51,500 | 36,000 | 20 | 775 |
| HTC One M8 | 49,900 | 45,500 | 16 | 431 |
| Sony Xperia Z2 | 49,900 | 43,000 | 14 | 492 |
| Apple iPhone 5S (16GB) | 53,500 | 41,000 | 40 | 312 |
| Nokia Lumia 1520 | 46,999 | 37,500 | 30 | 316 |
| LG Nexus 5 (16GB) | 29,999 | 27,000 | 38 | 79 |
Some other brands like Motorola, Asus, Gionee and Xiaomi are launching their smartphones at extremely low prices. Xiaomi has launched the high-end Mi 3 with a mid-range price tag but claiming to use the quality components under the hood. This injects a thought in consumers' minds that Samsung is unnecessarily charging ultra premium for its smartphones. In an interview with DazeInfo, Manu Jain, Head of Xiaomi India, revealed how Xiaomi was able to provide a high-end smartphone tagged with an almost unbelievably low-price. To tackle this, Samsung needs to launch its smartphones at sensible prices, without dropping them heavily in the near future.
When Samsung launches the Galaxy Note 4, it will have a direct competition with Xiaomi Mi 4, Sony Xperia Z3, HTC One M8, Apple Inc. (NASDAQ:AAPL) iPhone 6 and Nokia's (NYSE:NOK) Lumia 1520. Besides, Motorola is supposed to launch a 5.9-inch screen equipped Nexus 6, to fuel the competition. Samsung needs to understand that they can't preserve their market share if they keep on releasing small iterations to its previous generation devices. If Samsung wants the Galaxy Note 4 to be its savior, Samsung should make sure that it comes with quality hardware, responsive and intuitive software at a sensible price.