The global smartphone race is now between Samsung Electronics Co Ltd. (KRX:005935), Apple Inc. (NASDAQ:AAPL) and an assortment of Chinese firms. As smartphone shipment size continues to swell in Asian and African countries, the local brands are gaining market share at the expense of global vendors. According to new data from Strategy Analytics for both global smartphone vendors in Q2 2014 and global smartphone market share by operating systems in Q2 2014, three of the top five smartphone vendors in the world are now Chinese riding high on success with Android OS. The most interesting rise is that of four-year old Chinese smartphone vendor Xiaomi, which recently ventured into the India smartphone market with its highly successful Mi3.
The meteoric rise of Chinese firms is due to the country's expertise in large-scale manufacturing and huge smartphone subscriber base of almost 800 million users. As the market matures, these brands will gain an even larger market share due to their low-cost smartphones powered by Android OS. This, in turn, has allowed Google Inc. (NASDAQ:GOOGL) owned Android to reach a market share of 85%.
Apple and Samsung Struggle To Retain Market Share
A total of  295.2 million smartphones was shipped in Q2 2014, an increase of 27% from the 233 million units last year. A fourth of these shipments came from Samsung, whose market share has nose-dived from 32.6% in Q2 2013 to 25.6% in Q2 2014, largely due to the arrival of the Chinese brands. The Koran firm shipped a total of 74.5 million smartphones in Q2 2014, a slight decline from 76 million during the same period last year. The company is facing immense pressure at the higher end of the market from Apple, which sold more iPhones in the same month Samsung launched its flagship Galaxy S5 model globally. At the lower end a host of local firms in several countries has steadily gained market share at Samsung's expense, resulting in one of the worst quarterly earnings results for the Korean smartphone giant in recent times.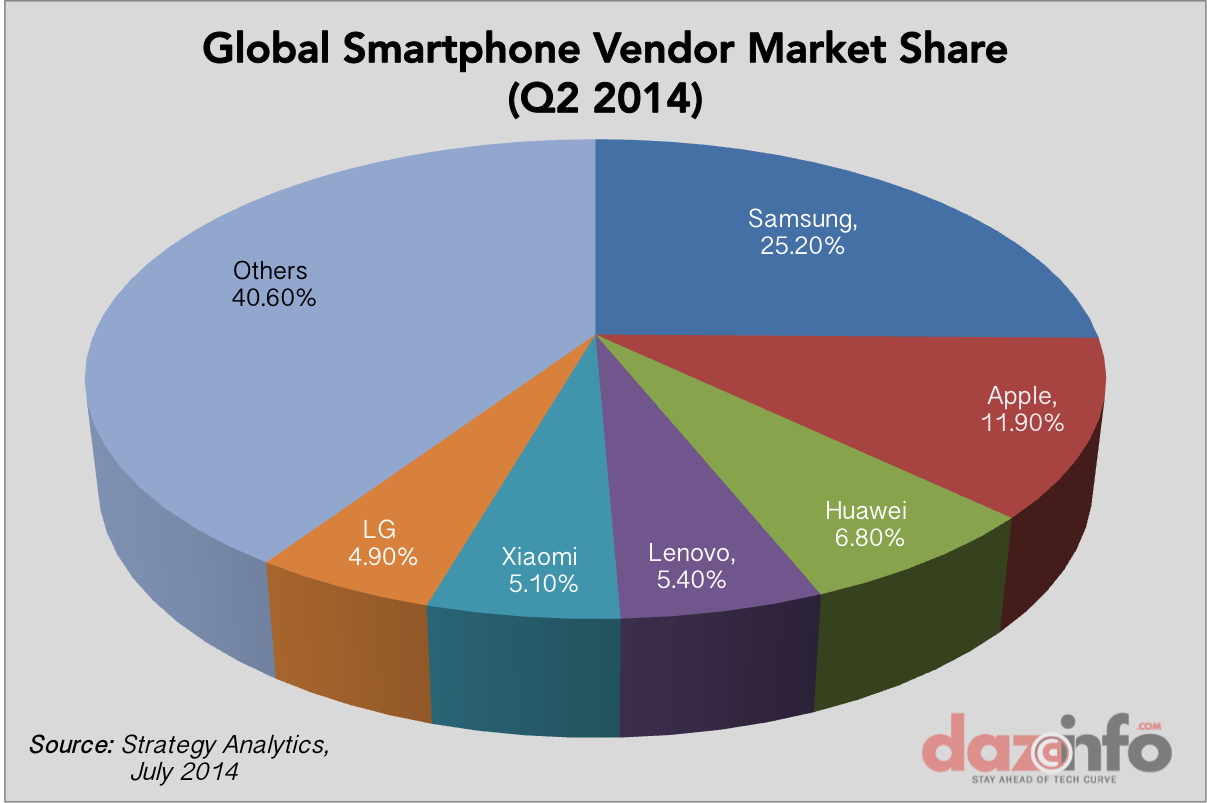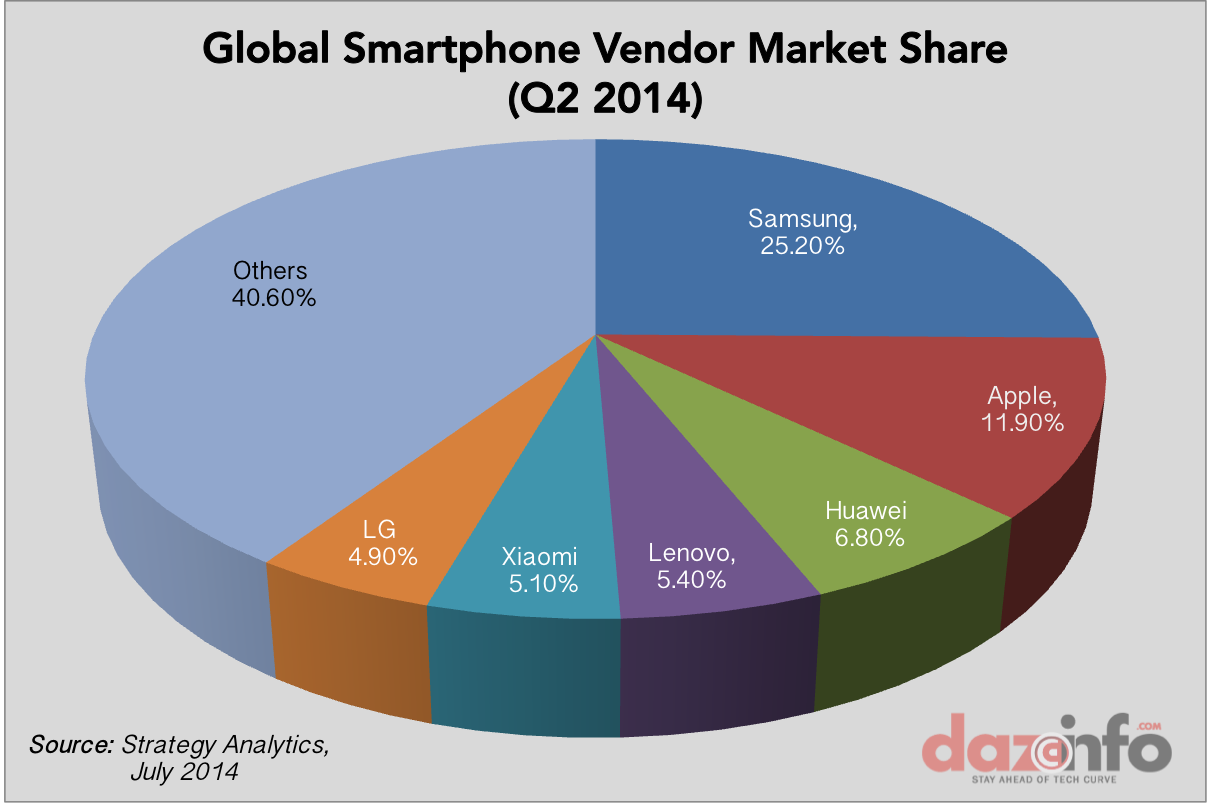 Apple sold a total of 35.2 million iPhones in Q2 2014, a surprise increase from 31.2 million units last year. Its market share however, dipped from 13.4% in Q2 2013 to 11.9% in Q2 2014.  As competition shifts to the lower end of the smartphone market, Apple has stood to lose out because of its near-complete absence  in this category. Older and cheaper variants of the iPhone such as the iPhone 4S are Apple's only options for users with less disposable income. However, the price war in smartphone industry has put iPhone 4S in a mid-range category, while the market is flooded with more powerful, bigger screen smartphones at half of its price. Besides, the availability of iPhone 4S in few selected countries is another factor behind Apple's poor performance in low-end smartphone category.
Xiaomi's

Performance Causes Tremors in The Market

The remaining three companies in the top five are  Huawei Technology Co Ltd (SHE:002502) , Lenovo Group Limited (ADR) (OTCMKTS:LNVGY) and Xiaomi. Huawei secured third position with a 6.8% market share while Lenovo reached fourth place with a market share of 5.4%. The biggest gainer among all brands was Xiaomi with a market share of 5.1% with a total of 15.1 million smartphone shipments. The firm has already outsold Apple in China and its rise has been astonishingly quick, with shipments growing three-fold in just one year. Its Android models  are widely popular in China and other Asian markets, due to its low-cost-high-performance strategy and extensive shipments through online and operator channels.

Xiaomi is aiming to venture into several international markets later this year, but its main focus continues to remain in China and India, which are already the world's fastest growing smartphone market. Apple is aiming to sell several million large screen iPhone 6 in China through China mobile network, and regain its market share. The next stage of the smartphone race will take place in Asia, with China as the centerpiece.
85% Of Devices Sold In Q2 2014 Powered By Android
Out of all the smartphones shipped in Q2 2014, 85% were powered by the Android OS. This comes as a direct result of increased smartphone shipments globally, mainly at the lower-end, and Android device shipments are expected to reach 1 billion in 2014. Strategy Analytics' executive director Neil Mawston explained the reason for Android's dominance. 
"Like the PC market, Android is on the verge of turning smartphone platforms into a one-horse race. Its low-cost services and user-friendly software remain wildly attractive to hardware makers, operators and consumers worldwide."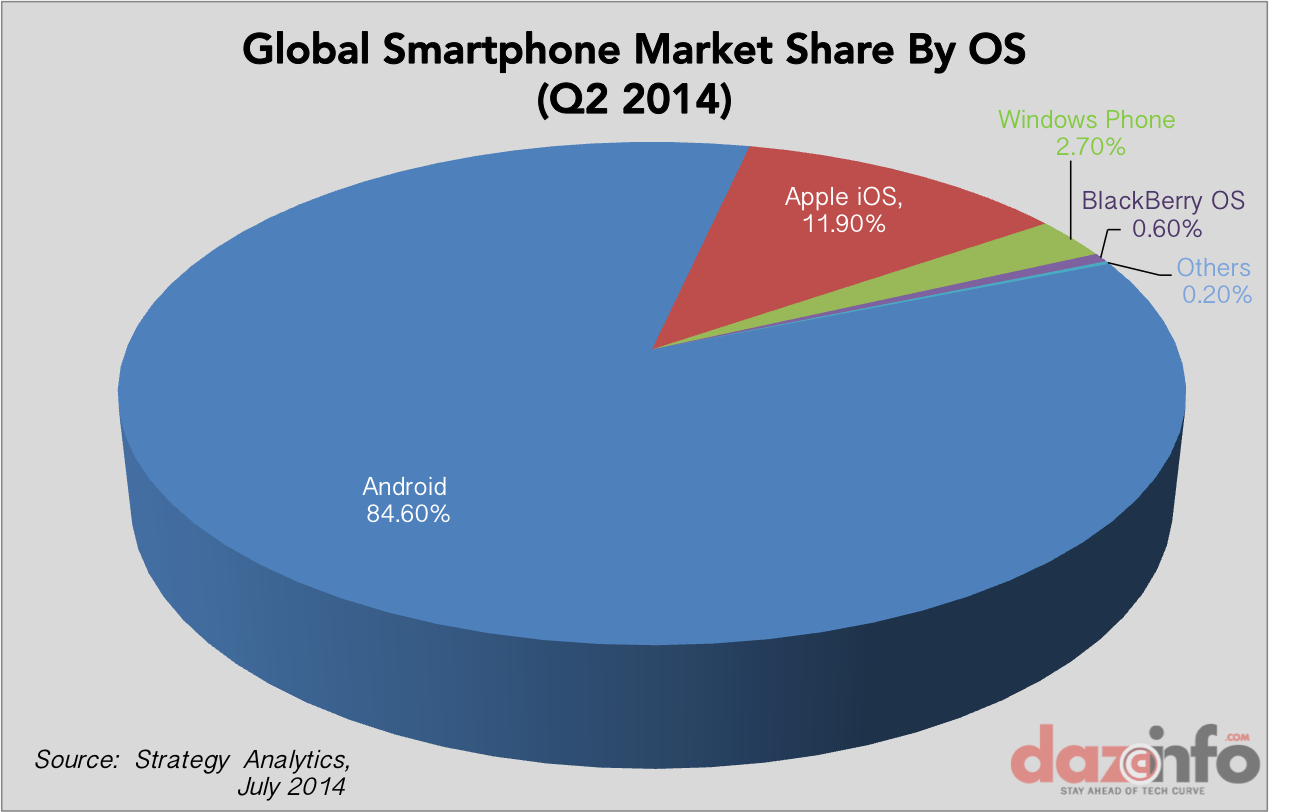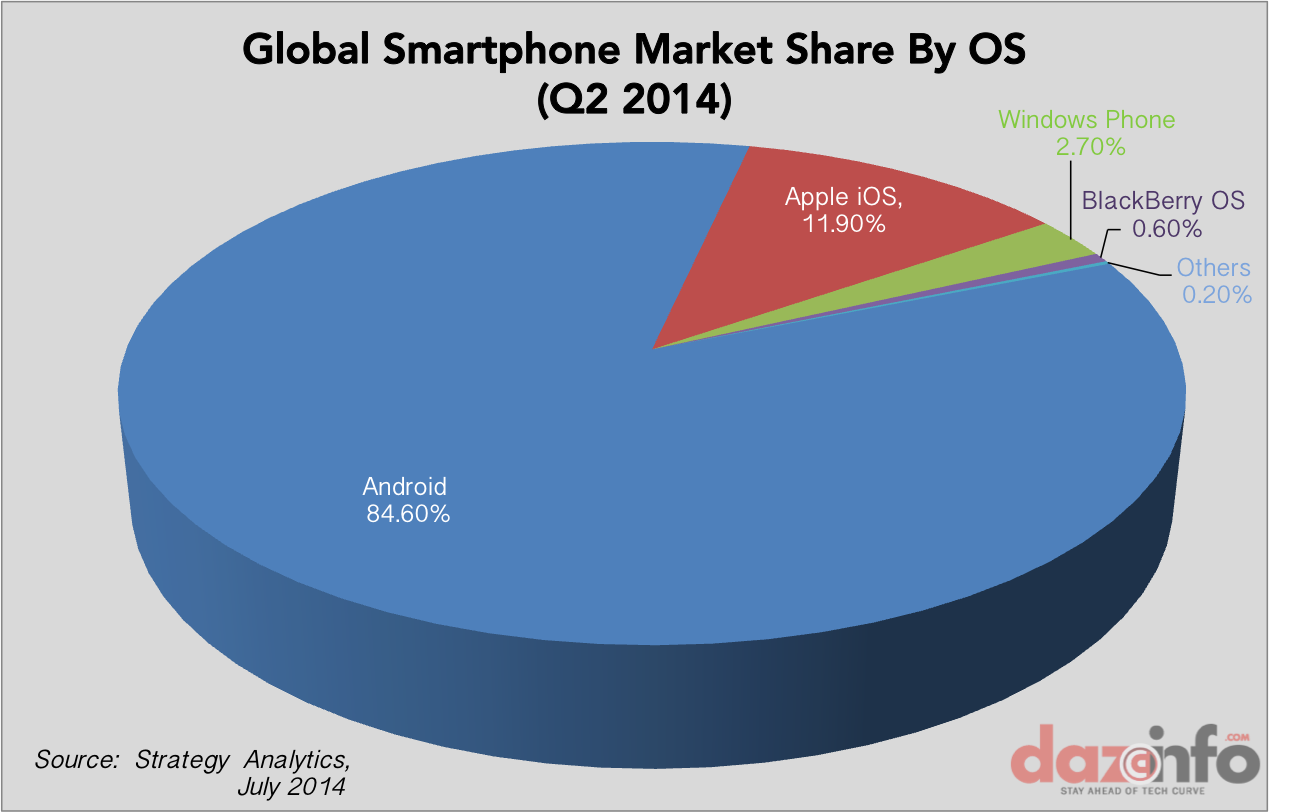 Apple's iOS market share dipped to 11.9%  and Microsoft Windows Phone share languishes at 2.7%. There is a likely chance of Android's market share growing to 88%, unless Apple's larger iPhone can win the market and stop Android's push. Meanwhile, Samsung is also rumored to have chosen to promote its Tizen OS instead of Android for the long-term.  For now, however, Android is leading the pack, thanks to improved devices and lower price points.