More than ever social media platforms are changing the way we live and do things. Social media has a strong impact and influence on customers. More importantly, brands are using up social platform to engage users as their customers. Brand advertising in social media is now the ground zero to build a bond between the customers and the brands. In 2006 YouTube arrived at the spectacular video advertising platform for marketing brands. It not only honed creativity, but if the ad is good enough, it is shared, commented on and popularised it. In the Q2 2014 report of YouTube Insights, the bottom line was, brands that are hell-bent on identifying customer's passion are the ones who influenced more purchases than others who didn't.
The report states that 66% of beauty product buyers were influenced by YouTube advertising to make purchases as they felt they could relate it to their lifestyle. This comes naturally when beauty conscious people are on the look out for make-up and hairdo how-to's, tips on accessorizing and beauty expert advice videos. Brand advertising of beauty products on such user base is definitely attractive. Also, 62% of Smartphone buyers were reported to have been influenced by the Smartphone review videos on YouTube.  Well, we all love to watch the live comparison of Smartphones and exclusive Unboxing of Smartphones, based on which we decide which one to buy. You could look for channels called Unbox therapy, Marques brownlee, android authority. On a similar note, influenced by the teaser campaign, in-action videos of auto vehicles led to 72% vehicle purchases.
YouTube videos: People of age group between 18-34 most influenced
The global Smartphone shipment units reached 1.2 billion in 2014, which is a take away fact that 98% of Smartphone users between the age of 18-34 watch YouTube videos on their Smartphones. The young YouTube audience accounts for the fact that the most viewed or popular video channels are about gaming, music, make-up, fashion and life-style.


9% of this young audience participate actively by sharing and commenting on YouTube videos, which the report says is 10x the social engagement by all other video sites combines. Another astounding figure revealed that, YouTube reaches out to the young audience between 18 and 34, more than any other CABLE NETWORK!!


Top videos: most viewed and most subscribed on YouTube
The YouTube Insights of Q2 2014 report stated that, the most subscribed video channels were about learning and education, whereas most viewed were brands related to entertainment and food & beverages. To educate oneself through YouTube videos, it becomes necessary to subscribe to the channels so that viewers are always up to date with the topics covered. Whereas the entertainment section is very volatile, one does not have the need to subscribe to every respective channel showcasing entertainment, but only the availability of the video matters irrespective of the channel. Here are the top 5 viewed YouTube channels of the last quarter.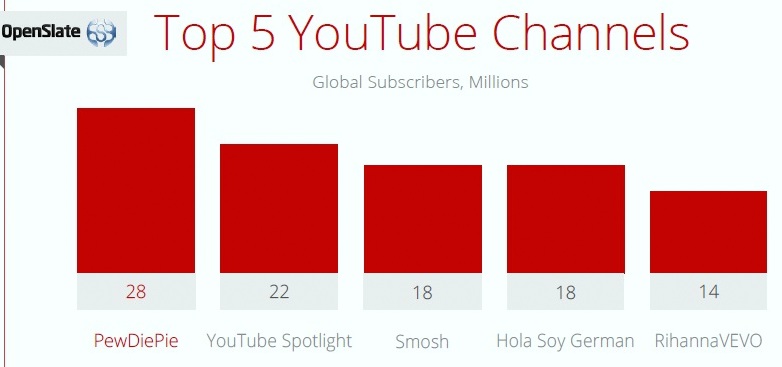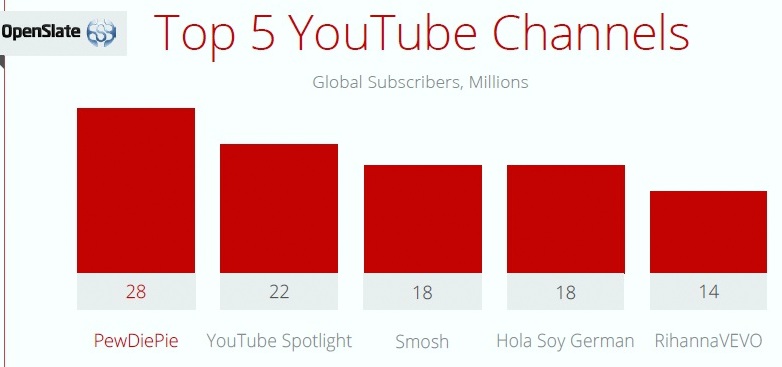 The awesome Pewdiepie is the most viewed channel. Pewdiepie is famous for its video game commentaries as he plays through it. The channel has a record viewership of 22 million subscribers in 2014. The channel is followed by YouTubeSpotlight, which is a channel for everything on the go that is happening all over the world.
64% of consumers are influenced by videos to make purchases
YouTube prevails to be the most influential social media for consumers who make purchases. YouTube influences 64% of purchases made which is the highest when compared to other popular social media like Facebook, Twitter or Pinterest. People influenced by media further influence others around them. Brands that are up to the mark create influence on consumers by catering to consumer's passions and interests.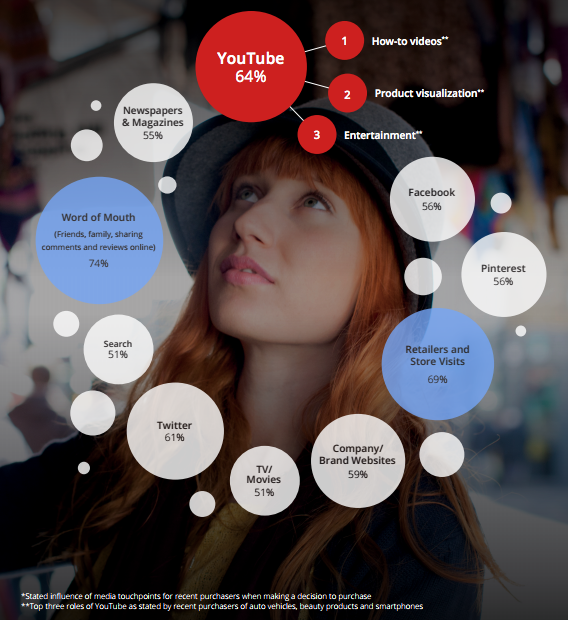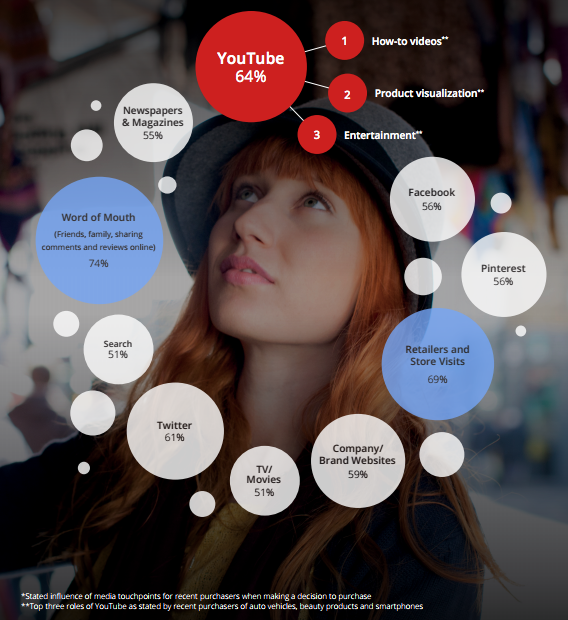 The overall impact of YouTube ads is massive to both the consumers and the brands. The brands are required to tap into the interests of customers and produce creative video ads. Consumers are always on the look out to build and hone their passion, especially on social platforms like Google and YouTube. Consumers tend to purchase with the same mindset they consume the media. So, it is up to the brands to penetrate this psychology of understanding its customer's passion to urge them to make purchases that will match their purpose and passion.
Take Aways:
Brands indulge in creating more video content for their product/services.
Marketers and advertisers must focus on video advertising and promotion to make sure the greater sales return to their clients.
Publishers must focus on creating more video content to make sure the higher engagement and response.
For video content YouTube must be treated like one of the most important social networking platforms. Businesses, Marketers, Advertisers and Publishers must make sure to have their YouTube property active and updated.