Facebook Inc. (NASDAQ:FB), Twitter Inc. (NASDAQ:TWTR), and LinkedIn Corp (NYSE:LNKD) are offering platforms to market products/services to more than 2 billion users. Emergence of Pinterest and Instagram are adding up more avenues, resulting in higher reach than ever before. How much should I charge from my client willing to boost its presence through social media marketing is one of the most difficult questions to get an answer for all social media marketers! Before you hit search engines, let us throw some latest findings on the subject, helpful to understand how much each social referral is valuable for you and your clients.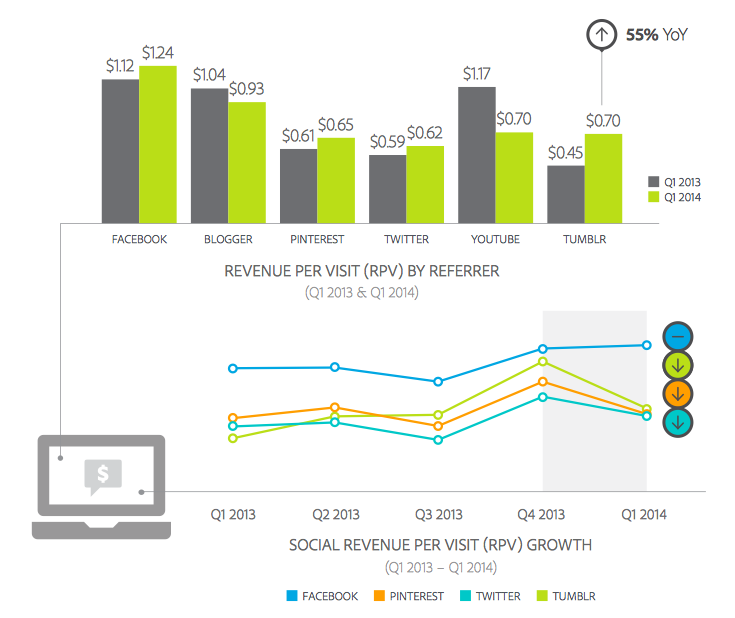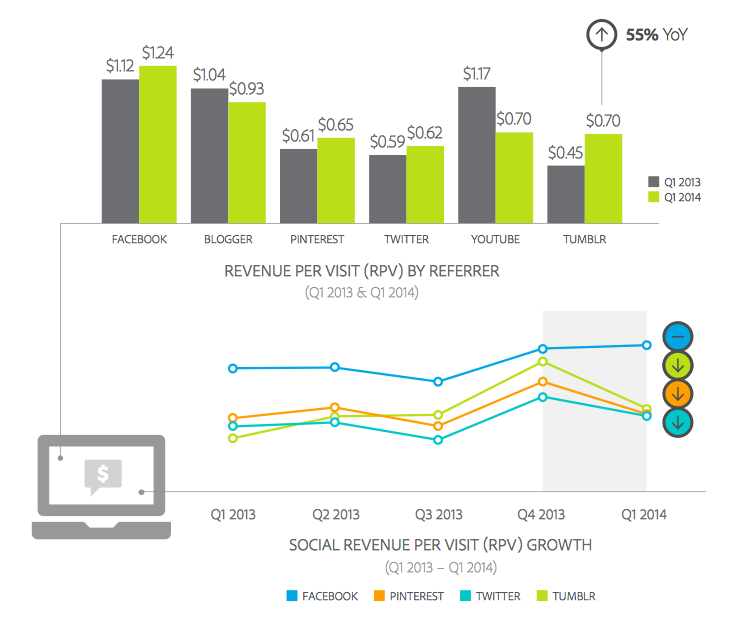 Facebook generated $1.24 from each referral visit to retail sites in Q1 2104, up by 11% as compared to the year ago quarter. While the online social media giant emerged as the only channel recording constant quarterly growth, Twitter, Pinterest and Tumbler performance in last one year has been more like a roller coaster ride. Interestingly, Blogger and Pinterest generated more average revenue per visit (ARPV) than Twitter in Q1 2014. Among all social channels, YouTube recorded the maximum decline in its ARPV, down to $0.70 from $1.17 a year ago quarter.
The findings are part of the Social Media Intelligence Report Q1 2014, released by Adobe. The unparalleled findings are based on 260 billion Facebook ad impressions, 226 billion Facebook post impression, 17 billion referred visits from social media sites and seven billion brand post interactions including likes, comments and shares.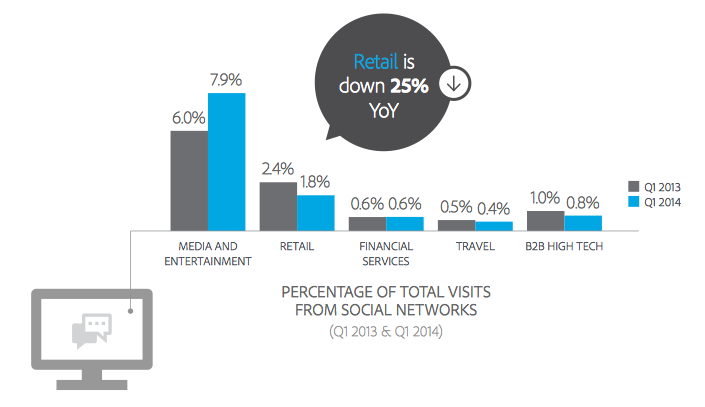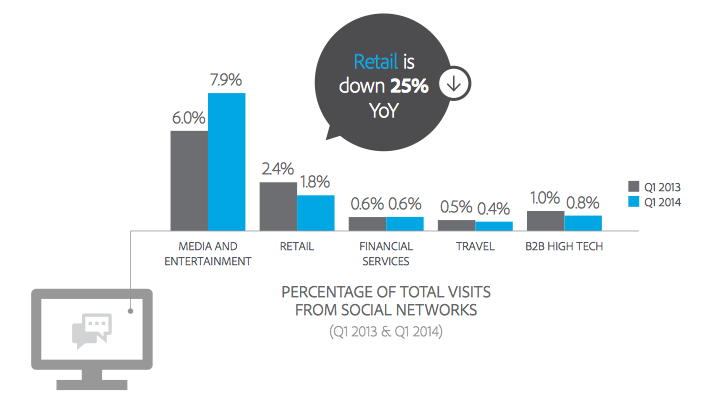 While chucking the report data based on Industry, Media and Entertainment Industry are enjoying highest amount of traffic splash from social networking sites. In Q1 2014, the referral traffic to Media and Entertainment sites surged up to 7.9% from 6% in Q1 2013. In contrast, rest all the industries either witnessed downfall in social referral traffic or remained intact like a year ago quarter.  The findings clearly portray an opportunity for sites related to Media and Entertainment and justify the investment need to be done on social channels.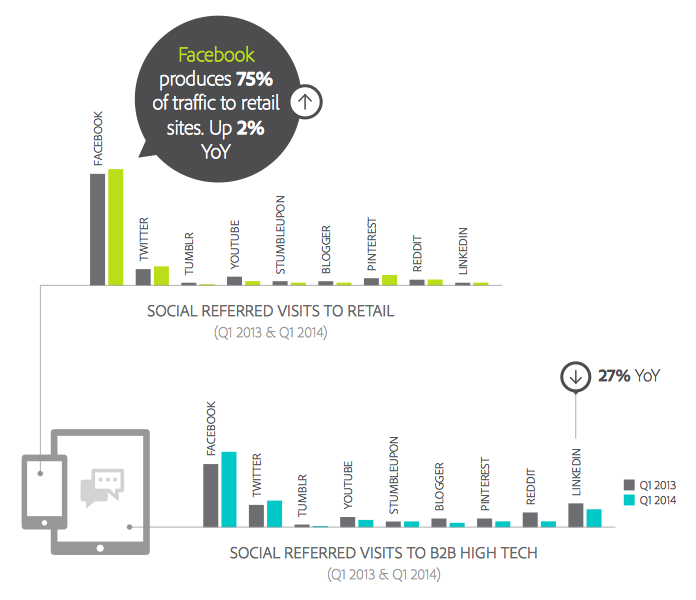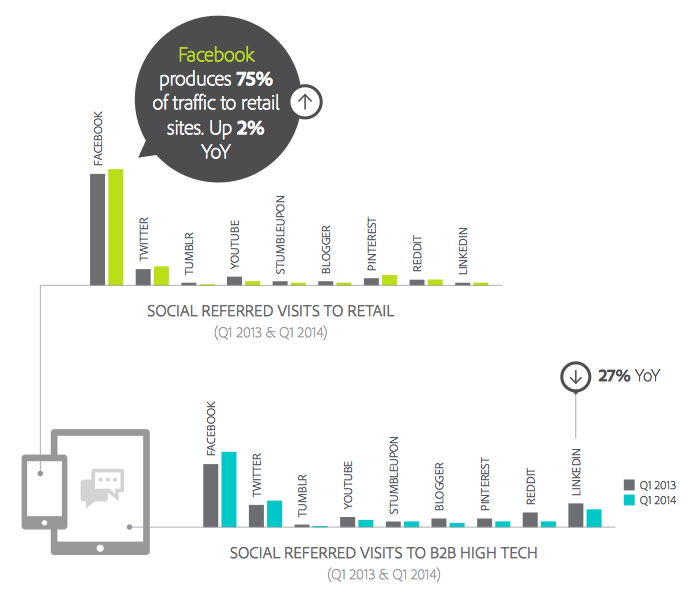 The study also highlights Facebook's unprecedented dominance over non-retail sites enjoying social referral traffic. While Facebook produced 75% of total referral visits to Retail sites in Q1 2014, the social media giant faced competition in referral traffic market to B2B High Tech sites. Facebook accounted 52% of total referral visits to B2B High Tech sites, LinkedIn emerged as the second best source of referral traffic with 15% market share. Unfortunately, LinkedIn is apparently loosing grounds Facebook and Twitter as its market share in B2B High Tech referral traffic declined by 27% in Q1 2014 compared to same duration last year. Facebook and Twitter emerged as the only social networking sites generated more referral traffic to B2B High tech sites a compared to the year ago quarter.
Opportunity
These findings are enough to prove why social media marketers must adopt targeted marketing tactics, different for industries and social networking sites they are banking upon. Facebook and Pinterest must be on the top agenda to focus for their online retail clients, but when it comes to B2B high-tech sites, LinkedIn needs to be accommodated into strategy as well as budget.