Employee engagement has been thought about in various ways, so it becomes essential to understand what it is not! It does not mean employee happiness or satisfaction. An employee being happy at work doesn't necessarily mean that he or she puts in extra efforts for the productivity of the company. And employee satisfaction on the other hand sets a low bar – the same employee who is satisfied with the job, might not go the extra mile on her/his own.
So what factors make an employee – an engaged employee? Is it the emotional commitment the employee has to the organization and its goals? To be more clear, this emotional commitment is what these employees actually care about at their work and the company. It is just not the paycheck or the next promotion that matters to them, but it is to work on behalf of the organization's goals that take a higher position.
When employees care—when they are engaged—they use discretionary effort.

"To win in the marketplace you must first win in the workplace"

– Doug Conant, former CEO, Campbell's soup

 Engaged employees care about the future of the company and are willing to invest the discretionary effort – exceeding duty's call – to see that the organization succeeds. Truly engaged employees are attracted to, and inspired by, their work ("I want to do this"), committed ("I am dedicated to the success of what I am doing"), and fascinated ("I love what I am doing") – Tim Rutledge ( The New Workplace Loyalty)
More engaged = More productive?
Engaged employees lead to better business outcomes. In fact, according to Towers Perrin research companies, with engaged workers companies have a 6% higher net profit margin and according to Kenexa research, engaged companies have five times higher shareholder returns over five years.
Psychological and social fulfillment directly influence an employee's commitment to staying with a company and contributing to the firm's overall success. A report (by Deloitte) shows that corporate teams that foster a sense of diversity and inclusion among employees outperform others by more than 80%. Feeling is one of the aspects considered as a fact now, even in business. And employees' feelings about their company are a corollary to their productivity.
A look at workforce around the world
Asia pacific: It is seen that the strong emotional connections that yield employee engagement vary across the regions with India holding the largest share of engaged employees, while Japan has the smallest. Countries such as China and Australia are left behind despite leading in technology adoption and economic growth.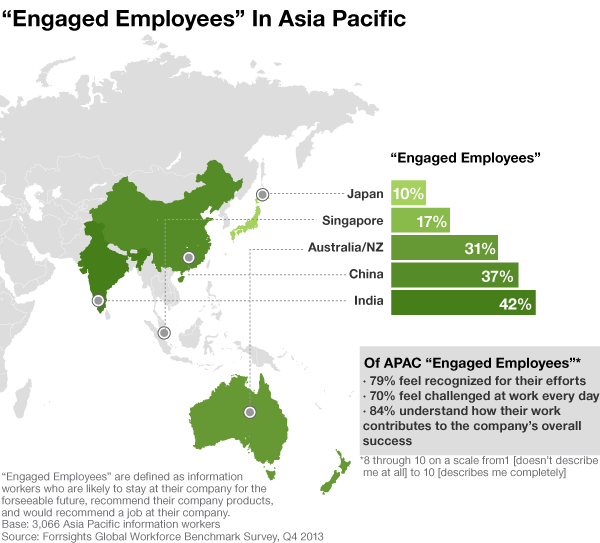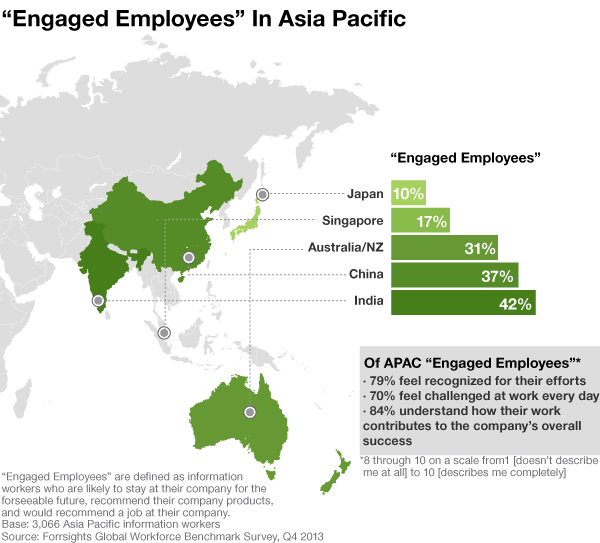 North America:

Only 29 % of employees are actively engaged in their jobs. 54 % of employees are not engaged. These people embody what Jack Welch said several years ago. To paraphrase him: "Never mistake activity for accomplishment." 17 % of employees are actively disengaged. These employees are busy acting out their unhappiness, undermining what their engaged co-workers are trying to accomplish.
Worldwide

Only 14 % of all employees worldwide were highly engaged in their job. Among Canadians the number reported being highly engaged was 17 %. 62% of the employees surveyed indicated they were moderately engaged at best, 66 % of employees in Canada were moderately engaged. And 24 % reported that they are actively disengaged.
On a country-by-country basis, the percentages of highly engaged, moderately engaged, and actively disengaged employees varied considerably.  A few surprising findings included – Mexico and Brazil were on the highest percentage of engaged employees, while Japan and Italy had the largest percentage of disengaged employees.
Does engagement really make a difference?
With these findings, we now wonder if Employee Engagement makes a vital difference. The relationship between high scores on employee engagement indices and organizational performance seems obvious that engaged employees are more productive than their disengaged counterparts. Employee satisfaction and engagement are related to meaningful business outcomes at a magnitude that is important to many organizations, quotes a meta-analysis in the Journal of Applied Psychology.
How much more productive is an engaged workforce compared to a non-engaged workforce?
Engaged employees also outperformed the not engaged and actively disengaged employees in other divisions. Also employee engagement does not merely correlate with bottom line results – it drives results.
Despite there being some debate about the precise meaning of employee engagement like : Is employee engagement something new or simply old wine (long-standing management approaches) in new (fashionable management-speak) bottles? No matter how it is seen, there are three things that stand out – it is measurable, it can be correlated with performance and it varies from poor to great. Most importantly employers can do a great deal to impact people's level of engagement. That is what makes it so important, as a tool for business success.
Recognizing the potential and value of engaged employees and their contribution to the organization's progress, productivity and operations, its time corporation heads start thinking about this on a more serious note, as David Macleod aptly puts it:
"This is about how we create the conditions in which employees offer more of their capability and potential." –David Macleod