Ever since the invention of the World Wide Web, Internet giants have consistently focused on being able to control the discovery of new content, and to direct web traffic. This control originated from ISPs in the 90's, and shifted to portals such as Google Inc. (NASDAQ:GOOG) and Yahoo! Inc. (NASDAQ:YHOO) in the early 2000's. Google has, since then, reigned supreme over the web discovery, organic and paid traffic acquisition. An entire industry has sprouted from SEO and SEM and both are synonymous with Google. Now Smartphones and apps are altering the landscape once again, as consumers are increasingly looking for more relevant apps to increase their productivity and personal well-being. The battle for the 'gateway' of mobile apps, contents and services is underway. In other words, the Google equivalent for mobile is up for grabs and billions of dollars are at stake. This extends to the workplace as well, where employers are increasingly using apps in offices to improve productivity. Tech companies and advertisers are well aware of the benefits of providing relevant content to consumers.
The Battle For Your Smartphone Home Screen
Consumer behavior on a mobile is different from that of a web user on a desktop computer. Traditional behavior on the web is to launch Google.com, type a sentence and be redirected to content. In Smartphones, however, the first step is to launch an application after installation, and enjoy the comprehensive experience it offers. Redirection to other web pages or other apps is rare and counterproductive. Delivering such relevant content and services with apps has always proven a challenge. Apps are not about index and links, hence it is difficult for search engines to discover apps relevant to customer's requirements. Every company is tapping ways to solve this problem- in its own way.
The Launcher apps are one of the greatest examples of such initiatives. Besides having few great looking themes, a Launcher allows you to activate built-in features according your needs. In a traditional way, these features could only be activated by installation separate apps for each feature, i.e. for weather condition a user needs to download and install weather tracking app, while to know driving conditions on a particular route at particular time you will have to have navigation app. Instead of exercising the tedious download-install-activate-use process, a users could easily activate the required built-in functionality if he has got launcher installed on his smartphone. Launchers development companies ensure to introduce new features at frequent intervals to match the growing need of users. The launch of Facebook Home  and Yahoo's acquisition of Aviate are the best example how companies trying to overcome the challenge of content and service discovery in apps.
Mobile App: A $100 Billion Opportunity Window
By 2017, mobile apps will generate $77 billion in revenues and would be downloaded a whopping 268 billion times. Almost 100 mobile apps and services would personalize data streams of users every day. Google Play and Apple App Store are taking each other head on to dominate the app market, and maximize revenue from app downloads.
A research report from Flurry analytics reveals that users spend 86% of time on mobile devices inside applications, and just 14% of it on the mobile web. The rise of the paid app install market highlights the challenges of discovering new apps. Marketers in the U.S. are expected to spend $2.4 billion to advertise their apps. Android personalization apps, also called Launchers, have seen very fast adoption and usage in recent years. Several of these apps offer a personalized homepage for Android, and thus contribute to app discovery and app launch.
The graph  shows the number of global app sessions recorded by Flurry in Android personalization apps by quarter, since the beginning of 2012. The growth is astonishing especially in Q1 2014 where usage is higher than all through 2013. There are 4500 apps in this category on the Flurry platform and the data represents the aggregate usage of these apps. The market for personalization apps remains nascent, with 30 million monthly users in the U.S., which is a relatively small percentage of Android users. Mobile app developers and app monetization companies will be focused on binding their ads with users' interests and needs, as and when they require, to increase opportunities for revenue.
Productivity In The Workplace
The workplace represents a new frontier for the Mobile device. Applications such as Evernote and Dropbox are gaining traction, and new emerging apps such as Quip, Slack and Acompli are ushering in a new era of mobile-first productivity applications. Microsoft Corporation (NASDAQ:MSFT) recently dropped a bomb by giving away its basic Office mobile apps for iOS and Android, free of charge. The Redmont giant also introduced iPad apps for its flagship Office programs-Word, Excel and PowerPoint. To access Office 360, users are required to pay a yearly fee of US$ 99.99. This is representative of a transition period for Microsoft. Previously, Microsoft had a Windows-centric view of the world, where the fate of its Phone based Windows OS was central to its decision-making process. The company is betting its future on business professionals who make up Microsoft's Natural user base. By enticing users from other productivity apps including iWork and Office Suite, Microsoft will be looking to fill the void in the enterprise market. Apple's iOS devices are currently preferred in the workplace for their security and functionality.  Google is intensifying efforts to market its Android OS as a viable platform for Work devices.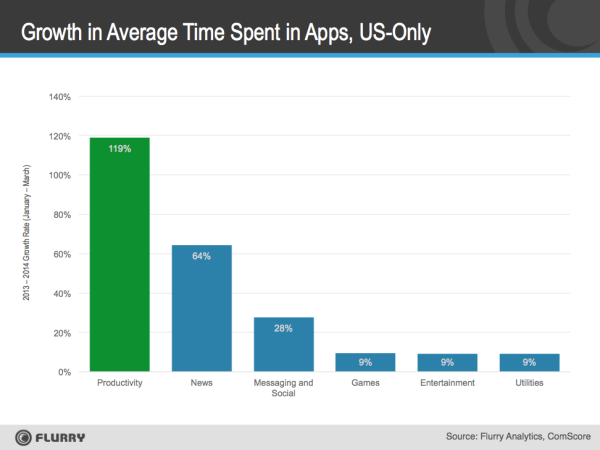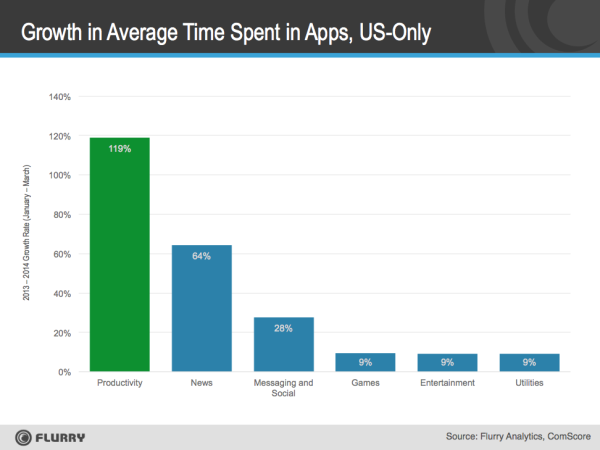 By 2017, the trend of BYOD is expected to evolve from a trend to a requirement. Another survey in the U.S conducted by Flurry analytics and ComScore shows the average U.S. consumer spending 119% more time in productivity apps than they did over the same period a year ago. This includes time spent in apps on iOS and Android devices, both tablets and phones. The growth rate eclipsed all other categories including Messaging, Games and News. However the actual numbers are still relatively low as the average U.S user spends 5 1\2 minutes per day in productivity apps, compared to 2 ½ minutes as of March 2013. An analysis of 7800 productivity apps on the Flurry platform had a total reach of  32 million mobile users. This takes into consideration the relatively low penetration of these productivity apps. Continuous innovation and growth of productivity apps will accelerate its adoption on Smartphones and tablets, eventually eradicating PC's from the workplace.