Mobility devices have not only impacted the lifestyle of ordinary people, but it has also impacted the lifestyle of corporates across the world. The flexibility and features available in today`s mobility devices have made it possible for corporates to keep their laptops in the office and use mobile devices on the go. The initial trend of using mobility devices was brought in by Blackberry, where in features like BBM and e-mail made it a must for the corporates.
For today`s corporate apart from e-mail and messaging devices bring in feature like VPN  for security purpose and also an luxury to use their preferred devices both at home and office. For companies it reduces the extra hardware cost although it brings in more tension to IT department because of easy vulnerability of these devices. It is expected that by 2017 that nearly half of the employers may compel it`s staff to bring their own device.
In a recent report by Good Technology the company conducted a survey on which sectors were using the BYOD concept more prominently and which companies are currently leading in the Enterprise market.iOS based devices are having a clear lead currently, but with both Android and Windows waking up to the potential of this sector. It could be the next battlefield for these companies.
Overall Highlights
Total enterprise app activations grew 54 percent quarter over quarter, up from a 43 percent growth rate from Q2 to Q3 2013.
Custom app development continues to grow at the rapid rate of 55 percent quarter over quarter.
Doc editing continues to maintain the top spot for most widely used enterprise app
File access exceeded 20 percent share of total activations for the first time.
Business intelligence is the up and coming app this quarter.
The app categories that reported the greatest amount of growth quarter over quarter include business intelligence, secure browser and social business
OS Highlights
iOS smartphones made up 54 percent of total device activations, and iOS devices claimed the top ten spots for most popular devices among users.
 Android device`s share of activations continued to decrease quarter over quarter at 26 percent.
Windows Phone activations remained steady at one percent of total device activations in both quarters.
In Q4 2013 iOS  device activations made up 73 percent of total device activations in Q4 which was  up as compared to 72% during Q3,2013 .This increase in iOS share could be attributed to launch of two new devices by Apple in this quarter.The percentage of Android devices decreased from 27% in Q3,2013 to 26% in Q4 ,2013.Windows based devices maintained their market share at 1% of the total devices activated in both Q2 and Q3 ,2013.
Device Type Highlights
Document editing, custom apps and file access made up 86 percent of the total enterprise apps activated on the tablet form factor in Q4.
Document editing also took the top spot for smartphones, outpacing custom apps. File access edged out mobile UC this quarter to round out the top three smartphone apps.
Android tablet activations held steady from Q3 to Q4, while smartphone activations slightly decreased by one percentage point quarter over quarter
On device basis the share of iOS Smartphone garnered the biggest market share of 54 % in Q4,2014 followed by Android  Smartphones at 25%.Tablets although having a bigger display are still lagging behind the smartphones with iOS tablets having only 19% of the market share. while Android based tablets stood at dismal 2%.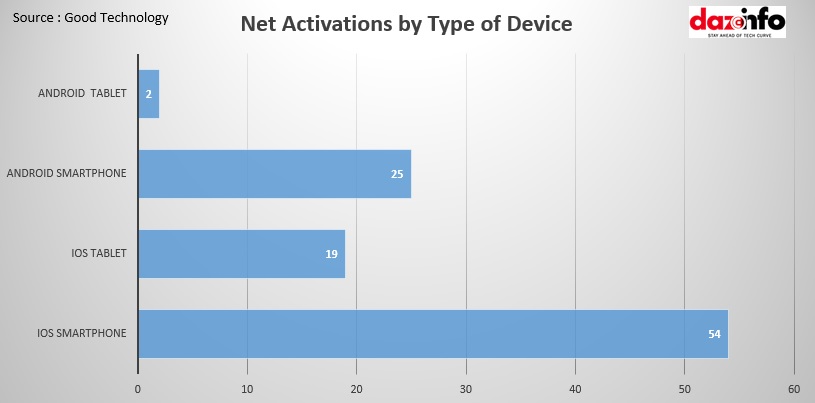 Industry Highlights
Financial Services continues to lead by a large margin in total iPad activations, recording over 46 percent of total tablet activations in Q4.
For the first time this quarter, the Energy and Utilities sector was reported as one of the top ten industries in total number of device activations.
Financial Services continued to be the major users of BYOD  with 39.3% share,followed by Business & professional services 1t 19.6%.Manufacturing,Government and Healthcare remained other major sectors with 11.6%,6.5% and 5.3% of Market Share.During the Q4,2013 quarter first time Energy and Utilities sector entered among the top ten industries using BYOD.