Many pundits and vendors are convinced about the explosive materialization of the Internet of Things (IoT) in the coming years, and if this becomes a reality many mobile app developers would be minting money from their written codes. The future dominance of connected devices is sealed and there is little doubt about mobile app contribution, which is going to be the main driver of this growth. By 2017, mobile apps will generate $77 billion in revenues and would be downloaded a whopping 268 billion times, predicts Gartner. Consequently, there would be nearly 100 mobile apps and services that would receive personalized data stream of users every day. This will help mobile app developers and app monetization companies to tightly bound their ads with users' interests and needs as and when they occurs, resulting in more revenue opportunities.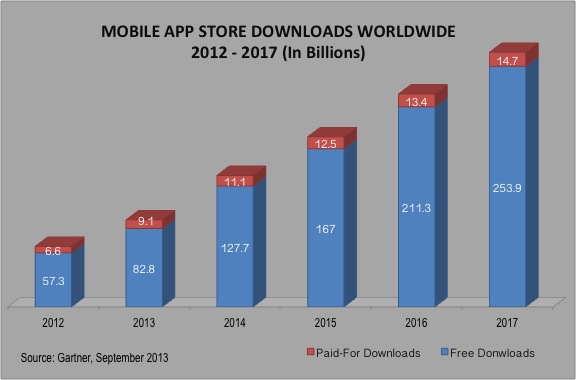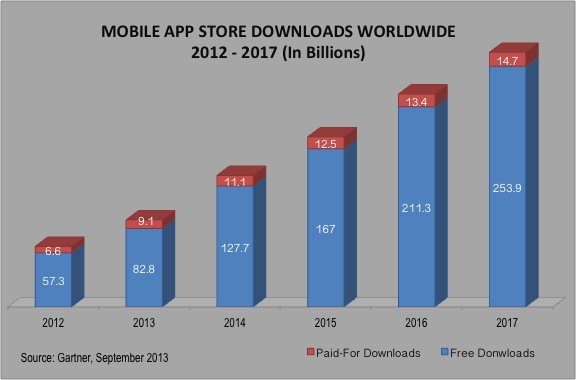 "Mobile apps have become the official channel to drive content and services to consumers. From entertainment content to productivity services, from quantified-self to home automation, there is an app for practically anything a connected consumer may want to achieve," said Brian Blau, research director at Gartner. "This connection to consumer services means users are constantly funneling data through mobile apps. As users continue to adopt and interact with apps, it is their data — what they say, what they do, where they go — that is transforming the app interaction paradigm."
Nearly 92% of total mobile apps are free to download and use, in exchange, app development and monetization companies receive a lot of the users' personal data that is used to throw more targeted apps back on the users' screen. The system creates a win-win scenario for both mobile users and developers as the revenue generated from the mechanism is generally shared between mobile ad networks, app stores and app developers.
However, mobile apps will not be confined to Smartphone and tablets in the next two to three years. As people are becoming tech savvy, apps would be driving home appliances, wearable devices and other Internet of Things. By 2017, wearable devices will be responsible for 50% of app interaction, predicts Gartner.
Mobile apps will also help reduce the cost of wearable devices to insure higher adoptions. Though wearable devices are meant to perform many stand alone activities, but eventually the captured data must be uploaded on the cloud or to any other external storage via some type of app interface. Besides, by making the mobile app as an interface for wearable devices, mobile companies could easily over come the challenge of frequent updates and upgrades.
The trend and report clearly indicate that all major tech giants including Google, Apple and Microsoft will have an edge over their competitors in new markets due to extensive reach to mobile users. The data being recorded by these companies via handsets and mobile apps will play a crucial role while targeting users for new opportunities like Smart Homes and wearable devices.
Apple and Google, two major players in the Smartphone industry have locked horns. While Android is lagging behind in mobile advertising revenue and mobile traffic, Apple is losing grounds to Android in mobile app revenue market.