Nearly 5 years ago when Apple  ( NASDAQ: AAPL) introduced the world to its App Store, nobody had thought that the world App market would grow to $ 25 billion by 2013.The World App market currently offers more than 700,000 apps across both Apple App store and Google Play (NASDAQ:GOOG). With more people shifting to Smartphones and tablets in the emerging market the App market is in booming stage.
A recent report from App Annie tries to take a look at some of the recent trends in the world mobile App market. The report also list the major apps across countries & platforms.The trends in this report are similar to what was earlier published on Dazeinfo [ See : Dazeinfo Report]
US, South Korea, and Japan are leaders in app store revenue, however BRIC countries and 5 other regions outpaced these superpowers in download and revenue growth.

Gamers worldwide are increasingly favoring their iPhones and Androids over 3DS' and Vitas. Both iOS App Store and Google Play experienced a surge in app store game revenue, vaulting them ahead of handhelds in 2013 for the first time ever.

Freemium as a business model continued to be massively successful for a range of app categories in 2013, with games seeing the most money. Developers were able to find creative ways to incentive in-app purchases by consumers.

Messaging apps transitioned into social messaging platforms, diversifying not only their product offerings, but also their revenue streams. Moving beyond their home countries, they added e-commerce, books and music capabilities

– App Annie Report
Top App Trends
Trend 1 : Google surpasses iOS in number of Apps downloaded but Apple maintains lead in terms of revenue
With low-priced Smartphones gradually increasing their market share, Android has not only managed to become the numero-uno Smartphone OS it has also managed to surpass iOS in the worldwide app market. As more consumers are switching to Android, the number of downloads from Google Play is also increasing. Around 15% more apps were downloaded in Google Play as compared to the App store.
  Although Android took the lead in number of downloads it still is not a match to iOS in terms of revenue. iOS generated around two times the revenue generated by Android in 2013.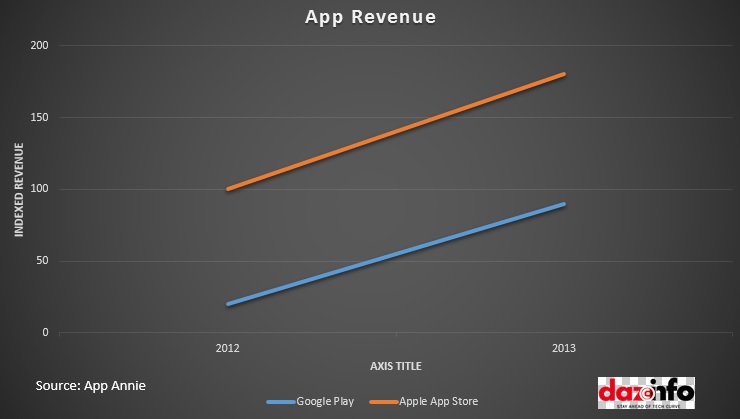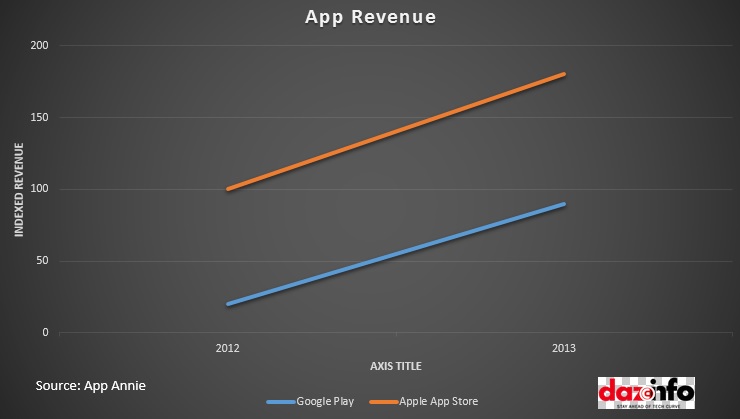 Trend 2 : Japan surpasses US in App revenue
App revenue from Japan grew more than 3 times in 2013. US was second in terms of revenue followed by South Korea and United Kingdom.The increase in revenue from Japan was primarily driven by games. In comparison to 2012 revenues , Japan and South Korea showed a steep increase in revenue.
Trend 3 : Developing world to drive App market
The BRIC countries ( Brazil,Russia,India & China) were responsible for driving the app market in 2013. These countries showed significant gains in generating app revenue in 2013 and are expected to increase the revenue generation further in 2013. Other emerging countries like Hong Kong,Taiwan,Thailand,Mexico & Indonesia are expected to make significant contributions to the app market in 2014.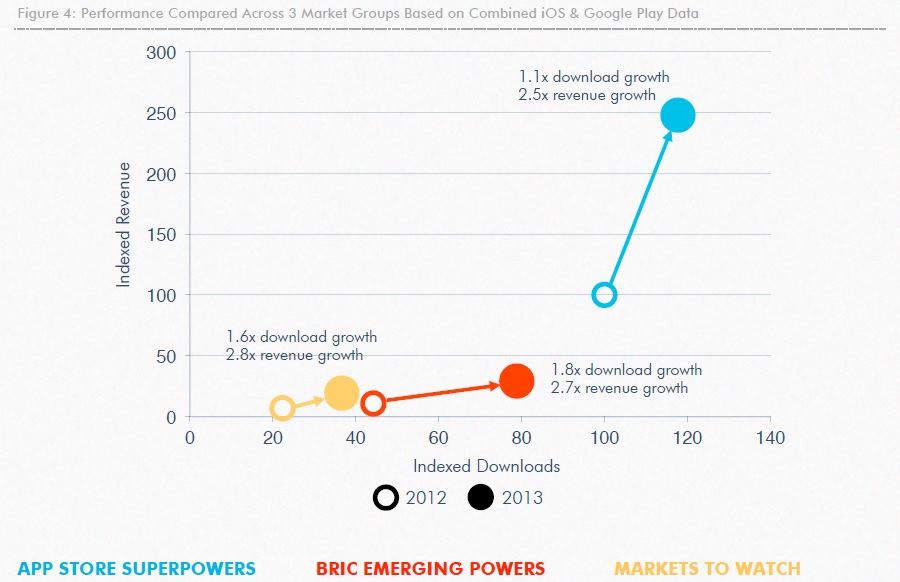 Trend 4 : Gaming over Smartphone beats handheld devices
With a plethora of games being downloaded across the app store , the total consumer spend on games was nearly three times the spend over the handheld devices. With the gaming market exploding in a big way on smartphones, it sounded the death  knell for handheld gaming devices. Here is an earlier analysis from dazeinfo which is candidly predicting the demise of hand held devices .
Trend 5 : Freemium model is the way to go
Apps using the Freemium model of business are currently taking the pie by generating 93% of the revenue in 2013 for gaming apps as compared to 86% in 2012. Freemium model has been successfully implemented in messaging, music, dating and news based applications. [Also Read Dazeinfo article on freemium business model]
Trend 6 : Messaging Apps turning into Social Media Apps
Messaging apps have been one of the major revenue earners on the various app stores. In 2013, many of the app stores took the next step i.e. they added more social media utilities into their messaging services. They incorporated features like music and books. Most of the messaging services are using the freemium model to generate their revenue. Below is a map of which messaging service is popular in which part of the globe. Whatsapp is the most used messaging app across the globe, while Skype has maintained its lead in traditional markets of North America.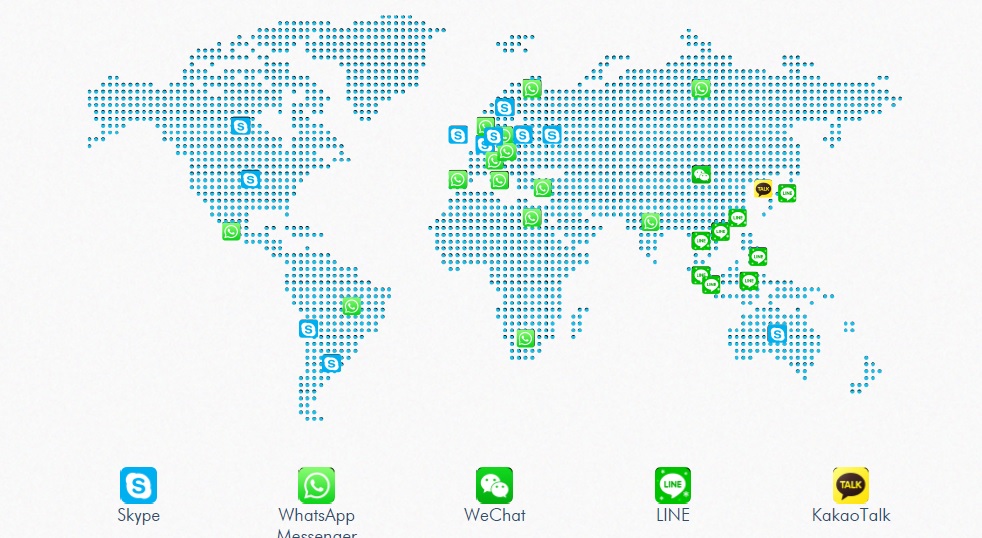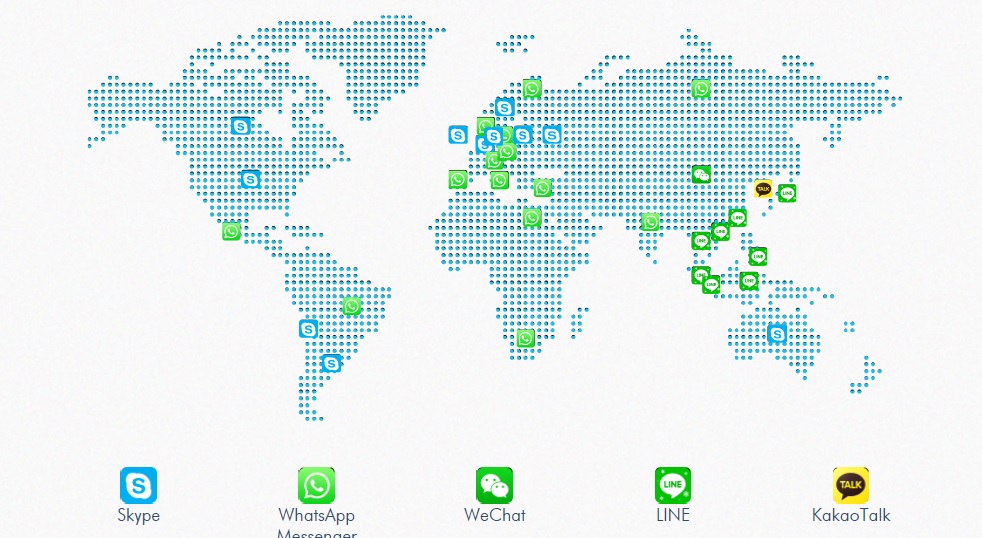 Trend 7 : Use of Image Sharing & Video Apps is on the rise
Along with the traditional Social Media Apps, more people are now using photo and video apps to share their pics and videos.Use of time restricting apps like Snapchat and Vine was on increase in 2013. Download for Photo & Video apps increased by 55% in Q4 2013 in comparison with the corresponding period in the same year.